Murders fall in first quarter in Los Angeles
Homicides decline 9.6% from same period last year, but are above pre-pandemic levels
In 2021, Los Angeles recorded 397 homicides. That was the highest annual total in the city since 2007, and helped spark a surge of worry about worsening crime in the city. 
The murder rate is now declining. In the first three months of 2022, there were 85 homicides, according to publicly available Los Angeles Police Department data. That compares with 94 victims in the same period last year.
While police officials welcome the decline, points of concern remain. The 85 murders is well above the 63 people killed in the same timeframe in 2020, and the 61 homicide victims in that span in the pre-pandemic year of 2019. 
There were four fewer murders in both January and February than in the equivalent month last year. The 27 killings in March—one less than in March 2021—include five in the final three days of the month.
Homicides by month in city of Los Angeles, October 2021-March 2022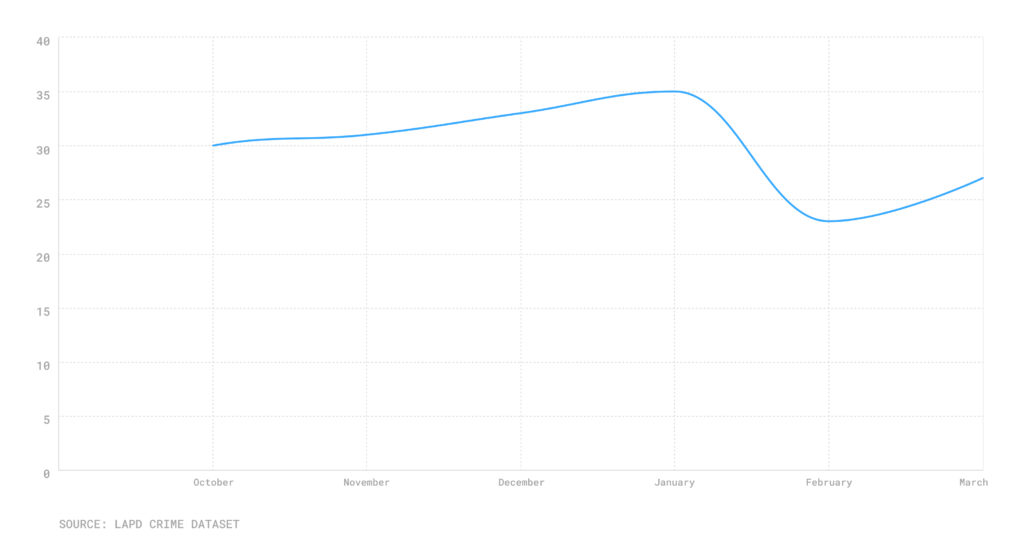 "While we've seen some pullback in homicides this year vs. last, initially that occurred in the month of January and early February," Police Chief Michel Moore told the civilian Los Angeles Police Commission on Tuesday. "The month of March was essentially flat in homicides, as well as in shooting violence."
Death in Downtown
The 2021 homicide rate was driven by a particularly violent third quarter. From July through September, 122 people were murdered in the city. 
In the first quarter of 2022, there were nine murders in Downtown, the highest total of any neighborhood in the city. That continues recent trends; for five straight years Downtown has recorded more annual homicides than any other community. There were 29 killings in Downtown in 2021.
There were six homicides in Vermont Knolls in the first quarter of this year, and four each in Historic South-Central and Boyle Heights.
[Get COVID-19, crime and other stats about where you live with the Crosstown Neighborhood Newsletter]
Gun violence continues to be the primary driver of homicides. Sixty-one of the killings this year involved a firearm, according to the LAPD. A knife or other sharp object was the murder weapon on 12 occasions.
Murder weapons in first quarter in Los Angeles
According to LAPD data, of those killed in the first three months, 47.1% were Hispanic (40 victims). Thirty-two of the deceased were Black (37.6%) and 11 were white (12.9%). Ethnicity was not revealed for two victims.  
Homicides in Los Angeles began increasing shortly after the onset of the pandemic in spring 2020. Although there have been peaks and valleys, since July 2020 there were 35 or more homicides in 10 different months (with a high of 48 in July 2021). In the previous decade that level had only been hit three times, most recently in October 2016.
The recent low point for homicides in Los Angeles was 2019, when 258 people were killed.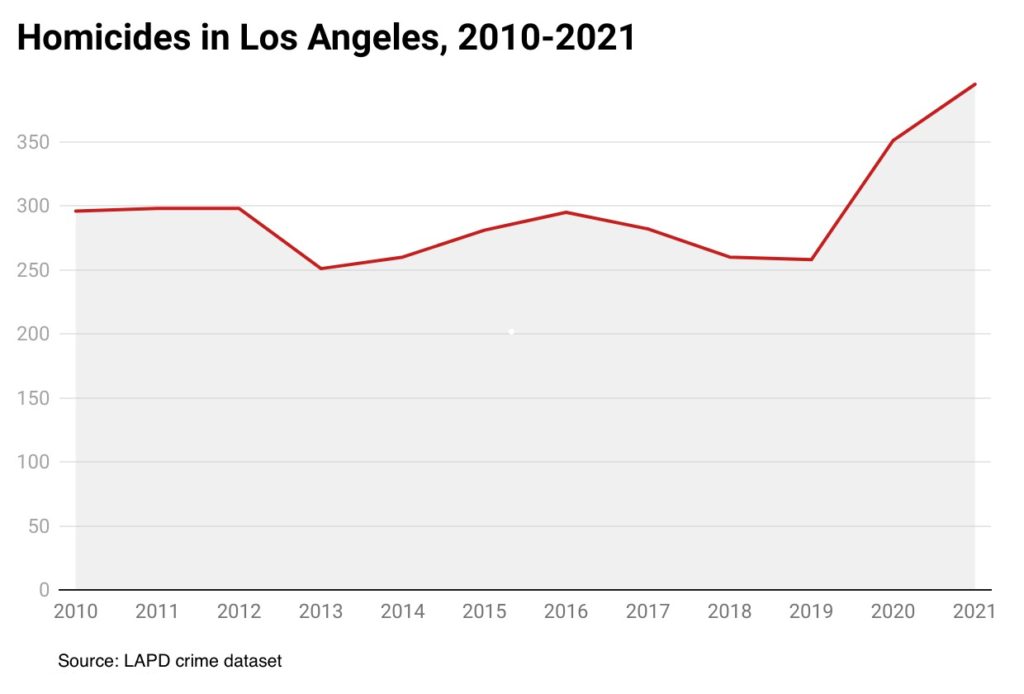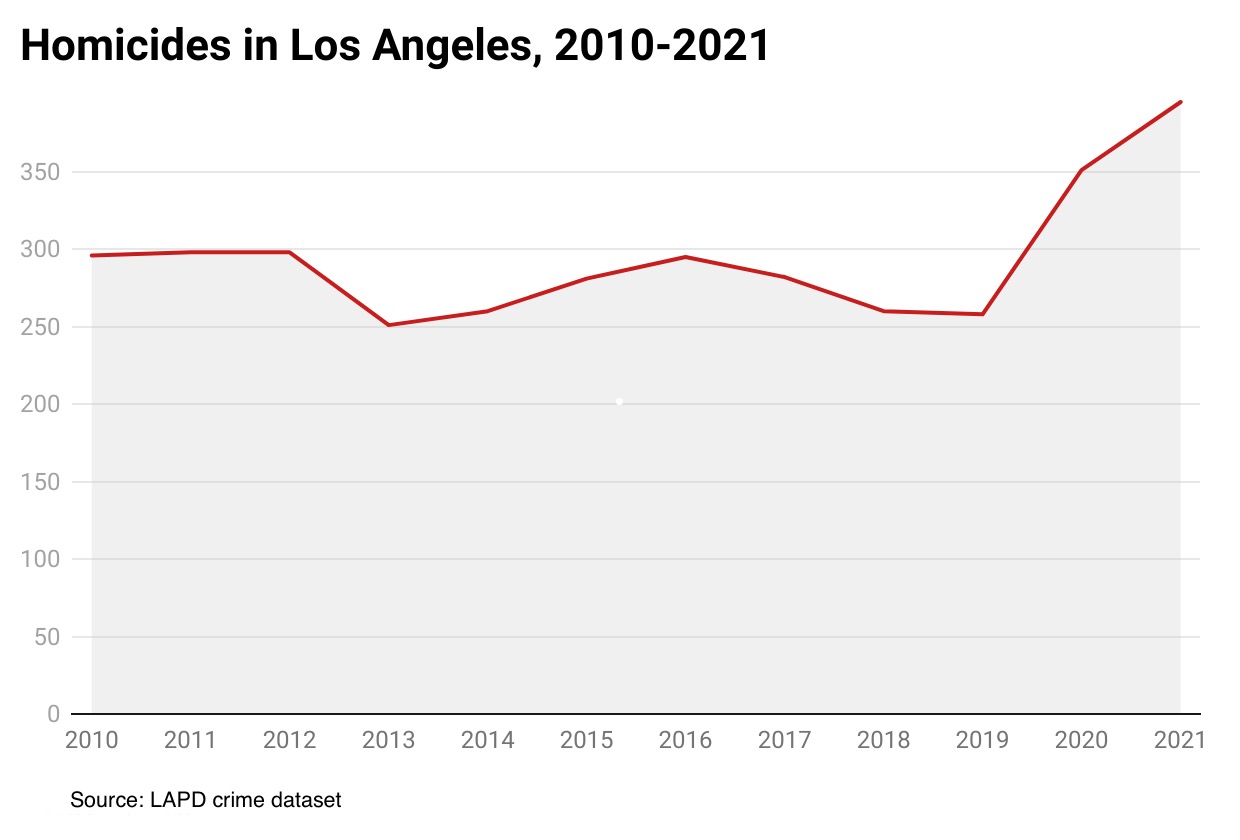 Los Angeles is not the only place where killings have increased since the pandemic began, and some other major metropolitan areas have recorded an even more precipitous rise. In 2021 New York City experienced 488 murders, up from 319 in 2019. In Chicago there were 797 homicides last year, compared with 498 two years before. 
Seven-three of the victims in Los Angeles this year were men, and just 12 were women. The youngest person killed this year was a 16-year-old Latino male who was shot in an alley in Historic South-Central on Feb. 2. According to police data, five victims were 70 or older. 
As of April 8, no arrests had been made in 48 of the killings, according to LAPD data.
How we did it: We examined publicly available crime data from the Los Angeles Police Department from 2010-March 31, 2022. Learn more about our data here.
LAPD data only reflects crimes that are reported to the department, not how many crimes actually occurred. In making our calculations, we rely on the data the LAPD makes publicly available. LAPD may update past crime reports with new information, or recategorize past reports. Those revised reports do not always automatically become part of the public database.
Have questions about our data or want to know more? Write to us at askus@xtown.la.