Open the floodgates: water waste reports climb in Los Angeles
Mid-Wilshire and Brentwood receive more complaints than any other neighborhood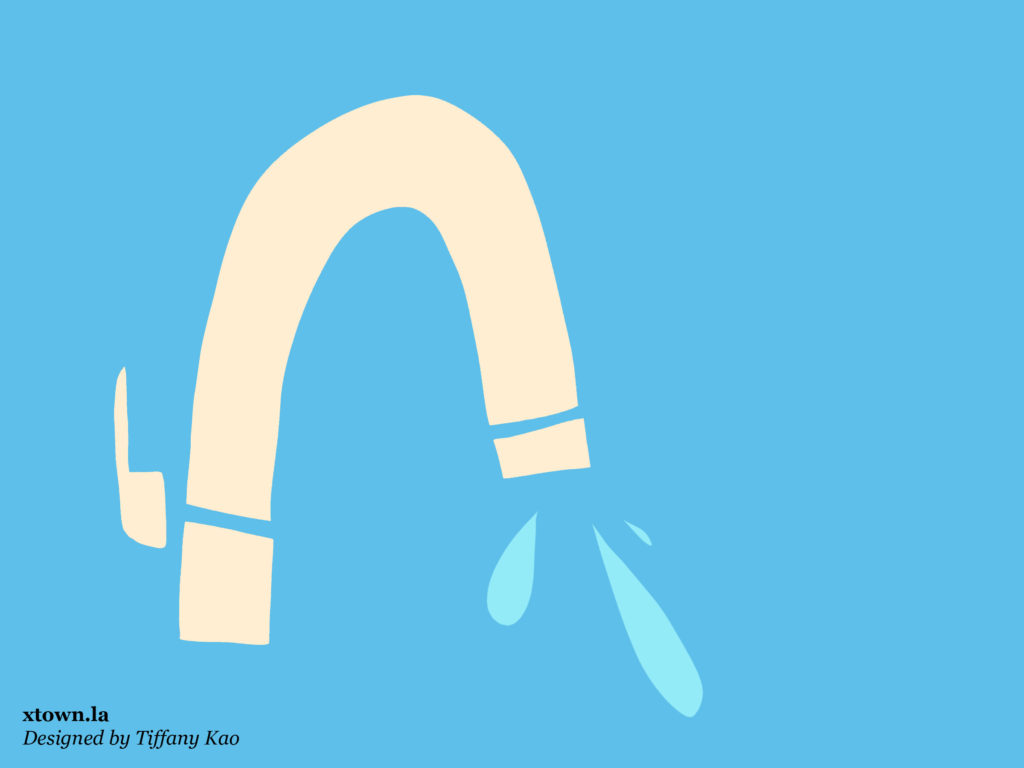 As California's drought worsens and Angelenos are asked to conserve water, the city's MyLA311 system is fielding more reports of liquid negligence. Last month, the system recorded 214 calls about water waste, the highest number since June 2016. 
March was not an outlier. In 2021, MyLA311 received a record 1,727 water waste reports. That was a 55% increase over 2020.
When Angelenos call 311 or visit the website, they are diverted to the Los Angeles Department of Water and Power's Water Conservation Response Unit. This can result in homeowners receiving a letter informing them that water waste was reported at their address. 
Clearly, reports are on the rise. What's less clear is whether turning in your neighbors for drenching their lawn has any impact. There are no penalties associated with the letter.
According to the LADWP, the most common reports are for watering on the wrong day or wrong time. Although many people may be unaware, watering a lawn or other greenery with sprinklers is restricted to three days a week; customers with odd-numbered street addresses are allowed to use their sprinklers on Mondays, Wednesdays and Fridays, and even-numbered street addresses can water on Tuesdays, Thursdays and Sundays. No watering is allowed outdoors from 9 a.m.-4 p.m. regardless of the day of the week. 
Other common waste reports include calls about a leak or a broken sprinkler.  
[Get COVID-19, crime and other stats about where you live with the Crosstown Neighborhood Newsletter]
LADWP spokesperson Mia Rose Wong said water waste complaints increased last winter following the launch of an educational campaign about prohibited practices. 
"We also tend to see an increase in incoming water waste reports when the drought is heavily covered in the media, like it has been over the last few months," Wong said in an email.
Dry conditions
The latest U.S. Drought Monitor update, released Thursday, showed more than 45% of California under extreme drought conditions.
As of Wednesday, MyLA311 had received 182 reports about water waste in Mid-Wilshire, by far the highest number of any neighborhood in Los Angeles. The community with the second-most complaints was Brentwood, with 102. 
No other Los Angeles neighborhood has produced more than 17 water waste reports this year. 
The DWP was unable to provide information about why calls in Mid-Wilshire and Brentwood outpace every other community by so much. However, this just continues a trend. In 2021 there were 492 reports in Mid-Wilshire and 333 in Brentwood, with the next highest figure being the 57 in Valley Village.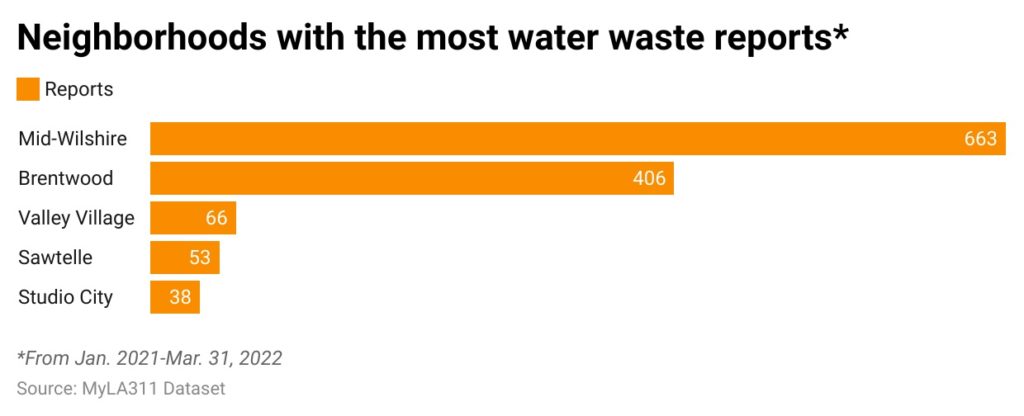 The reports of waste come on the heels of data, compiled by the State Water Resources Control Board, showing that as California moves deeper into its third year of drought, residents have yet to show significant progress in water conservation. Gov. Gavin Newsom set a goal to reduce urban water use by 15%, yet total water usage in California cities and towns saw a less than 1% drop in February compared with the same month in 2020.
Wong said close to 99% of water waste citations in Los Angeles result in compliance. She said reporting waste is important, because oftentimes people are unaware of the water usage occurring at their homes.
People can report water waste to the LADWP online or by calling 800-DIAL-DWP. Reports can also be made through the MyLA311 website and app.
How we did it: We examined publicly available data from the City of Los Angeles's MyLA311 call center. For neighborhood boundaries, we rely on the borders defined by the Los Angeles Times. Learn more about our data here. 
Want to know how your neighborhood fares? Or simply just interested in our data? Email us at askus@xtown.la.