Why shoplifters keep heading to Canoga Park
San Fernando Valley neighborhood sees more stealing from stores than anywhere else in Los Angeles
Ask Angelenos where they want to go for a day of shopping and you'll likely hear answers ranging from Melrose to The Grove to the Beverly Center to Downtown. But when it comes to shoplifting, thieves frequently head to another neighborhood, and one that might be unexpected: Canoga Park.
The San Fernando Valley neighborhood last year was the site of 336 shoplifting reports, more than any other community in the city, according to publicly available Los Angeles Police Department data. Canoga Park also tops the list for most shoplifting reports in the first three months of 2022, with 115 incidents. 
Where the community really stands out is shoplifting incidents in which more than $950 worth of merchandise is taken, qualifying as grand theft (which constitutes a felony in California). From Jan. 1-March 31 of this year, the LAPD fielded 30 reports of grand theft shoplifting in Canoga Park. The next most victimized communities, with 10 reports each, were Beverly Grove, Century City and Panorama City.
Since 2010, Canoga Park has been the top neighborhood in Los Angeles for grand theft shoplifting cases every year except for the pandemic year of 2020. The peak was the 151 reports in 2019.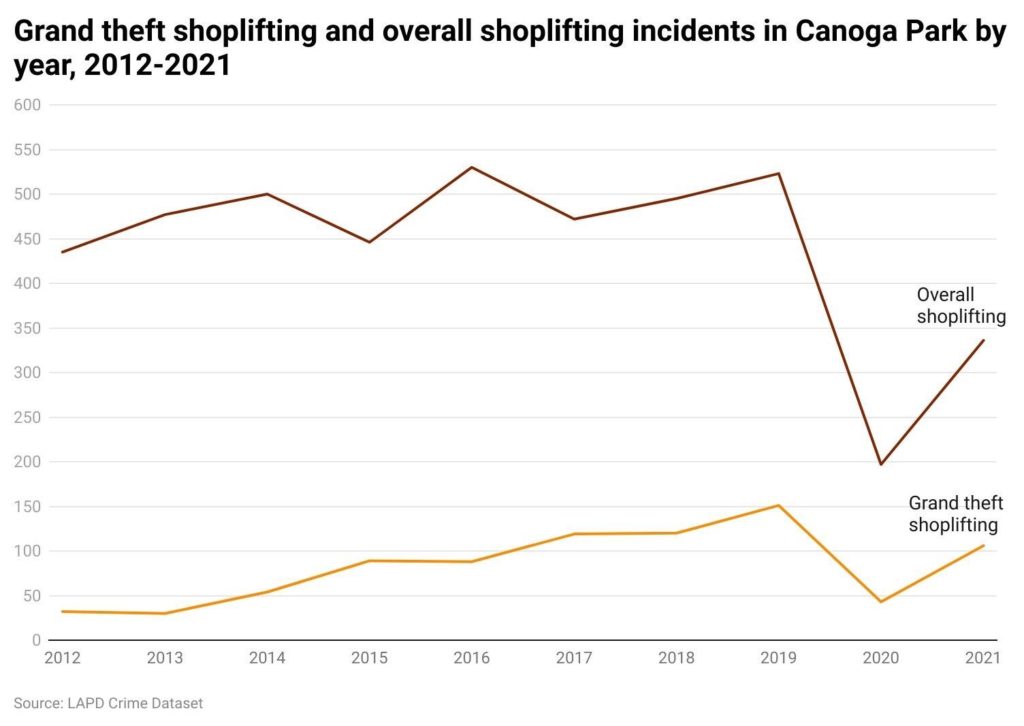 The 106 grand theft shoplifting reports in Canoga Park last year was more than twice the number in Sherman Oaks, the second-most victimized neighborhood(40 reports). 
Hitting the mall
There is a reason Canoga Park records so many shoplifting reports: It is home to Westfield Topanga & The Village, a shopping center with more than 200 stores, including numerous high-end retail spots.
The mall was the site of 91 grand theft shoplifting incidents in 2019. Duke Dao, the LAPD senior lead officer for the area, said the sheer magnitude of people who pass through the 2.1 million-square-foot complex raises the possibility of people making missteps that can lead to a crime. 
"Since there are so many patrons or customers shopping at the mall, the likelihood of them losing a wallet or a purse and leaving stuff unattended occurs," Dao said. "It becomes a very target-rich environment."
Yet some of the shoplifting incidents have resulted in far more loss than a misplaced wallet. Dao said thieves have hit the upscale Saint Laurent store in the mall recently, stealing more than 25 luxury handbags valued at more than $26,000.
The mall has also been the site of some high-profile incidents. In November, police responded to a smash-and-grab at the Nordstrom outlet. Media reports said a security guard was sprayed with a chemical and a crew of thieves made off with high-end purses, jumping into a waiting car. 
A similar incident took place at a jewelry store in the shopping center in January. In this case, however, the shop owner intervened and fired a shot. Nothing was taken. 
Dao said the Westfield Topanga & The Village has limited on-site security, requiring individual store owners or managers to determine if they will hire a guard or take other safety measures. 
The greatest number of shoplifting incidents in Los Angeles in the last decade occurred in 2016, when the LAPD fielded more than 7,000 reports. Last year the number of overall incidents was below 4,000.
While shoplifting is non-violent in nature, incidents can spin out of control and result in greater danger. That was the case at the Mall of Victor Valley in Victorville on Tuesday. When shoplifters attempted to steal from the Sole Addicts store, the owner pulled out a gun and fired. He missed the thieves, but struck a 9-year-old girl who had been waiting to pose for pictures with a mall Easter bunny. She was hit twice in the arm and is expected to recover. 
How we did it: We examined publicly available crime data from the Los Angeles Police Department from 2010-March 31, 2022. For neighborhood boundaries, we rely on the borders defined by the Los Angeles Times. Learn more about our data here.
LAPD data only reflects crimes that are reported to the department, not how many crimes actually occurred. In making our calculations, we rely on the data the LAPD makes publicly available. LAPD may update past crime reports with new information, or recategorize past reports. Those revised reports do not always automatically become part of the public database.
Have questions about our data or want to know more? Write to us at askus@xtown.la.