A sudden surge of pickpocketing in Los Angeles
Cases reach historic highs; organized rings hit nightclubs, bars
Baileigh Gentry had been saving up for an iPhone 11. Less than a week after purchasing it, someone surreptitiously snatched it from her bag while she was walking down Wilcox Avenue in Hollywood. 
The next day, Gentry took action. Using a location tracker, she was able to determine that the phone was nearby. 
"I woke up in a mood and started tracking the dot, [and] saw it was less than a mile from my apartment," Gentry wrote on the social media app NextDoor. "So I pulled up on the guy and told him I knew he took my phone and to give it back, that I'd give him $25 for it if he did and I'd call the cops if he didn't. 
"He messed with the wrong lady."
Gentry got her phone back, and although recovering her missing item may make her an exception, she is among a growing number of Angelenos who recently have been victims of pickpockets, or thieves who engage in what law enforcement describes as "pickpurse" incidents. (Police also count "drunk roll," which involves taking belongings from unconscious and intoxicated individuals, and purse-snatching incidents in their totals.)
Pickpocket epidemic
Pickpocket incidents have been surging in bars and nightclubs, in particular, according to publicly available Los Angeles Police Department data. Phones are among the most commonly stolen items. 
From Jan. 1–May 15 this year, there were 364 pickpocketing, pickpurse and purse-snatching cases in the city, according to LAPD data. During the same period a year ago, there were only 23 reports.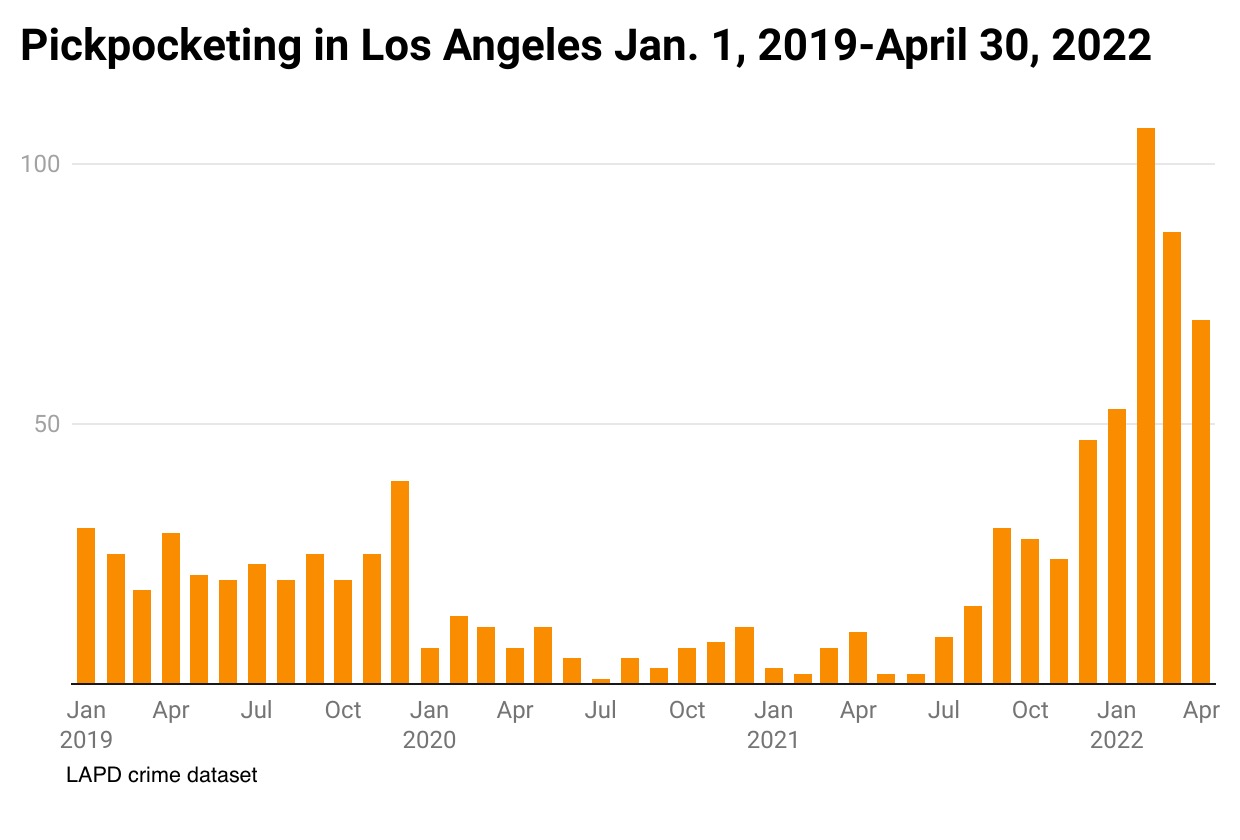 Just the first five months of 2022 have already surpassed the total in any previous year, according to police data.
Women are far more likely to fall prey to these crimes, perhaps due to pickpurse thieves. So far this year, 256 victims were women, while 97 were men, according to LAPD data.
Hollywood hangouts
From Jan. 1–May 15, there were 101 pickpocket and associated crimes in Hollywood, more than any other neighborhood in Los Angeles. At this point in 2019, only 10 cases had been documented in the community.
Det. Gary Kukaua of the LAPD's Hollywood robbery division said officers there are "absolutely" aware of a rise in these crimes. He said the station's Vice Division, which monitors clubs, bars and restaurants, has been working to crack down on the spike and is focusing on phone thefts.
"We have had more planned operations this year I can remember because of this problem," Kukaua said. "Everyone's aware of it here." 
He added, "All these other units within the division are also aware and everyone's trying to come up with solutions for this problem."
Kukaua said only one person has been arrested for pickpocket and associated crimes. He said it can be tricky to track down suspects who operate in the dimly lit, crowded settings, especially when many victims do not immediately notice that their belongings are missing. 
The second most-victimized community so far this year is Downtown (68 cases). Another 33 reports were fielded in Koreatown, where there were only 13 reported cases in the same period in 2019.
February brought the highest monthly total ever recorded by the LAPD, with 107 pickpocket reports. There was a particular spike in the week of Feb. 13–19, which could be related to Valentine's Day celebrations, and crowds frequenting nightspots for the Feb. 13 Super Bowl. Hollywood recorded 17 of the total 43 pickpocketing reports during the week. 
Problem beyond L.A.
The city of West Hollywood, which is patrolled by the Los Angeles Sheriff's Department, also saw a spike in pickpocketing and associated cases around that time, according to Sgt. Joana Warren. On the night of Feb. 12 alone, 10 cell phones were reported snatched from tabletops, pockets and purses at West Hollywood clubs, according to LASD crime statistics. 
"Usually, during holiday weeks, that's when we get more of these reports," Warren said, adding that with Pride Month in June, the department is warning club operators and security staff to be extra vigilant. 
Warren said that in West Hollywood, there were 296 cases from Jan 1–May 31. In 2019, there were only 127 cases in that timeframe. 
Warren said the LASD has noticed that pickpockets tend to work in groups of five to 10 people, and try to cause distractions in crowds. That is why there have been so many phone thefts inside clubs at the bar area or dance floor, or outside clubs during closing, she noted. 
"If you go down Santa Monica Boulevard, most of the bars there, most of the adult entertainment areas, they have signs outside that say, 'Make sure you secure your valuables, make sure you secure your cell phone,'" she said. 
Warren speculated that cases are also up in part because some thieves are wearing masks, which could embolden them. Kukaua suggested that more crimes may be reported due to victims filing police reports to get insurance coverage for stolen phones. Crime victims can now more easily file stolen property reports online, Kakua said, via the LAPD website.
To prevent pickpocket and pickpurse crimes, law enforcement officials urge those carrying a purse to always zip it shut, avoid keeping credit cards in the back of phone cases, and never leave personal items unattended. 
How we did it: We examined publicly available crime data from the Los Angeles Police Department from Jan. 1, 2010-May 15, 2022. Learn more about our data here.