Vandalism in Los Angeles falls to lowest level in five years
Incidents dip in first quarter, though some neighborhoods are still frequent targets
Amid election-year rhetoric of rising crime in Los Angeles, some things are getting better: There are fewer incidents of vandalism.
The first three months of 2022 brought 4,601 reports of vandalism, according to publicly available Los Angeles Police Department data. That was a 1.2% decline from the same period last year, as well as the lowest quarterly total in the last five years. 
The third quarter of last year produced 5,459 vandalism reports. The high in the last five years was the 5,599 incidents recorded in the third quarter of 2017.
Vandalism was the second-most commonly reported crime in the city after stolen vehicles in both 2020 and 2021. So far this year vandalism—both felony and misdemeanor reports—are again the second most-frequent crime. 
Historically, the first quarter of the year tends to produce the fewest number of vandalism calls. Still, it is unclear why reports were lower in the early part of 2022 than any other recent period. 
According to the LAPD, vandalism is when "any person maliciously damages, destroys or defaces the property of another person." It can encompass everything from breaking or destroying someone's personal goods, to smashing a window in a home or a car. The Los Angeles Times last year reported on a number of Los Angeles area restaurants where windows were broken; it could cost owners thousands of dollars to replace them.
[Get COVID-19, crime and other stats about where you live with the Crosstown Neighborhood Newsletter]
Incidents of vandalism that cause $400 or more in damage are classified as felonies, and crimes that result in damage below that dollar amount are considered misdemeanors, according to the LAPD. So far this year, 5,412 vandalism crimes were felonies, and 2,176 were misdemeanors. 
Rampant in Downtown
From Jan. 1–May 31 this year, there were 628 reports of vandalism in densely packed Downtown, more than any other neighborhood in Los Angeles. That far exceeded the second most frequent spot for vandals, Hollywood (326 reports).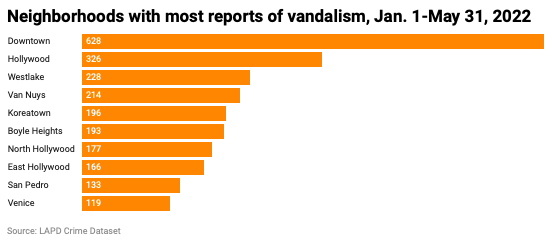 So far this year, the most frequent targets of vandals in the city have been cars or trucks; in those instances the vandalism may be part of a break-in. There have been 2,018 such crimes reported in 2022. 
This continues a trend, as cars and trucks were the most frequently vandalized targets in the recent past. From Jan. 1, 2017–May 31, 2022, there were 35,454 reports involving a vandalized vehicle.
Yet there is a wide range of places where vandalism takes place. According to the LAPD, in the first five months of 2022, there were 147 reports at a restaurant or fast-food establishment. There were 46 vandalism incidents at elementary schools, and 19 at police facilities.
Over the last five years, 4,271 vandalism reports involved graffiti. 
How we did it: We examined publicly available crime data from the Los Angeles Police Department from Jan. 1, 2012–May 31, 2022. Learn more about our data here.
LAPD data only reflects crimes that are reported to the department, not how many crimes actually occurred. In making our calculations, we rely on the data the LAPD makes publicly available. LAPD may update past crime reports with new information, or recategorize past reports. Those revised reports do not always automatically become part of the public database.
Have questions about our data or want to know more? Write to us at askus@xtown.la.