5 things to know about COVID-19 this week
Los Angeles sees cases stabilize, though the positivity rate is soaring
The COVID-19 landscape in Los Angeles is constantly changing. Crosstown each week is detailing the key things that you need to know. Additional information on cases in individual neighborhoods is available on the Crosstown coronavirus interactive map.
1) A big advance in vaccinations
The Centers for Disease Control and Prevention last week approved vaccinating kids 5 and younger. Shots for children as young as 6 months are expected to be readily available this week across Los Angeles County. 
"We know millions of parents and caregivers are eager to get their young children vaccinated, and with [this] decision, they can," CDC Director Dr. Rochelle Walensky said in announcing the approval.
More than 900 vaccination sites throughout Los Angeles County offer shots to kids. 
[Get COVID-19, crime and other stats about where you live with the Crosstown Neighborhood Newsletter]
2) Cases drop (slightly) for the first time in 11 weeks
The number of new COVID-19 cases in the county had been climbing every week for nearly three months. A shift in the pattern, even if small, provides hope that progress is being made against a batch of highly infectious variants.
From June 15-21, the Los Angeles County Department of Public Health identified 29,819 new cases. That's an 11% decrease from the 33,519 recorded one week prior. 
COVID-19 cases in Los Angeles County by week, May 18-June 21
One way the CDC tracks spread is through the COVID-19 Community Level, which counts the number of new cases in a county per 100,000 residents over a seven-day period; it can be designated Low, Medium or High. Los Angeles County currently is at Medium, with a case rate of 307.1 cases per 100,000 residents. 
New York City is also at the Medium alert level, though its rate is 233.6 cases per 100,000 people. 
3) Positivity rates are through the roof 
Some trends are curious. Even though case numbers are stable, the positivity rate has soared to levels not seen since January.
In the first week of June about 5% of tests were coming back positive. On Tuesday the rate eclipsed 10% and by Friday it stood at 11.3%. 
COVID-19 positivity rate in Los Angeles County, April 1–June 21
4) Hospitalizations are also rising
Climbing case numbers have translated to more people falling severely ill and needing high-level medical care. There were 679 county residents being treated for COVID-19 in area hospitals on Wednesday, a 12% increase from one week prior. On Friday it climbed to 741.
Also on Friday, the Department of Public Health reported that 7.3 COVID-19 patients per 100,000 county residents were admitted to area hospitals, the same as the previous week.
COVID-19 hospitalizations in Los Angeles County, April 1–June 21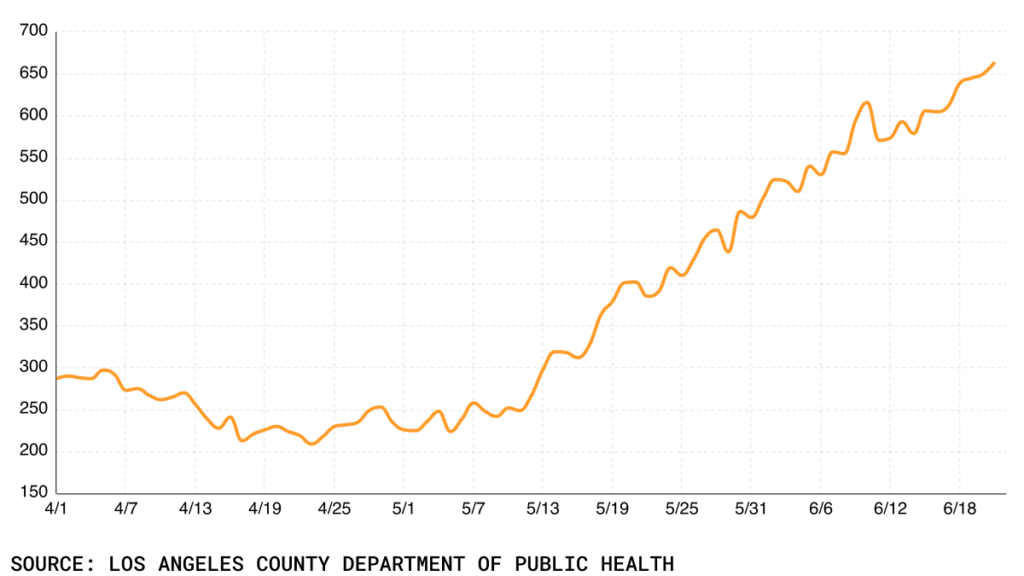 Although numbers are rising, the situation has been far worse: During the January Omicron surge hospitalizations peaked at more than 4,800. 
5) Danger for people experiencing homelessness  
At the outset of the pandemic, there was heightened concern about the virus' potential to impact people experiencing homelessness. The Department of Public Health issues a weekly summary report on how this community is faring. 
As of June 18, there had been 19,150 confirmed COVID-19 cases among the unhoused since the start of the pandemic. The county has seen 351 fatalities.
There were 46 cases among unhoused county residents in the last week, according to the summary. The high was the more than 2,000 cases diagnosed during a single week in January. 
How we did it: We analyzed coronavirus data related to new cases, deaths, hospitalizations and vaccinations provided by the Los Angeles County Department of Public Health.
Interested in our data? Check out the Crosstown coronavirus interactive map or email askus@xtown.la.