Yet another car theft record in Los Angeles
The 12,805 stolen vehicles in the first half of 2022 is 14% higher than last year
The city of Los Angeles saw a record number of vehicle thefts in the first half of 2022. This continues a trend that began with the onset of the pandemic, and has grown worse over time. 
From Jan. 1–June 30, 12,805 cars went missing, according to publicly available Los Angeles Police Department data. That's up 14% from the same time period last year. 
The contrast is even more stark when compared with the period before COVID-19. The 2022 total marks a 65.2% increase over the 7,751 stolen vehicle reports in the first six months of 2019. 
Last year brought a record 24,350 reports of vehicle theft, according to LAPD data. That compares with 21,313 incidents in 2020. The 2022 tally is a 54.9% jump over the number of cars stolen in the city in 2019.
Despite the heights reached in the first half of 2022, numbers are actually down slightly from the final quarter of last year. October, November and December all saw more than 2,300 vehicle thefts, with a peak of 2,388 in October. The monthly high this year is the 2,277 stolen cars in April.
Still, the city is on pace to surpass last year's total. Already in 2022, there have been five different months in which more than 2,000 cars went missing. That is the same number of times that monthly level was reached in the entirety of 2021. 
Targeting models
The situation in Los Angeles is not unique, as car thefts have increased across the country in recent years. An April report found that the number of stolen vehicles is up 88% in the state of Washington, and 31% in New Jersey. 
Numerous factors play into the rise. The National Insurance Crime Bureau, which works to combat and prevent insurance crime, said contributing elements include unemployment rates, inflation and organized crime. 
Another factor is that thieves have become skilled at overriding the locking mechanisms in certain vehicles, including Hondas from 1995–2010, and Kias from 2010–2021. A video released this year by the multi-agency Task Force for Regional Auto-Theft Prevention stated, "As word has spread about the ease by which these vehicles are stolen, they are increasingly being targeted by thieves."
Other commonly stolen vehicles, according to the NICB's 2020 "Hot Wheels Report," which tracks car-theft trends, are Ford full-size pick-ups. Chevrolet pick-ups also frequently go missing. 
[Get COVID-19, crime and other stats about where you live with the Crosstown Neighborhood Newsletter]
LAPD Chief Michel Moore has pointed to other problems. At past Los Angeles Police Commission meetings he mentioned vehicle owners who put their key fob in a cup holder and forget to take it when they park, providing an easy opportunity for thieves. LAPD officials have also mentioned food delivery drivers who leave their vehicle running while dropping off a meal. 
Vehicle rescue
Many stolen vehicles are recovered, according to NICB data. Moore has said the same thing, noting that in Los Angeles cars are frequently found a few days after being reported missing, and often in the same neighborhood. This indicates, he has said, that the purpose is more transportation for a thief, rather than stripping a vehicle to sell for parts. 
Danielle Naspinski, Marketing Content Creator with the NICB, said the organization  recommends that victims immediately contact authorities after a theft.
"As soon as you realize the vehicle is stolen, report it to law enforcement. The likelihood of recovery is best if you report the loss immediately," said Naspinski. 
Densely packed Downtown saw 645 reports of car theft in the first six months of this year, more than any other Los Angeles neighborhood. Thieves were also active in Boyle Heights (436 reports).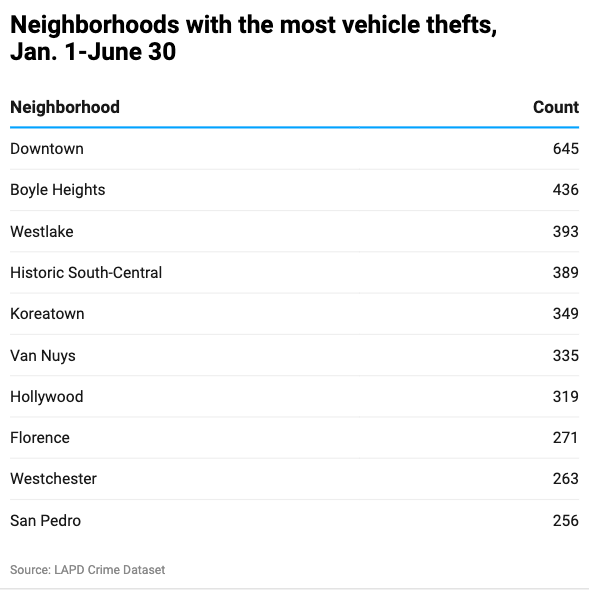 To prevent car theft, the NICB recommends rolling up your windows, locking doors and always taking the keys or fob. Vehicle owners are also urged to park in well-lit areas and never leave valuables in a car. 
How we did it: We examined publicly available vehicle theft data from the Los Angeles Police Department from Jan. 1, 2010–June 30, 2022.
LAPD data only reflects crimes that are reported to the department, not how many crimes actually occurred. In making our calculations, we rely on the data the LAPD makes publicly available. LAPD may update past crime reports with new information, or recategorize past reports. Those revised reports do not always automatically become part of the public database.
Want to know how your neighborhood fares? Or simply just interested in our data? Email us at askus@xtown.la.