Doggonit! Pet thefts are rising in Los Angeles
French bulldogs remain among the hottest breeds for dog-snatchers
In April, Wilmington resident Jody Martinez left her French bulldog, King, in her front yard and went inside her home for just a few minutes. 
When she came back out, King was gone. Someone on a skateboard had snatched the dog and ridden to a nearby Home Depot, where King was sold for $20, according to local news reports. 
The person who bought King eventually returned him to Martinez, but many Angelenos who have their beloved pets taken do not enjoy the same result. It is a situation that is worsening.  
Last year, 210 pets were stolen. That is the highest figure since the 245 that went missing in 2017, according to publicly available Los Angeles Police Department data.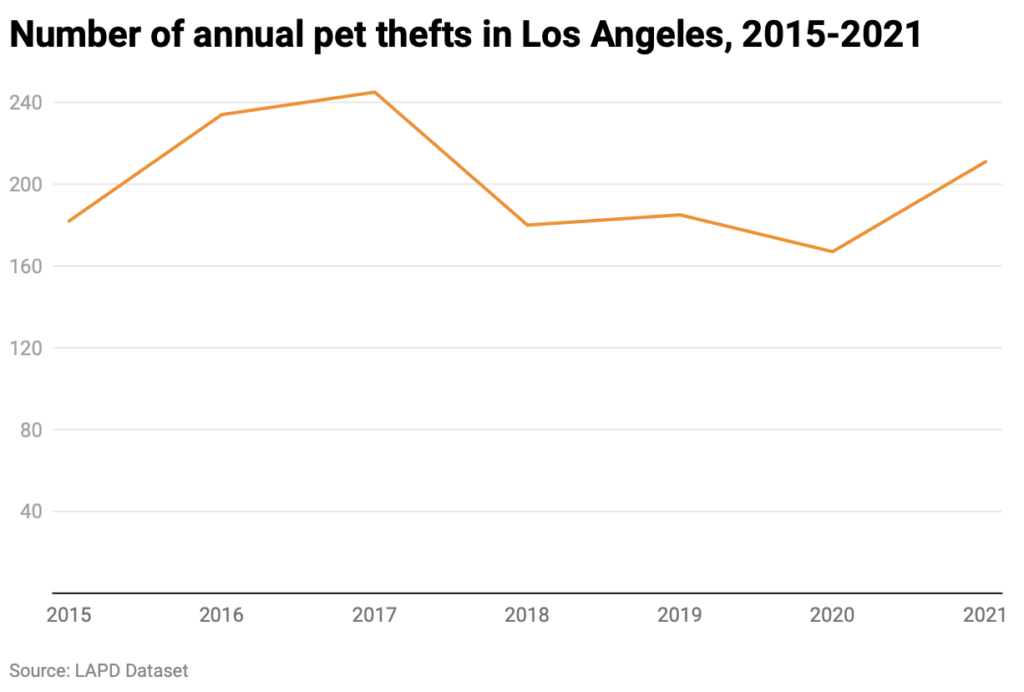 But this year could be worse. From Jan. 1–June 25 this year, 130 pets were taken, setting 2022 up to surpass last year's total. 
Some cases of pet theft generate outsized attention, most notably in February 2021, when two of Lady Gaga's French bulldogs were stolen, and her dog walker, Ryan Fischer, was shot in the chest. Five people were charged in the crime. 
Detective Noah Stone of the LAPD's North Hollywood station said that was not the only case of its kind. 
"It's usually the French bulldogs," said Stone. "That's the dog of choice when it comes to their target."
Brandi Hunter Munden, the vice president of the American Kennel Club, told Agence France-Presse this year that French bulldogs are often targeted because they can sell for $3,500-$5,000 or more. This is driven in part because the breed produces small litters. 
"The primary motive for stealing dogs is money," Chris DeRose, the founder and president of the nonprofit Last Chance for Animals, told Crosstown. "There are numerous ways pet thieves can profit from stealing a household pet. Once stolen, a dog can be sold to puppy mills, dog fighting rings, or to research facilities."
Force involved
In 2021, the LAPD classified 30 pet thefts as robberies with force involved. So far this year, there have been 18 such incidents. That includes the case of a North Hollywood woman, who in May left work with her French bulldog, Moolan. The woman was followed home and robbed at gunpoint.
[Get COVID-19, crime and other stats about where you live with the Crosstown Neighborhood Newsletter]
JoAnn DeCollibus Powell, the co-founder of Ventura-based Dog Days Search & Rescue, said that in recent years she has seen an increase in the number of stolen pets—particularly Yorkshire terriers, Goldendoodles and, yes, French bulldogs.
Still, she points out that stolen pets make up a small fraction of dogs that go missing. She said it is more common for someone to find a lost dog and keep it than for a person to outright steal a pet. 
"A lot of people will find an animal and it doesn't have a collar and a tag, and think, 'Someone must not care about this dog,'" she said. "But if the dog had a collar and a tag or a microchip, someone might go, 'Here's Buddy. His owners must really be missing him. Let's call them.'"
Pet thefts are fairly evenly distributed across the city. Last year, 23 pets were reported stolen in the LAPD's Central Division, which includes Downtown and Chinatown. So far this year, 16 animals have been reported taken in the 77th Street Division, which encompasses neighborhoods including Gramercy Park and Vermont Knolls.  
DeCollibus Powell said pet theft can happen anywhere, and that owners must stay vigilant. 
"People just need to be careful, no matter what dogs they have, no matter what breed they are. Get a collar tag and a microchip, install a camera if you can outside your house," she said. "And know your surroundings when you're out with your animals. Don't leave them unattended."
How we did it: We examined publicly available property crime data from the Los Angeles Police Department from Jan. 1, 2015–June 25, 2022.
LAPD data only reflects crimes that are reported to the department, not how many crimes actually occurred. In making our calculations, we rely on the data the LAPD makes publicly available. LAPD may update past crime reports with new information, or recategorize past reports. Those revised reports do not always automatically become part of the public database.
Want to know how your neighborhood fares? Or simply just interested in our data? Email us at askus@xtown.la.