An identity theft bonanza across Los Angeles
Billions in COVID-19 relief led to unprecedented levels of fraud
The billions of dollars in COVID-19 government relief sent out over the past two years is having a knock-on effect, helping to fuel an unprecedented spike in identity theft.
During the first half of 2022, there were 9,083 reports of identity theft in the city, according to publicly available data from the Los Angeles Police Department, more than during any six-month period on record.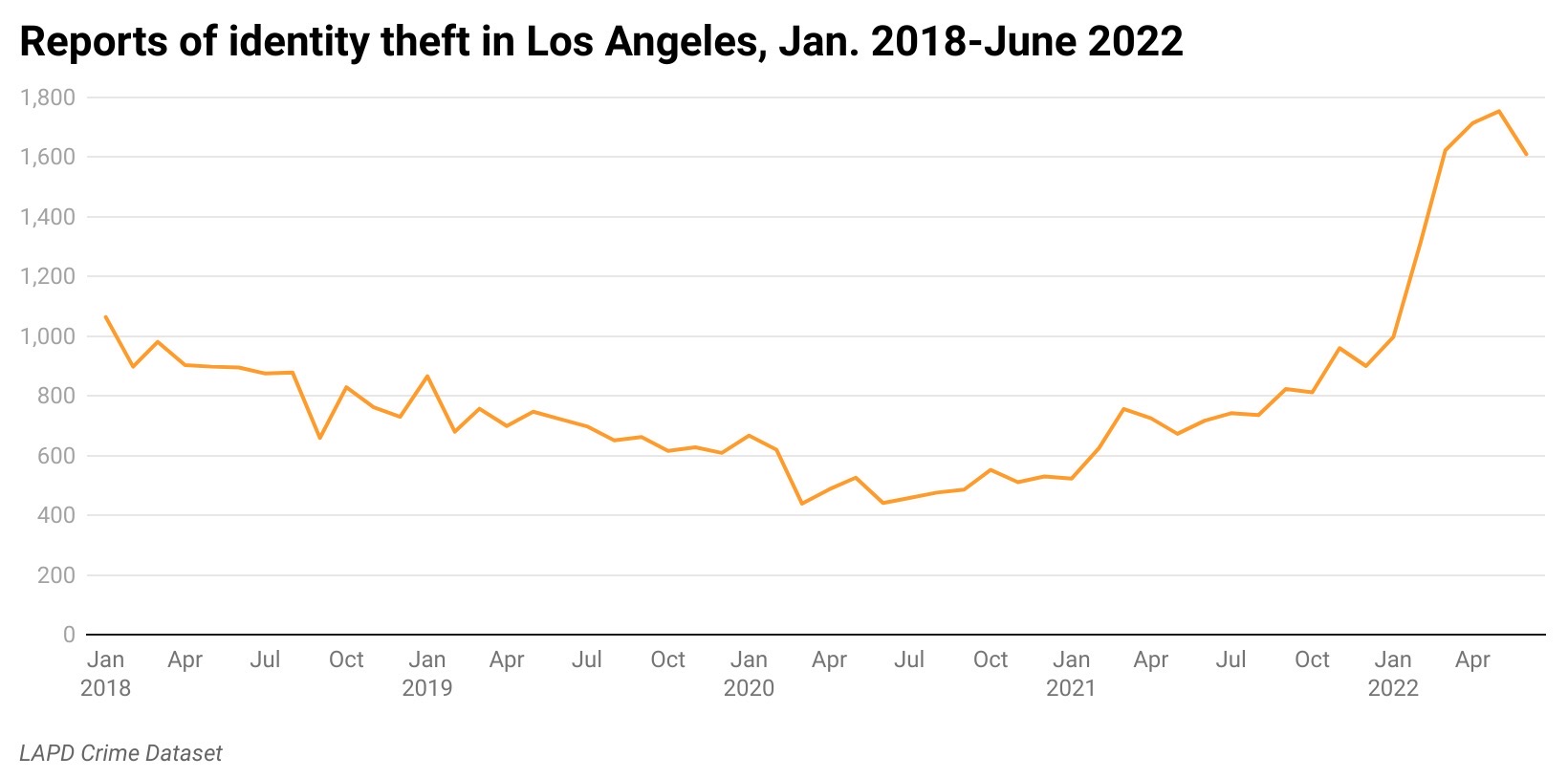 Fraudulent claims
A flood of government aid released during the pandemic, such as enhanced unemployment benefits and food assistance, was crucial to helping many families overcome the sudden financial pain that came with COVID-19 lockdowns. But it also let loose a flurry of fraud, as scammers pilfered real people's identities to file thousands of false claims. 
[Get COVID-19, crime and other stats about where you live with the Crosstown Neighborhood Newsletter]
When COVID-19 first struck, Los Angeles was enjoying a 10-year low in this type of crime. In the first half of 2020, there were 3,180 reports of identity theft in the city, roughly one third of the total during the first six months of this year. 

Nationwide scams
Identity theft crimes are rising nationwide, as aid from federal programs such as the Coronavirus Aid Relief and Economic Security Act became widely available. Reports of identity theft are up in 11 states since 2019, including Louisiana (396%), Kansas (328%), Delaware (269%), and Pennsylvania (268%), according to a report conducted by insurance broker platform QuoteWizard. 
In March, the White House announced plans to expand resources for the Department of Justice's COVID-19 Fraud Enforcement Task Force in an effort to prevent identity thefts and prosecute individuals guilty of pandemic fraud. 
The federal government pushed out massive amounts of emergency relief through agencies such as California's Employment Development Department during the pandemic. The EDD is responsible for benefits payments for unemployment insurance claims, among several other services. 
The EDD allocated millions of dollars in funds to Californians who became unemployed, had their hours cut, or businesses shut down as a result of the pandemic's economic downturn. While many residents took advantage of the benefits, some saw it as an opportunity to file fraudulent benefit claims by registering under someone else's name. California lost nearly $20 billion to fraudulent unemployment claims. Last year the EDD launched a clawback program to find where the money went. 
On July 6, six Californians accused of fraudulently receiving nearly $2 million in COVID-19 unemployment benefits were indicted by a federal grand jury. The criminals allegedly assumed the identities of others and falsified documents claiming unemployment status to receive additional benefits.
"They're looking at all the funds they pushed out during that time frame. They're finding that some people did not deserve the funds, and they're finding others who have stolen funds," said Capt. Alfonso Lopez, the head of the LAPD's commercial crimes division. 
Another reason the city is witnessing a surge in these crimes is due to the ongoing switch to  electronic benefits transfers, or EBT, a system which sends money directly into residents' accounts. According to Lopez, thieves are hijacking those accounts as more people switch to electronic banking. 
"We're seeing an increase in identity theft because people are utilizing various systems and have various ways to get that information because the money is readily available to them," said Lopez.
In addition, some organized crime rings have installed skimmer devices on ATMs across California. When an individual uses an ATM with a skimmer installed, criminals are able to make copies of the card, take the copy to a different ATM and drain money from the accounts.
So far this year, there were 554 identity theft reports in Westlake, more than any other Los Angeles neighborhood. Densely-packed Downtown was the site of 329 incidents. Thieves were also active in Green Meadows, which had 316 incidents. 
Women were the victims in identity theft cases in 64.6% of cases.
The LAPD encourages residents to implement several identity theft preventative measures to slow the rate of these crimes. These tips include paying bills electronically, reducing the number of active credit cards, installing a locked mailbox, and refraining from giving out credit card information over the phone, among a few. 
Individuals can report identity thefts and receive recovery plans through the Federal Trade Commission's Identity Theft resource page. 
How we did it: We examined publicly available identity theft data from the Los Angeles Police Department from Jan. 1, 2016-March 31, 2022. For neighborhood boundaries, we rely on the borders defined by the Los Angeles Times. Learn more about our data here.  
LAPD data only reflects crimes that are reported to the department, not how many crimes actually occurred. In making our calculations, we rely on the data the LAPD makes publicly available. LAPD may update past crime reports with new information, or recategorize past reports. Those revised reports do not always automatically become part of the public database.
Have questions about our data? Write to us at askus@xtown.la.