Attacks on Los Angeles street vendors surge
June and July bring two highest monthly totals ever where a vendor was a crime victim
In Los Angeles County, nearly 10,000 street vendors offer a variety of goods and foods: from sidewalk stands selling clothing to the carts hawking the beloved bacon-wrapped hot dogs, tacos, fresh fruit and more.
This summer, there has been an alarming increase in crimes targeting vendors. According to publicly available Los Angeles Police Department data, a vendor was a crime victim 35 times in June and 29 times in July. The previous monthly high was 23.
One factor that potentially might be driving up the numbers is that street vendors are becoming more comfortable with speaking to law enforcement. 
James Roberts, a captain with the LAPD's Rampart Division, attributes part of the increase to the existence of what is called the Victim Services bureau. Operating out of the L.A. County District Attorney's office, it involves representatives who assist victims and witnesses of crime, and aims to promote victims' rights, services, safety and well-being.
"This encouraged victims who would otherwise be afraid to come forward and report crimes, to report crimes," said Roberts. 
Roberts acknowledges that even with efforts to gain trust, many crimes go unreported.
"Sometimes vendors are reluctant reporters of crime because in a lot of cases they're undocumented," Roberts said. "We have a vending working group that we've put together to bridge that communication gap."
Key part of the landscape
Street vending is ubiquitous in Los Angeles, and has long been a vital part of the landscape. According to a 2015 report conducted by the nonprofit research organization Economic Roundtable, street vending generates more than $500 million in annual spending in the city.
Yet there has long been a chasm over efforts to determine who can sell what and where. Organizations and activists including the LA Street Vendor Campaign have called for legalizing vending and protecting the rights of vendors. That helped lead to a move by the City Council to allow and regulate some vending at the start of 2020. 
Numerous hurdles and challenges remain. Some brick-and-mortar store and restaurant owners charge that vendors who set up wherever they please can undermine their tax-paying businesses. They complain there is little enforcement. 
Additionally, some vendors assert that requirements to get a certain model of cart allowed by local government is too expensive, or that securing particular permits is onerous. 
[Get COVID-19, crime and other stats about where you live with the Crosstown Neighborhood Newsletter] 
More violent activity
From Jan. 1–July 31, the LAPD fielded 156 reports of crime committed against street vendors in the city of Los Angeles. That represents a 52.9% increase from the 102 incidents reported during the same period in 2021, and is 48.6% higher than the first seven months in the pre-pandemic year of 2019.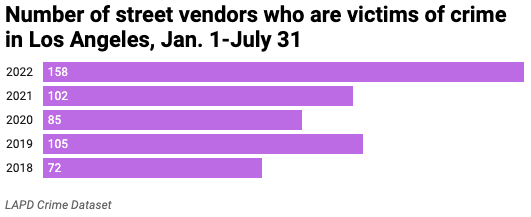 Crimes are not only becoming more frequent, but also more violent, according to LAPD data. From Jan. 1–July 31, there were 54 instances in which a vendor was robbed, and on 29 occasions a vendor was a victim of an assault with a deadly weapon. That compares with 31 assaults with a deadly weapon during the entirety of 2021.
Some attacks draw significant attention, such as an incident on Aug. 15 when a man destroyed a fruit vendor's stand with an ax in Woodland Hills. According to a CBS News Los Angeles report, police said the suspect had targeted another vendor in May. 
Another high-profile incident occurred over the July 4 weekend in Harvard Park. A woman angry about waiting for a burrito attacked a vendor and dumped out containers of food. A KTLA report showed video of the assailant physically confronting a female vendor.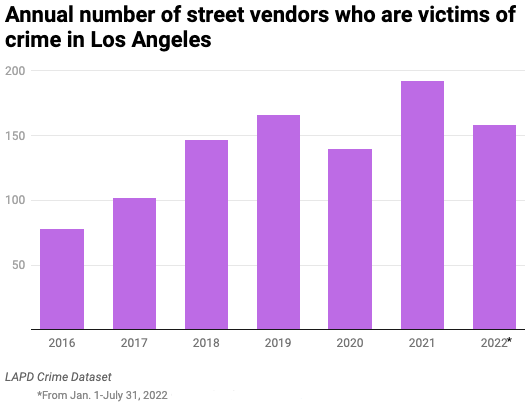 Focus on Westlake
There were 19 crimes reported against vendors in Westlake during the first seven months of the year, more than any other Los Angeles neighborhood.
Westlake, which includes MacArthur Park, has historically been a hub of the street-vending scene, and in 2017 became home to a street vending pilot program. 
The neighborhood also has a heavy gang presence, including members who have been known to intimidate and "tax" vendors who sell in the area. Those who don't pay are sometimes targeted.
The LAPD has classified four of the crimes against street vendors this year as gang-related. That includes an incident on March 10 when an alleged gang member assaulted and aimed a semi-automatic pistol at a Latina vendor in Westlake.
Other neighborhoods this year where vendors have frequently been crime victims include Downtown (15 reports), Florence and Pico-Union (12 each). 
According to police data, Latinos were the victims in nearly 88% of all crimes committed against vendors during the first seven months of this year. 
Numerous street vendors approached by Crosstown opted not to speak with a reporter for this story. 
Movement for protection
The issue of safety for vendors brings up other concerns, chiefly how to more fluidly integrate vendors with local government.
Dr. Sarah Portnoy, an associate professor in the Departments of Iberian and Latin American Studies and American Studies and Ethnicity at the University of Southern California, said vendors contribute to the economy, culture and safety of Los Angeles sidewalks.
"One of the critiques against legalization was, 'Oh, they attract crime and gangs.' No, it is the opposite," said Portnoy, who researches and teaches about food, culture and justice in the city's Latino communities. "I believe it prevents a lot of crime by having foot traffic on the sidewalks."
Portnoy said vendors who want to meet all municipal obligations can be challenged by a system that is complicated and requires a trio of permits along with a business tax certificate. 
"These three different payments add up to be quite expensive for somebody who is living day to day," said Portnoy.
One possible part of the solution is state Senate Bill 972, which was authored in February by Sen. Lena Gonzalez (D–Long Beach), with the input of a coalition of sidewalk vendors, immigrants rights advocates and other organizations. It would update the California Food Retail Code to make permit procedures and cart requirements more accessible and ensure greater protection for sidewalk vendors. The Los Angeles Times last month editorialized in favor of it.
"It's just to make the process much simpler and hopefully aims to make common-sense changes, like making permitting procedures, cart design and equipment standards more accessible," said Portnoy. 
The bill has passed the state legislature and made its way to the desk of Gov. Gavin Newsom. He has until the end of the month to sign or veto it. 
How we did it: We examined publicly available LAPD data on crimes against street vendors from Jan. 1, 2010–July 31, 2022. For neighborhood boundaries, we rely on the borders defined by the Los Angeles Times. Learn more about our data here. 
LAPD data only reflects crimes that are reported to the department, not how many crimes actually occurred. In making our calculations, we rely on the data the LAPD makes publicly available. LAPD may update past crime reports with new information or recategorize past reports. Those revised reports do not always automatically become part of the public database.
Want to know how your neighborhood fares? Or simply just interested in our data. Email us at askus@xtown.la.