A look at money in the District 13 City Council race
Incumbent Mitch O'Farrell has pulled in more cash, but challenger Hugo Soto-Martinez has a greater number of donors
The nearly $100 million that Rick Caruso has spent on his mayoral campaign has dominated headlines in Los Angeles this election season. While the totals in other city races don't come close, money still plays a crucial role. That includes the Council District 13 contest, where Hugo Soto-Martinez hopes to unseat two-term incumbent Mitch O'Farrell.
Soto-Martinez bested O'Farrell in the June 7 primary by 4,238 votes—40.6% to 31.6%—but the election advanced to a Nov. 8 runoff, since neither candidate received a majority. 
The Eastside district includes portions of Hollywood, East Hollywood and Silver Lake. It encompasses Echo Park and Historic Filipinotown, and extends into Atwater Village and Glassell Park.
O'Farrell raised $606,000 in the primary, far more than the $331,000 pulled in by Soto-Martinez. Things are much tighter in the runoff: According to financial disclosures filed with the Los Angeles City Ethics Commission, as of Oct. 22 O'Farrell had raised $266,000, compared with $231,000 secured by Soto-Martinez.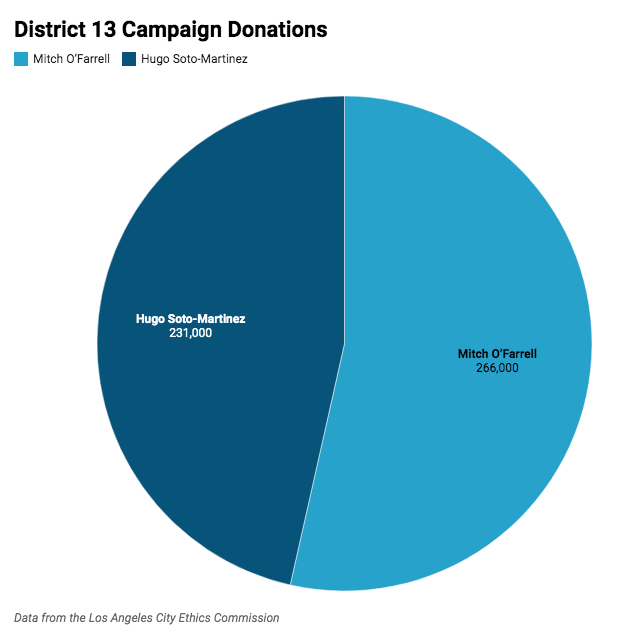 The O'Farrell campaign has been spending at a faster clip. As of Oct. 22, Soto-Martinez had $142,000 in cash on hand. The incumbent was down to $76,000. 
Ballots have already been mailed to all registered voters in the district. Here is how the candidates' fundraising in the runoff period breaks down.
[Get COVID-19, crime and other stats about where you live with the Crosstown Neighborhood Newsletter]
Mitch O'Farrell
Before O'Farrell was elected in 2013, he worked for then-District 13 Councilman Eric Garcetti. The first Native American to serve on the Council, O'Farrell touts progressive bonafides, including implementing tenant protections during the pandemic. However, he has been criticized from the left for supporting an ordinance that bans homeless people from camping near schools and libraries, and the controversial cleanup of a tent encampment at the park at Echo Park Lake.
[More on campaign finance: Digging into money raised by L.A. City Attorney candidates]
According to an Ethics Commission dashboard, almost $70,000 of the money O'Farrell has raised in the runoff period comes from inside the city, though another $78,000 is identified as potentially inside Los Angeles. He has gotten $106,000, or almost 40% of his contributions, from outside the city but inside California. About $8,400 has come from outside the state. 
According to the dashboard, the ZIP codes supporting O'Farrell most heavily are 90004, which includes Larchmont and Hancock Park, and has produced $14,278. Another $10,681 has come from 90027 (Los Feliz). Residents of 90026 (Echo Park) have given $10,596. 
Approximately three dozen contributors to O'Farrell's campaign work in the real estate development or architecture field, and more than 40 come from the legal sector. Ten are listed as a CEO, and 20 are identified in disclosure statements as a "consultant." Additionally, approximately 97 of his donors are retired.
Hugo Soto-Martinez
Before the race, Soto-Martinez worked as an organizer for the union Unite HERE Local 11, and served on the Los Feliz Neighborhood Council. Soto-Martinez is seen as to the left of O'Farrell, and has been endorsed by the Democratic Socialists for America, as well as the Los Angeles Times. 
While O'Farrell has raised more money in the runoff period, Soto-Martinez claims more individual donors—Ethics Commission disclosures show approximately 785 people giving to his campaign, compared with 549 for O'Farrell. 
Soto-Martinez has received 87 donations of $800, the maximum individual amount allowed in a council race. That compares with the 234 maximum contributions to O'Farrell. 
Another 33 people gave $114 to Soto-Martinez. The amount is important for matching funds, a city program to help level the field for non-traditional candidates. The $114 can "unlock" another $684 from the city. To date, Soto-Martinez has received the maximum $201,000 in matching funds during the runoff. O'Farrell has taken in $175,000. 
According to the Ethics Commission dashboard, approximately $75,000 of Soto-Martinez's donations have come from inside the city, with another $56,000 listed as possibly within Los Angeles. Soto-Martinez counts about $36,500 as coming from outside Los Angeles but inside California, and approximately $11,000 flowing from outside the state. He also has $52,000 in "unitemized" contributions, which refers to small-dollar donations.
His most active support comes from Echo Park ZIP code 90026, from which he has drawn $17,142, followed by 90039, which encompasses Atwater Village, which has produced $13,468. 
More than 60 of Soto-Martinez's donors list their occupation as writer, and a similar number work in the legal field. Forty-two are not employed. He has received some support from Hollywood figures, including "The League" actor Paul Scheer, comedian Paul F. Thompkins and producer Dave Becky.  
Outside Forces
For all the candidates are spending, more is being dropped on their behalf. Independent expenditure groups have so far spent over $1.75 million in the runoff period, the vast majority backing O'Farrell. IEs, as they are known, are not subject to the same contribution limits that individual donors are, but by law they are not allowed to coordinate with a candidate's official campaign. 
In the runoff, IEs have spent more than $1.35 million supporting O'Farrell. A political action committee affiliated with the LGBTQ civil rights organization Equality California has spent more than $1 million on mailers, commercials and other efforts promoting O'Farrell, one of two gay members of the council. The California Apartment Association has also spent heavily on his behalf.
Groups affiliated with Soto-Martinez's former employer, Unite HERE Local 11, are directing funds to get him elected. In the runoff period they have spent almost $200,000 on flyers, phone banking, mailers and more. 
How we did it: We examined publicly available campaign finance data from the Los Angeles City Ethics Commission in the period up to Oct. 22, 2022. Some of the data on an Ethics Commission dashboard may be updated and not fully reflected in this article. More information about our data is here.
Have any questions? Write to us at askus@xtown.la.