Los Angeles clothing stores feel a crime pinch
Shoplifting and other incidents reach levels not seen in at least a decade
Los Angeles is famous for its fashion sense and stylish crowds. Yet in the past six months, the city's clothing stores have attracted a wholly undesirable element: thieves. 
After expected low numbers during the first year of the pandemic, Los Angeles clothing stores experienced approximately 50–75 monthly crimes from April 2021–February 2022. Then, in March, the number spiked, to 102 crimes, according to Los Angeles Police Department figures. It was the highest monthly count since the LAPD began making its data publicly available in 2010.
That turned out to be just a way station on a meteoric rise. There were 116 reports in July and 216 clothing store crimes the following month. The total reached 247 in September.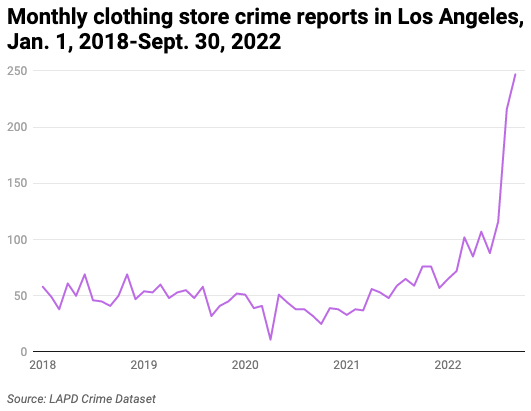 The surge means that, just in the first three quarters of 2022, Los Angeles already has established a new annual high for clothing store crime. From Jan. 1–Sept. 30 there were 1,098 crimes, according to LAPD data. That represents a 67.1% increase from the 657 reports in the entirety of 2021. It is an 83.3% increase over 2019's total (599). 
Some incidents may be perpetrated by organized crime rings that steal items from clothing and other stores with the intent of reselling the goods, or even returning them to the store for refunds. Last year Gov. Gavin Newsom announced plans to crack down on the practice.
Downtown spotlight 
This is not the only post-pandemic retail crime rise that Los Angeles is experiencing. Crosstown recently reported on a surge in shoplifting incidents across the city. 
The majority of clothing store crimes this year were listed as shoplifting, with 723 reports in the city through Sept. 30. Broken down, 640 of these reports were classified as petty theft, in which the value of goods taken is less than $950. The remaining 83 instances were identified as grand theft, the charge when the value of stolen merchandise exceeds $950. 
The next most-frequent crime at clothing stores was robbery, with 82 reports.
The neighborhood with the most clothing store crimes is densely packed Downtown, with 489 reports so far this year. According to police data, thieves have been especially active in the 600 block of South Broadway, which is home to a concentration of sneaker shops and small jewelry sellers. 
[Get COVID-19, crime and other stats about where you live with the Crosstown Neighborhood Newsletter] 
Blair Besten, executive director of the Historic Core Business Improvement District, which operates cleaning and safety programs for the community in the heart of Downtown, noted that not every incident becomes a police statistic.
"It's a citywide issue, but I believe that some stores, by nature, have a more direct relationship with LAPD," said Besten. "So they are more inclined to make a report." 
It is perhaps not surprising that Downtown ranks atop the list for clothing store crimes, considering that the neighborhood claims tens of thousands of residents, hundreds of thousands of daily workers, and a large number of retail outlets. Shoplifters and other thieves often go where stores are concentrated. Canoga Park and Century City, which both have large shopping malls, have each seen high numbers of shoplifting reports this year.
Canoga Park has the second-highest number of clothing store crimes in the city this year, with 76 reports. Also ranking high is Panorama City (53 reports).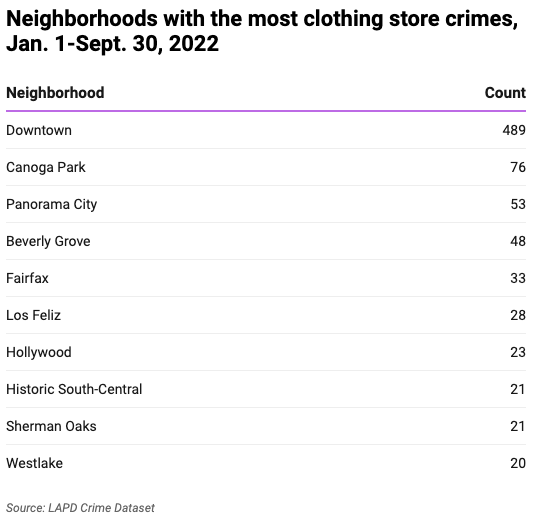 A chronic shoplifter
The surge in clothing store crimes in Downtown may have been propelled by one particular individual: On Oct. 11, the LAPD announced the arrest of a "chronic shoplifter." It said that on Oct. 7, Henry Funches was seen exiting a location in the 600 block of South Broadway with stolen property. According to police, Funches has been associated with nearly 50 thefts, stealing merchandise worth approximately $15,000. 
The LAPD media relations office did not return calls seeking additional information.
Since Funches' arrest, the numbers have gone down in Downtown. According to the most recent LAPD data, there were 39 clothing store crimes in the community in October. That compares with 171 in Downtown one month prior. 
While the decrease is welcomed, Besten, like others, expressed frustration that many perpetrators of retail theft are not aggressively prosecuted, particularly if the charge is petty theft. According to police data, 459 of the clothing store incidents in Downtown this year were identified as petty theft. Only on 44 occasions did the value of stolen goods meet the standards for a felony charge of grand theft.
"When the laws and the prosecutions from the District Attorney's office are not backing up the arrests that are being made, then the best effort that we can do is help businesses harden their target," said Besten. 
How we did it: We examined publicly available LAPD data on crimes at clothing stores from Jan. 1, 2010–Sept. 30, 2022. For neighborhood boundaries, we rely on the borders defined by the Los Angeles Times. Learn more about our data here. 
LAPD data only reflects crimes that are reported to the department, not how many crimes actually occurred. In Making our calculations, we rely on the data the LAPD makes publicly available. LAPD may update past crime reports with new information or recategorize past reports. Those revised reports do not always automatically become part of the public database.
Want to know how your neighborhood fares? Or simply just interested in our data. Email us at askus@xtown.la.