In December, the porch pirates pounce
Thieves in Los Angeles target holiday doorstep deliveries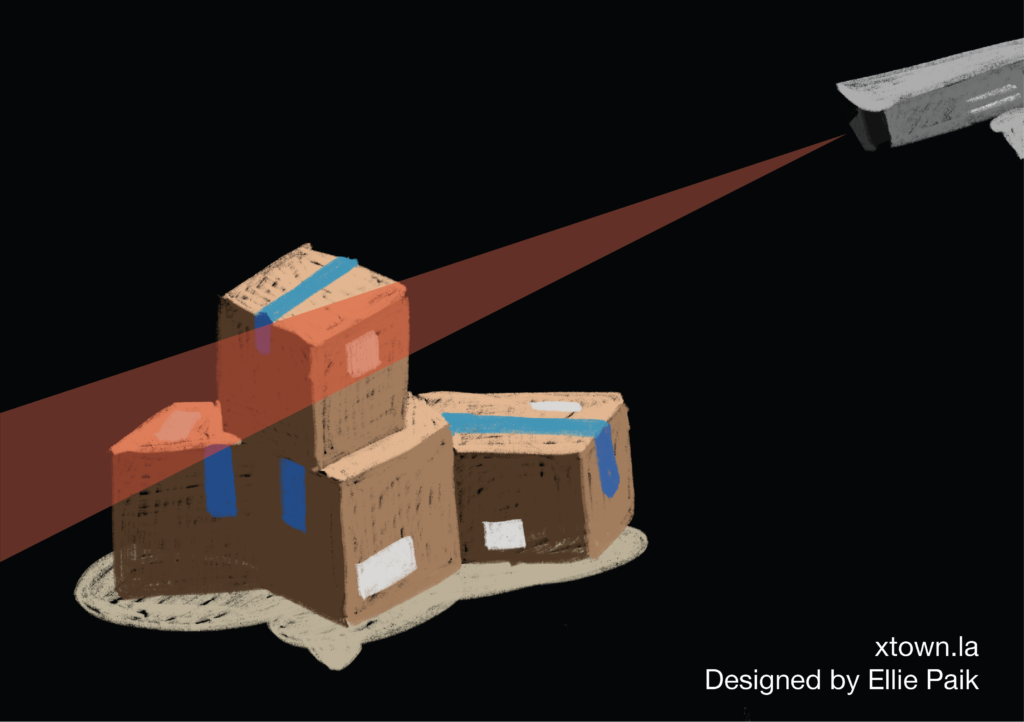 The day after Thanksgiving marked the beginning of the holiday shopping season. But deal hunters are not the only ones ramping up their activity: December is prime time for package thieves in the city of Los Angeles. 
Porch pirates, as they are also known, seize on the ease of one-click purchase, one-day shipping, and a seemingly infinite array of products delivered in familiar vans. An estimated 39.5% of online retail sales this year in the United States will be from Amazon, according to e-commerce tracking business Insider Intelligence. 
In each of the last four years, December has produced the year's highest monthly total of package thefts, according to publicly available Los Angeles Police Department data. Last December, 460 packages were reported stolen. That was actually a 4.6% decrease from 2020, though it marked a 7.7% increase over 2019. 
Koreatown saw the most package thefts of any Los Angeles neighborhood last December, with 25 reports. In December 2020 the community recorded 20 incidents, second-highest in the city, behind Woodland Hills (23 reports). 
In the first 10 months of this year, Downtown topped the neighborhood ranks of package theft, with 128 reports. Koreatown (106 reports) and Westlake (100) were not far behind.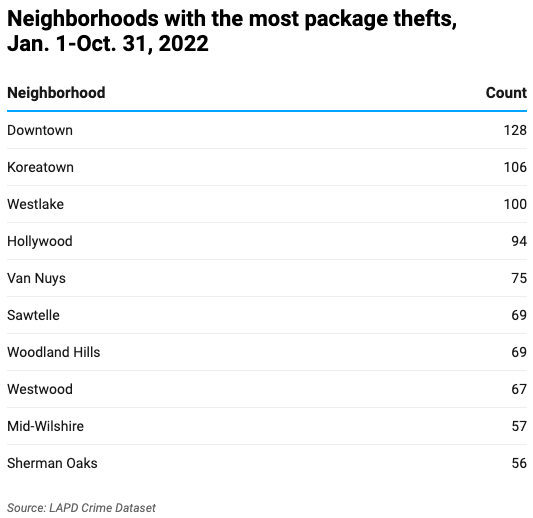 Thieves most frequently target multi-unit dwellings, including apartment buildings and duplexes, with 876 package theft reports so far this year, according to police data. Another 535 thefts occurred at single-family residences. 
A signature problem
The problem of package theft is no secret, and there have been a variety of technological advancements to try to thwart it. Systems such as Ring Video Doorbells alert residents when anyone presses the bell or triggers a motion sensor. Ring can also inform residents when a package is delivered. 
Package theft may actually be a far more severe problem, with numerous instances not reported to police. That may be because people question if calling the cops will make a difference—of 2,464 package thefts reported in the first 10 months of 2022, the LAPD has found the suspect only 41 times, and made 20 arrests, according to police data.
Still, police urge residents who are victims of package theft to fill out a report online.
[Get COVID-19, crime and other stats about where you live with the Crosstown Neighborhood Newsletter] 
Major online delivery services recommend requiring a signature upon delivery or sending packages to storage facilities, like an Amazon Hub Locker. FedEx requires an in-person signature for shipments with a declared value of $500 or more. UPS offers an insurance policy that protects and covers against theft. 
To prevent package theft, the LAPD recommends using tracking numbers, delivery notifications, installing a front door security camera, and utilizing a locking drop box. 
How we did it: We examined publicly available theft data from the Los Angeles Police Department from Jan. 1, 2010–Oct. 31, 2022.
LAPD data only reflects crimes that are reported to the department, not how many crimes actually occurred. In making our calculations, we rely on the data the LAPD makes publicly available. LAPD may update past crime reports with new information, or recategorize past reports. Those revised reports do not always automatically become part of the public database.
Want to know how your neighborhood fares? Or simply just interested in our data? Email us at askus@xtown.la.