There is more rage than ever on Los Angeles roads
Vehicle-driven conflicts hit a high in 2022. They also became more violent
On Nov. 9, a frightening situation unfolded on a local freeway. According to Los Angeles County District Attorney George Gascón, in a fit of road rage, a man got out of his black Tesla, threatened a woman and broke one of her headlights. Earlier that day he had threatened to attack a different woman outside a storage facility in Atwater Village.
The man was identified as Nathaniel Radimak, 36, and the D.A.'s office alleges that he has been involved in a string of road rage incidents. He has also had a history of aggressive outbursts, threats and violence, according to Gascón. 
In January, Radimak was charged with four counts of criminal threats, four counts of assault, one felony count of vandalism, and other crimes tied to a series of road rage attacks that Gascón labeled a "reign of terror."
"Motorists in Los Angeles shouldn't have to live in fear of being attacked while simply driving on the freeway," Gascón stated
Despite Gascón's assertion, an increasing number of people in the city of Los Angeles are winding up in precisely these kinds of situations. In 2022, there were 870 reports of road rage in the city. That was the highest count since at least 2010, according to publicly available Los Angeles Police Department data. 
The 2022 figure represented a 23.1% increase from the previous year, and was 30.6% higher than the total in the pre-pandemic year of 2019. 
The 2022 total was driven in part by the 90 reported incidents each in June and July, both more than in any other month in at least a decade. Figures then fell significantly. After July there was only one month with more than 70 reports.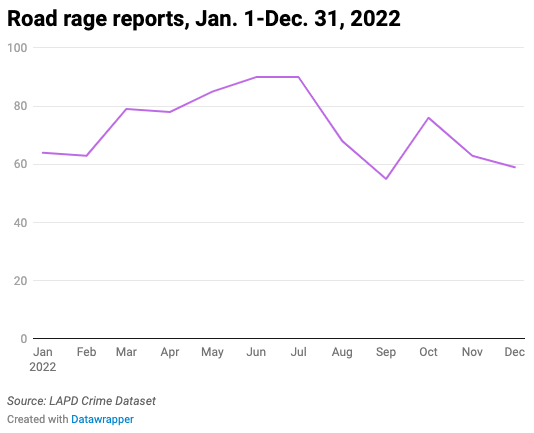 Blame road diets?
What is causing all this anger on the roads? Traffic, and efforts to tame it, may be a factor. James Moore, director of the USC Transportation Engineering Program, said that road diets, which are intended to slow vehicle speeds and make the streets and pedestrians safer, could in certain instances have an unintended effect. 
"If you increase people's frustration, you are more likely to get bad behavior. Road diets, despite how useful they seem, do generate additional frustration," said Moore. 
He added that road diets can cause delays for people behind the wheel. Programs have been rolled out in numerous communities.
"Implementing road diets as a way to deemphasize automobiles and emphasize pedestrians likely increased road rage outcomes," said Moore. 
Rising gun use
Road rage is more serious than an angry driver displaying a middle finger. The LAPD defines it as when a person commits an assault with a weapon due to something that happened while driving. 
Incidents have not only grown in number, but have become more violent. There were 264 road rage reports that involved a firearm in 2022, according to LAPD data. That is up 21.1% from the 218 the previous year. It represents an astounding 151.4% increase from 2019. 
Some road rage attacks draw significant attention, such as an incident on Nov. 14 when an impatient driver opened fire on actress Denise Richards' truck. Richards' husband, Aaron Phypers, was behind the wheel and reportedly slowed down in search of parking when the driver behind them became angry and shouted. One shot was fired and the back of the truck was hit, according to a report from TMZ. The couple was uninjured. 
Other situations are even more serious. On July 12, someone followed Carlos Hernandez as he exited the 105 Freeway in the South Los Angeles neighborhood of Green Meadows. The driver, who was not identified, opened fire, striking the 48-year-old Hernandez. The victim died at the scene.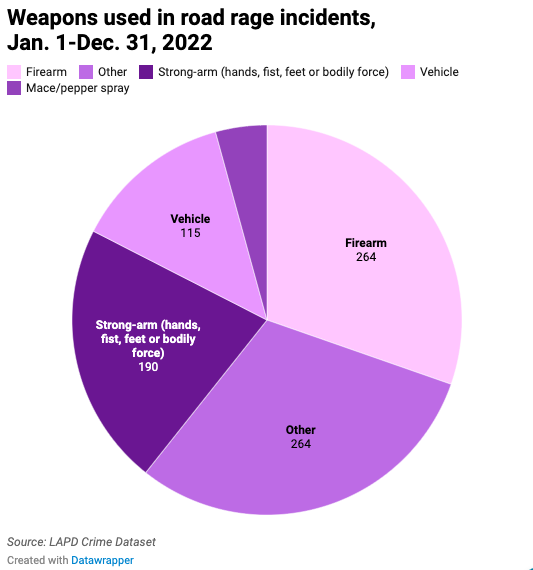 Men are overwhelmingly involved in road rage. In 2022, 593 of the incidents involved a male suspect, according to LAPD data. 
Downtown, the most heavily trafficked community in the city, registered 112 road rage reports in 2022, more than any other neighborhood in Los Angeles. That was far more than the area with the second highest count, Koreatown, where there were 32 reports.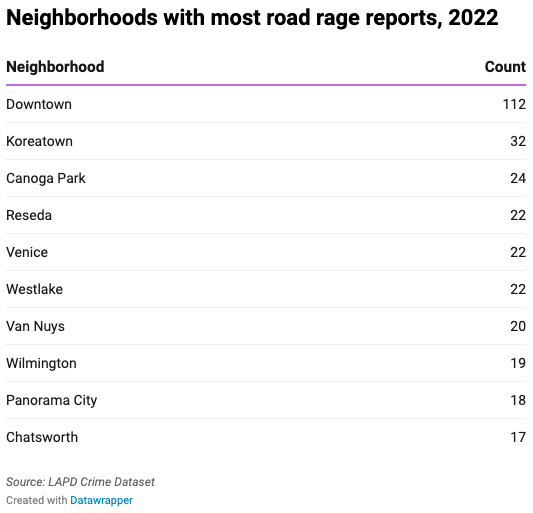 Road rage incidents have continued in the first month of 2023, and that includes more encounters involving Radimak. According to the D.A.'s office, he is accused of hitting a driver's car with a pipe on the 2 Freeway on Jan. 11. Gascon alleges that on the same day, he followed a couple from a Pasadena shopping mall, nearly hit their car with his Tesla, and then struck their vehicle with a metal pole. 
Radimak has pleaded not guilty and is scheduled to appear in court today for a preliminary hearing. 
How we did it: We examined publicly available crime data from the Los Angeles Police Department from Jan. 1, 2012-Dec. 31, 2022. Learn more about our data here.
LAPD data only reflects crimes that are reported to the department, not how many crimes actually occurred. In making our calculations, we rely on the data the LAPD makes publicly available. LAPD may update past crime reports with new information, or recategorize past reports. Those revised reports do not always automatically become part of the public database.
Have questions about our data or want to know more? Write to us at askus@xtown.la.