Extortion hits new high in Los Angeles
Whether on the streets or via the Internet, incidents happen across the city
In March, the U.S. Department of Justice announced that special agents from Homeland Security Investigations and officers from the Los Angeles Police Department had arrested 38-year-old Daekun Cho. The Woodland Hills resident faces federal charges that he extorted "protection" money from Koreatown businesses and used acts of violence against those who refused to pay. Prosecutors alleged that Cho targeted karaoke businesses and "doumi," or hostesses, who worked for patrons of the establishments.
The complaint affidavit stated, "To further his extortion scheme, Cho committed shootings, a carjacking, a kidnapping, and other acts of physical violence. Cho made explicit threatening statements to the doumi drivers and karaoke bar owners to get them to pay a monthly fee."
[Get crime, housing and other stats about where you live with the Crosstown Neighborhood Newsletter]
Most allegations of extortion do not result in federal charges, but in Los Angeles, incidents are on the rise. In March, the Los Angeles Police Department fielded 57 extortion reports, according to publicly available data. That was the highest monthly total since at least 2010, and exceeded the previous peak of 56—which occurred just the month before. 
The actual number of extortion incidents is likely higher, as some victims may avoid going to police either due to distrust of law enforcement, or fear of repercussions from the perpetrator.
Many offenses
Reports of extortion in Los Angeles began to tick up in the middle of the last decade. The LAPD recorded 320 incidents in 2015, more than double the total in the previous year.
Figures then went even higher, and stayed in a narrow range over 400 for four years starting in 2018. After a dip in 2021, the total last year was 456 reports. That was the highest count on record.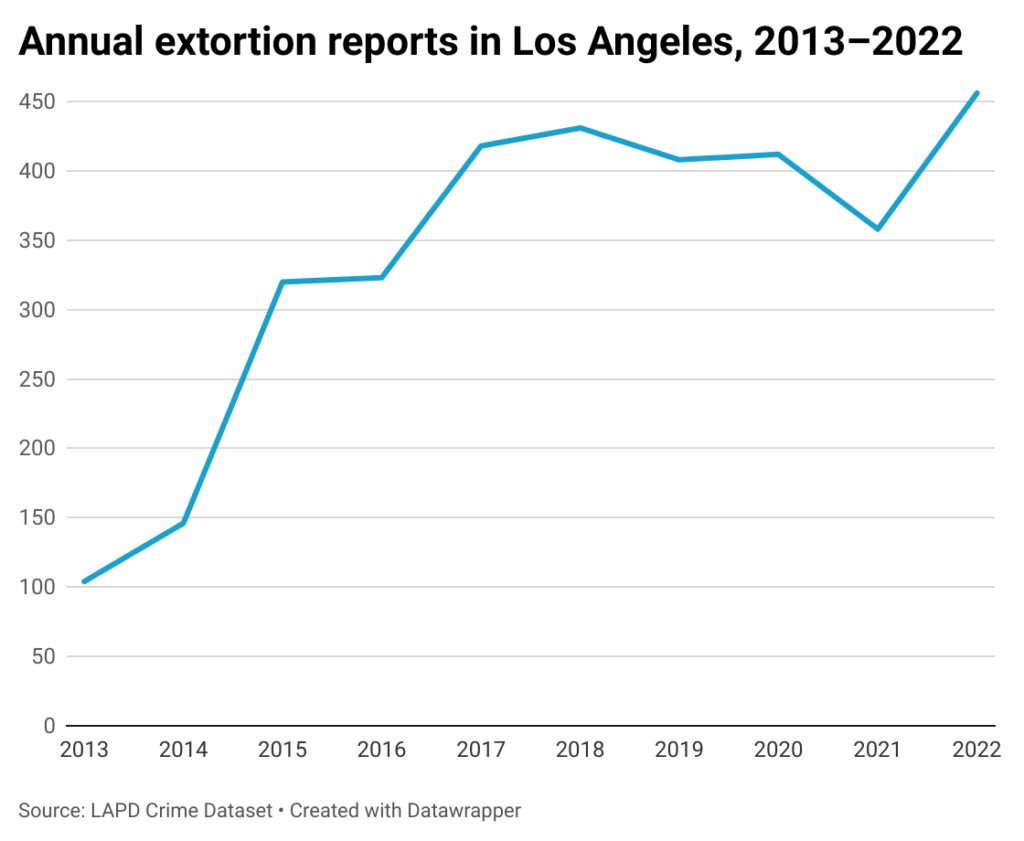 In the first four months of 2023 there were 206 reports.
The California penal code defines extortion as "the obtaining of property or other consideration from another, with his or her consent, or the obtaining of an official act by a public officer, induced by a wrongful use of force or fear." The "consideration" obtained can include "sexual conduct," according to the penal code, "or an image of an intimate body part."
Examinations of LAPD data and statements by prosecutors show a breadth of victims and actions in extortion cases. Earlier this year Ray Chan, the former head of the Los Angeles Department of Building and Safety, went on trial, with the U.S. Department of Justice alleging that he joined ex-Councilman Jose Huizar in extorting developers who wanted to build projects in Downtown (a mistrial was declared after Chan's attorney became ill and could not continue the case). Last August, 28 members and associates of the South L.A. gang the Eastside Playboys were arrested and charged with a variety of crimes, including the extortion of local businesses.
In February, Downtown resident Amir Hossein Golshan was charged by federal prosecutors with six counts for allegedly defrauding female social media influencers. According to the Department of Justice, he used a tactic known as "SIM swapping" to take over their accounts, then "allegedly extorted the victims for money and sexually explicit chats" before he would return control.
Golshan's tactics indicate an increasing trend: the Internet being used in extortion schemes. In the entire 2010s, there were never more than 32 Internet-related extortion crimes in a single quarter in Los Angeles. Yet, according to police data, the third quarter of 2022 brought 49 incidents where extortion involved the Internet. There were 56 reports in the first quarter of this year.
Across the city 
A unique aspect of extortion is that it is not concentrated in a few communities defined by geography or income level. Instead, data shows that reports are spread across the city.
For instance, the 57 extortion incidents documented by the LAPD in March occurred in 45 different neighborhoods. No community was the site of more than three reports that month.
In the 16-month period from Jan. 1, 2022–April 30, 2023, there were 22 reports of extortion each in Reseda and University Park. There were 19 reports each in Koreatown and Hollywood.
Ten neighborhoods had between 14 and 22 extortion reports in that timeframe.
According to police data, men are far more likely to be targeted than women. Of the 662 extortion reports from Jan. 1, 2022–April 30, 2023, 74% of the victims were male.
How we did it: We examined publicly available crime data from the Los Angeles Police Department from Jan 1, 2010–April 30, 2023. 
LAPD data only reflects crimes that are reported to the department, not how many crimes actually occurred. In making our calculations, we rely on the data the LAPD makes publicly available. LAPD may update past crime reports with new information, or recategorize past reports. Those revised reports do not always automatically become part of the public database.
Have questions about our data or want to know more? Write to us at askus@xtown.la.