Street-racing incidents decline, but the problem persists across Los Angeles
Takeovers and sideshows happen in the Valley, Hollywood, on the Sixth Street Bridge and elsewhere
For some people, street racing is part of the auto-fueled culture of Los Angeles. For others, particularly those in law enforcement, the speed contests, "sideshows" and "takeovers" that can attract hundreds of spectators are a dangerous and sometimes deadly scourge.
"Last year in the Los Angeles region, 16 people lost their lives in street-racing related activities," Los Angeles Police Department Deputy Chief Donald Graham told the civilian Police Commission last week.
Graham's comments came during a presentation on street racing. A new report on the activity, which was requested by the City Council, shines a light on the prevalence and location of racing events, and explores strategies to combat them. 
[Get crime, housing and other stats about where you live with the Crosstown Neighborhood Newsletter]
The report details illegal activity across the region, from the wide thoroughfares of the San Fernando Valley to a spot near the entrance of Dodger Stadium in Echo Park. Data assembled by the LAPD shows that in the three-year span from 2020–2022, the department received 19,506 calls for service about street racing and illegal takeovers. The 4,839 calls in 2022 was down 36.8% from the prior year. Graham said this likely stems from increased enforcement.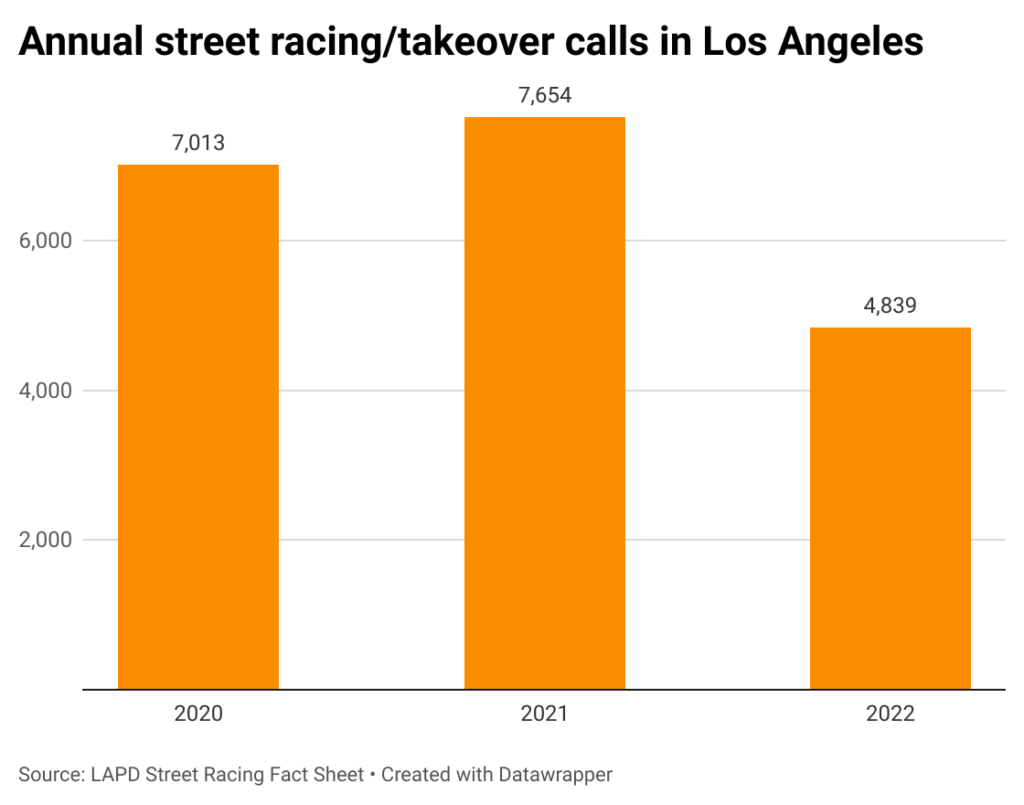 Different neighborhoods, different activity
The report breaks incidents down by the LAPD's four geographic bureaus. The Valley and South bureaus see the greatest number of incidents. Graham explained that the areas tend to experience different kinds of activity. 
"The Valley represents calls that come out that are very traditional types of street racing," he said, describing two-car duels on the "freeway-size streets that traverse very long straightaways."
Metropolitan areas, he said, more often bring "takeovers where they're blocking streets with hundreds of people. They're doing these very, very dangerous spinning exercises."
No matter the bureau, the most common day for street racing reports is Sunday, according to police data.
The, er, driver of sideshows and takeovers, Graham said, is social media. Participants often pick iconic locations that resonate on TikTok, Instagram and other platforms. He said that is why activity regularly occurs in Hollywood or on the Sixth Street Bridge, which opened last July.
He pointed out that in footage of takeovers, people are "hanging out of the cars with their cell phones, and they're filming live. And the more reckless and the more daring the footage can be, the more likely they're going to increase their following on social media."
During the three-year period, the department tabulated 172 calls at the intersection of Crenshaw Boulevard and Florence Avenue, more than any other location in the city. That was followed by the 160 reports at Manchester Avenue and San Pedro Street.
There is also extensive activity in Downtown. The report chronicled three locations on Grand Avenue near Walt Disney Concert Hall and the Museum of Contemporary Art that each had more than 60 calls.
The report lists dozens of other problematic intersections. They include Hollywood Boulevard and Highland Avenue; Melrose Avenue between La Brea Boulevard and Bronson Avenue; 12th and Figueroa streets, in front of Crypto.com Arena; and Van Nuys and Laurel Canyon boulevards.
Deaths and arrests
Despite police warnings and enforcement activity, takeovers keep occurring, with sometimes tragic results. Twenty-four-year-old Elyzza Guajaca was killed on Christmas night while watching a sideshow at Crenshaw and Florence in Hyde Park. A car doing donuts spun out of control and she and other spectators were struck. In January, Dante Chapple Young, 28, was arrested in Albuquerque, New Mexico and charged with her murder.
In April a 28-year-old woman was killed in a suspected street-racing collision in the city of Pomona. According to a statement from the Pomona Police Department, she was a passenger in a vehicle.
LAPD officials bemoaned the deaths and injuries, and described efforts to combat the practice. The new report details mitigation measures such as installing "Botts' Dots," raised plastic or ceramic protrusions, in the street where takeovers frequently occur. While that can be a deterrent, the report noted that when this was tried in Compton, "participants simply pried off the dots from the roadway, rendering them ineffective."
Graham said that in response to a spate of racing near Glenoaks Boulevard and Polk Street in Sylmar, the city installed a hard median as a deterrent. There was an unintended consequence.
"If the goal was to get them off of Glenoaks and Polk Street, it worked," Graham said. "They don't race there. They race one block over now."
Other times law enforcement agencies take punitive action. On June 11, the LAPD and the multi-agency Task Force for Regional Auto Theft Prevention (TRAP) participated in a crackdown that resulted in 17 vehicles being impounded and 19 citations issued. An LAPD statement said that eight takeovers were interrupted or prevented. 
A database maintained by the Los Angeles Sheriff's Department states that in an approximately 15-month period from January 2022–March 2023, TRAP and the LAPD intervened in at least 199 takeovers, and that 716 tickets were issued. That includes 363 "speed contest citations."
The dashboard states that 432 misdemeanor arrests were made, 286 vehicles were impounded, and eight stolen vehicles were recovered.
How we did it: We examined publicly available crime data from the Los Angeles Police Department. We also examined the LAPD's street racing report and the LASD's Street Takeover Operations dashboard. Learn more about our data here.
LAPD data only reflects crimes that are reported to the department, not how many crimes actually occurred. In making our calculations, we rely on the data the LAPD makes publicly available. LAPD may update past crime reports with new information, or recategorize past reports. Those revised reports do not always automatically become part of the public database.
Have questions about our data or want to know more? Write to us at askus@xtown.la.