COVID counts stay low as summer arrives
Cases, hospitalizations are a fraction of what they were last year at this time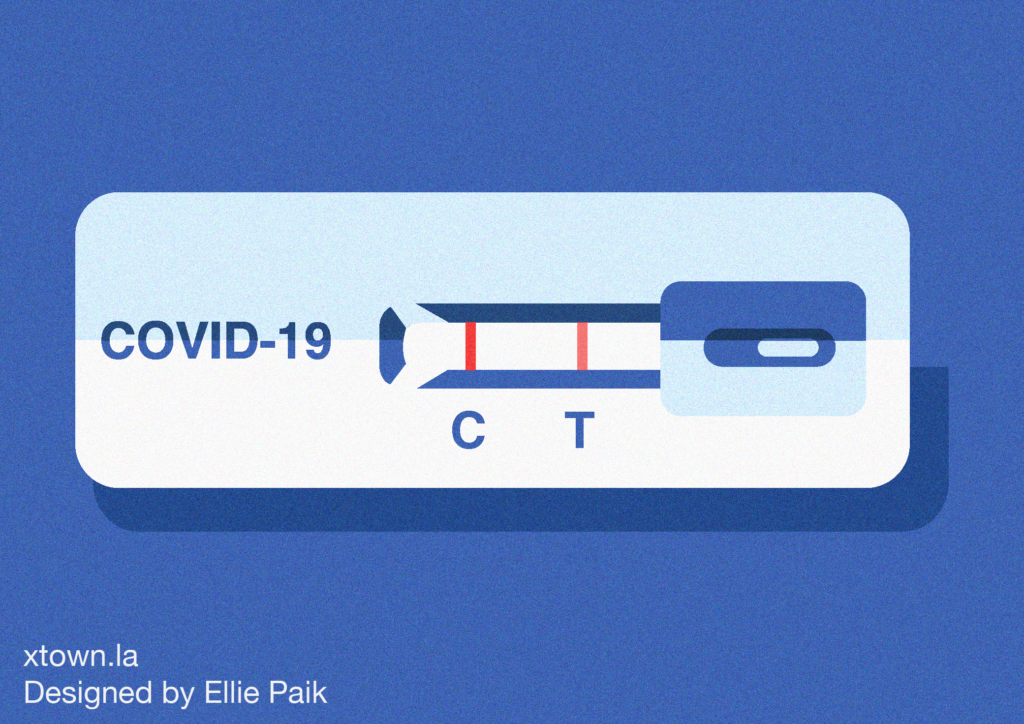 It may seem as if no one talks about COVID-19 anymore, but it remains on the radar screen: According to the Los Angeles County Department of Public Health, in the three-month period ending June 10, more than 900,000 PCR tests were administered by health providers and labs in the region. Another 3.5 million rapid tests were distributed to schools, nursing facilities and other sites.
[Get crime, housing and other stats about where you live with the Crosstown Neighborhood Newsletter]
If the coronavirus generates little attention, it is probably because few people who contract it suffer serious consequences. In the week ending June 14, just 212 COVID-positive patients were in Los Angeles County hospitals, according to the Department of Public Health. One month prior, on May 10, the count was 260.
This is also a marked change from last summer. On June 8, 2022, there were 592 COVID patients in county hospitals. 
The positive trend extends to overall cases. For three consecutive weeks, there have been fewer than 2,000 confirmed cases in the county (this only includes infections reported to health officials; the actual number of cases, many with mild or no symptoms, is higher).
Three months ago the weekly count was north of 4,000.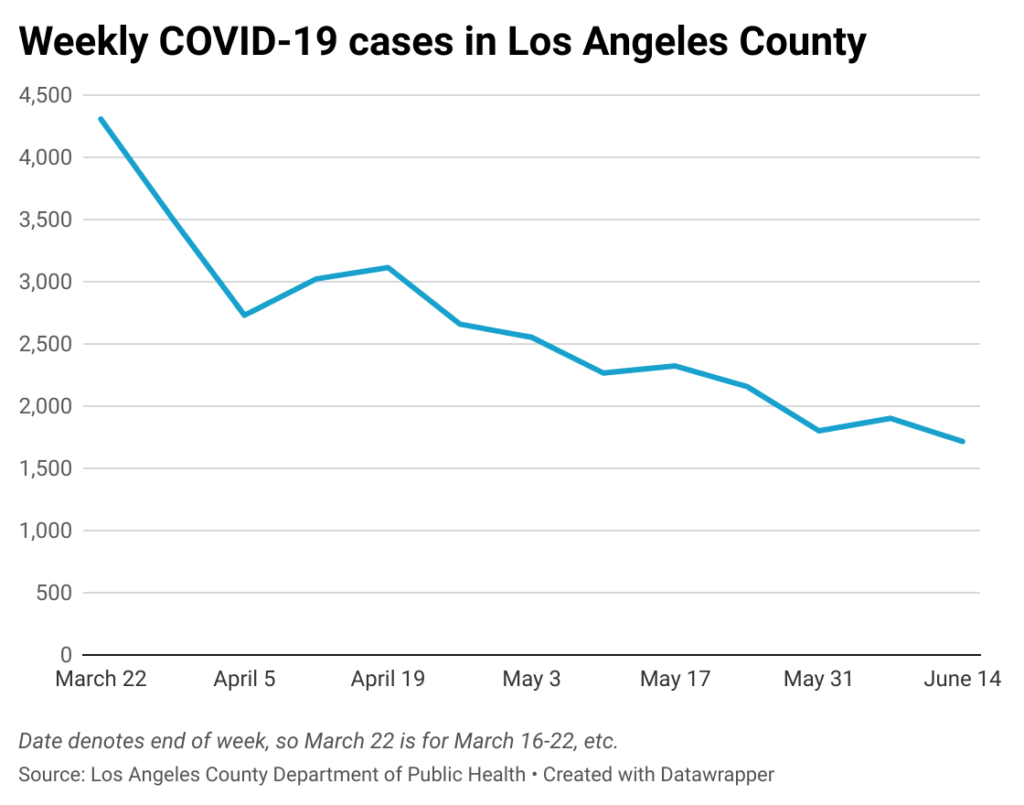 As with hospitalizations, cases were many times higher at this point last summer. From June 8-14, 2022, more than 32,750 infections were documented in the county. At the time new Omicron strains were spreading.
Free tests still available
At the worst point of the pandemic, in the early months of 2021, more than 200 people each day were dying from complications related to COVID-19. Now, it can take more than a month to reach that level.
In the week ending June 14, according to the Department of Public Health, the county registered 36 fatalities. The weekly total has mostly been in a narrow range below 50 for more than a month.
Although the federal public health emergency ended in May, Angelenos can still access free tests, and many insurance plans are required to cover the cost of eight at-home tests per person each month. The Department of Public Health has information on how and where to get a free test.
Although the pace of vaccinations has slowed to a trickle, in Los Angeles County more than 21.7 million total shots have been administered. According to the Department of Public Health, 1.84 million people ages 5 and up have received the most recent booster shot. That works out to 18.9% of those who are eligible.
Still, additional shots may be on the horizon. Last week, the Food and Drug Administration announced that it was advising drugmakers to update the COVID vaccine to target XBB.1.5, which has become the dominant strain in the United States. The variant now accounts for 40% of diagnosed cases, according to the Centers for Disease Control and Prevention. 
A new booster campaign could begin in the fall.
How we did it: We analyzed coronavirus data related to new cases, deaths, hospitalizations and vaccinations provided by the Los Angeles County Department of Public Health.
Learn more about our data here. Any questions? Email askus@xtown.la.