Electric scooter thefts continue to rise in Los Angeles
Student-heavy neighborhoods near USC see high number of missing devices
Electric scooters have become ubiquitous in Los Angeles in recent years. But riders looking to get somewhere fast are not the only ones drawn to them—thieves are, too.
According to publicly available Los Angeles Police Department data, from Jan. 1–Aug. 14, there were 441 crimes involving motorized vehicles in the city (the count includes motorized bicycles and wheelchairs, though further breakdowns are not available). That is a 16% increase over the 380 reports in the same period of last year. 
[Get crime, housing and other stats about where you live with the Crosstown Neighborhood Newsletter]
It puts the city on pace to surpass the 640 reports in 2022. The count this year is already 88% higher than the total in the entirety of 2021.
University Park, which encompasses the University of Southern California, sees more scooter theft than any other neighborhood in Los Angeles. There were 104 reports from Jan. 1–Aug. 14, which represents 24% of the total incidents in the city (this is likely an undercount, as it only includes thefts and other crimes reported to the LAPD).
The community with the next highest count in that period is Venice, with 38 reports.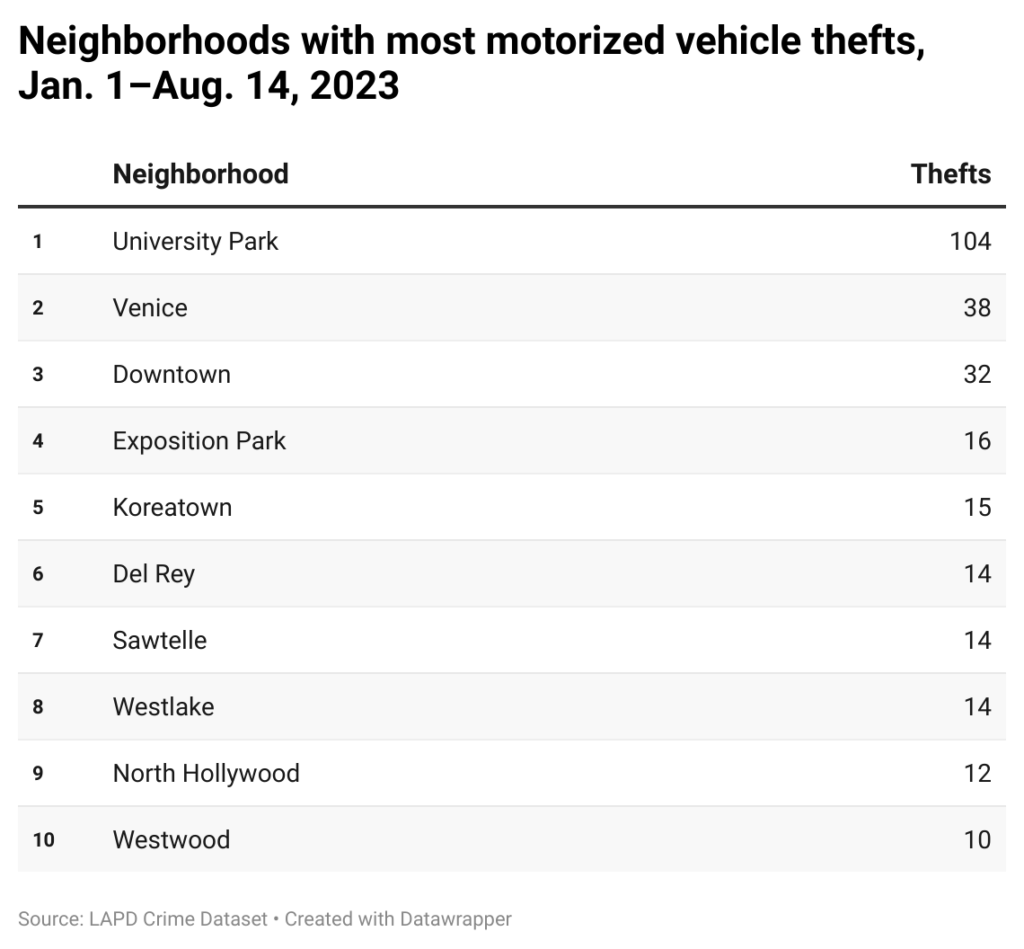 There is the potential for a further acceleration in University Park, as fall semester classes at USC began last week.
"This trend has just started in the last three years as these electric scooters have become more and more popular," said David Carlisle, the interim executive director/chief of the USC Department of Public Safety (DPS).
Post-pandemic increase
Crimes involving e-scooters in Los Angeles were relatively low until the fall of 2021, with never more than 24 reports in a single month. Numbers have since escalated, though there have been peaks and valleys. The high was the 78 incidents in April 2022.
University Park has been impacted so heavily because of the number of students who use the devices as an efficient alternative to driving. Crosstown last year reported that about 95% of e-scooter thefts involved devices owned by individuals, as opposed to rentable, app-based options from the likes of Lime and Bird. Those companies tend to have enhanced security and tracking measures. 
Carlisle has said that frequent spots for e-scooter thefts are residence halls, the USC bookstore, sports and athletic facilities, and campus libraries. He added that there has also been an issue at Parkside, an on-campus housing complex at the southwest corner of campus. 
"We're working to relocate their bicycle racks where students sometimes will lock their scooters," he said. "We also tried to reposition our cameras in order to watch the bike racks there."
Carlisle recommends that students use a high-quality lock and not leave devices outside, even in the courtyard of a housing complex. The university additionally encourages students to register their e-scooter with the DPS, which helps identify the owner if a missing or stolen device is recovered. The service is free and can be done online.
USC is not the only campus experiencing a rise in scooter thefts. The University of North Carolina issued an alert this year after several devices disappeared in a single week. A February article in the student-run publication The Observer reported that the Notre Dame Police Department was getting reports of 10-15 e-scooter thefts each month.
Carlisle said the grim reality is that this is a crime trend likely to continue, and the best thing owners can do is be proactive.
"We expect with the proliferation of electric scooters on and around campus, and their popularity, that they'll still be an item that thieves will target. So we need students to be our campus safety partners," said Carlisle. 
How we did it: We examined publicly available crime data from the Los Angeles Police Department from July 1, 2020–Aug. 14, 2023. Learn more about our data here.
LAPD data only reflects crimes that are reported to the department, not how many crimes actually occurred. In making our calculations, we rely on the data the LAPD makes publicly available. LAPD may update past crime reports with new information, or recategorize past reports. Those revised reports do not always automatically become part of the public database.
Have questions about our data or want to know more? Write to us at askus@xtown.la.