What to Know in LA Crime: Brandishing a Weapon
It's been rising in LA - but what does it mean?
June had the most reports for the crime of "brandishing a weapon" than any month so far this year in the City of Los Angeles. We discovered this after looking at what was up and what was down for Los Angeles crime in 2018.
In January, there were 175 reports of brandishing a weapon. In June that jumped to 261.
That's a 49% increase, though it hasn't been a steady rise. Still, it's one of the most significant increases of any type of crime we've seen in Los Angeles this year.
What does the trend look like?
There have been some ups and downs in the trend over the past six months. But there has been a significant rise over the past two months.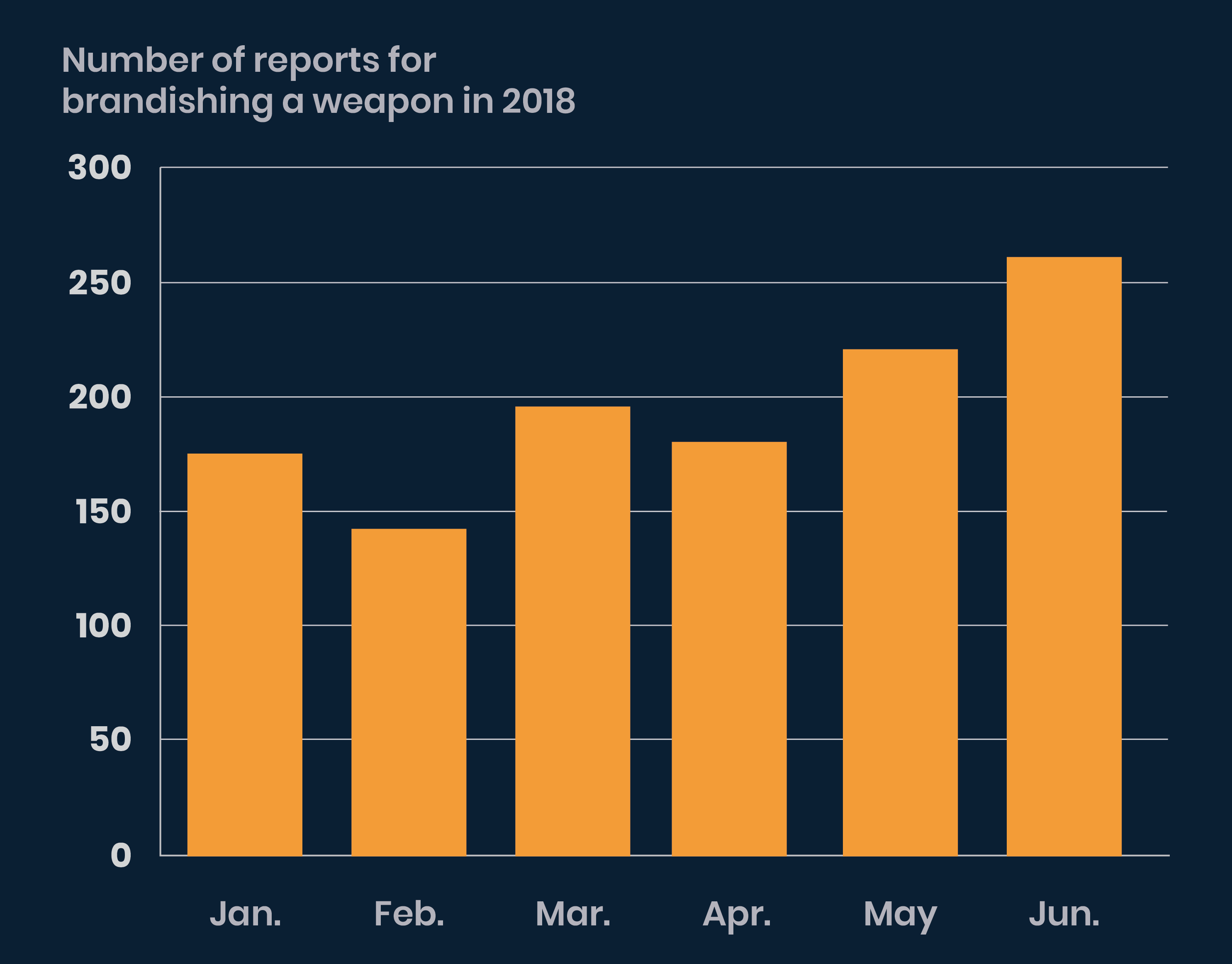 From May to June of 2018, reports went up +18%, to 261 from 221.
The total number of reports in the first half of 2018 compared against the first half of 2017 was surprisingly consistent. It rose by only one incident, to 1176 from 1175.
But in June of 2018 reports went up 19% from the same month a year earlier, rising to 261 compared with 220 in June of 2017.
So, what does it mean to brandish a weapon? What are people brandishing? Who might be affected by it? Let's take a look:
What is it?
California Penal Code 417 PC prohibits drawing, exhibiting, or using a firearm or deadly weapon in a threatening manner, except in cases of self-defense.
What are the weapons? 
Brandishing a weapon could be done with a variety of things. Here are the most popular weapons reported in incidents of brandishing:
Hand Gun: 19%
Knife with a blade under 6 inches: 13%
Verbal threat: 9%
Other knife: 9%
Folding knife: 5%
That's right. "Brandishing a weapon" could actually be done with verbal assault – but there are plenty of other instruments that could be used. Other weapons we saw that were reported in 2018 included bottles (6 counts), machetes (28 counts), toy guns (15 counts), and a bow and arrow (just 1 count.)
There were the same number of reports for brandishing screwdrivers as there were for rifles – 9 counts for each.
Where does it happen?
Here are the top five neighborhoods in 2018 where this crime was reported:
Downtown: 87
Boyle Heights: 42
Hollywood: 38
Florence: 35
Van Nuys: 34
Who are the victims? 
Who are the people affected by these crimes? We broke down who the victims are by gender:
Male: 61.67%
Female 38.33%
And we took a look at who the victims are by descent, according to the LAPD:
Hispanic: 49.57%
Black: 32.56%
White: 11.53%
Other: 4.32%
Asian: 0.77%
These percentages add up to just short of 100%. The remaining percentage are for unknown (1.15%). The LAPD uses its own system of identifying victims by race.
We collect and sort the data produced by the Los Angeles Police Department. Find more details about our data here.
Check out our two latest 2018 crime updates here:
What's Up, What's Down for LA Crime
What the First Six Months of 2018 Tell Us About LA Crime
Still have questions? Write to us at askus@xtown.la