As LA Tourism Booms, So Does Crime
Hollywood and Venice are some of the most dangerous areas for visitors
Tourism is booming in Los Angeles. Last year more than 47 million people visited LA County, which generated a record $34.9 billion in economic impact, as reported by the city's Tourism and Convention Board.
Along with this trend comes a rise in crimes reported against tourists. From 2010 to 2017, the City of Los Angeles saw a 69 percent increase in incidents in which tourists were the victims:
In that same period, the number of visitors increased 25%. This upward trend has continued in 2018, with 125 similar reports being filed so far this year. At the same point in 2017, there had only been 54.
Tourists venturing into unfamiliar surroundings and often carrying lots of cash can be easy prey for criminals. The LAPD has even made a step-by-step guide on their website for how visitors can best protect themselves when wandering around the city. Some of the tips are obvious (don't brandish wads of money; only walk on well-lit streets), while others are a little more subtle (pickpockets often work in teams of two or three, so one of them can distract you).
Where should tourists be the most wary of criminal activity? You guessed it: Hollywood. But Koreatown and Downtown are also high on the list. Here are the top neighborhoods in LA where tourists fell victim to crime between 2010 and 2017:
But so far this year, Venice, with its promenade packed with shops and street performers, tops the list of crime reports against vacationers.
What are the most common crimes that snag tourists?
You might think it's being pickpocketed or mugged. Actually, our data over the past eight years shows that tourists are most likely to fall victim to burglary, such as having something stolen from their hotel room or Airbnb.
Here's a more comprehensive list of the most popular crimes that were reported on tourists and vacationers: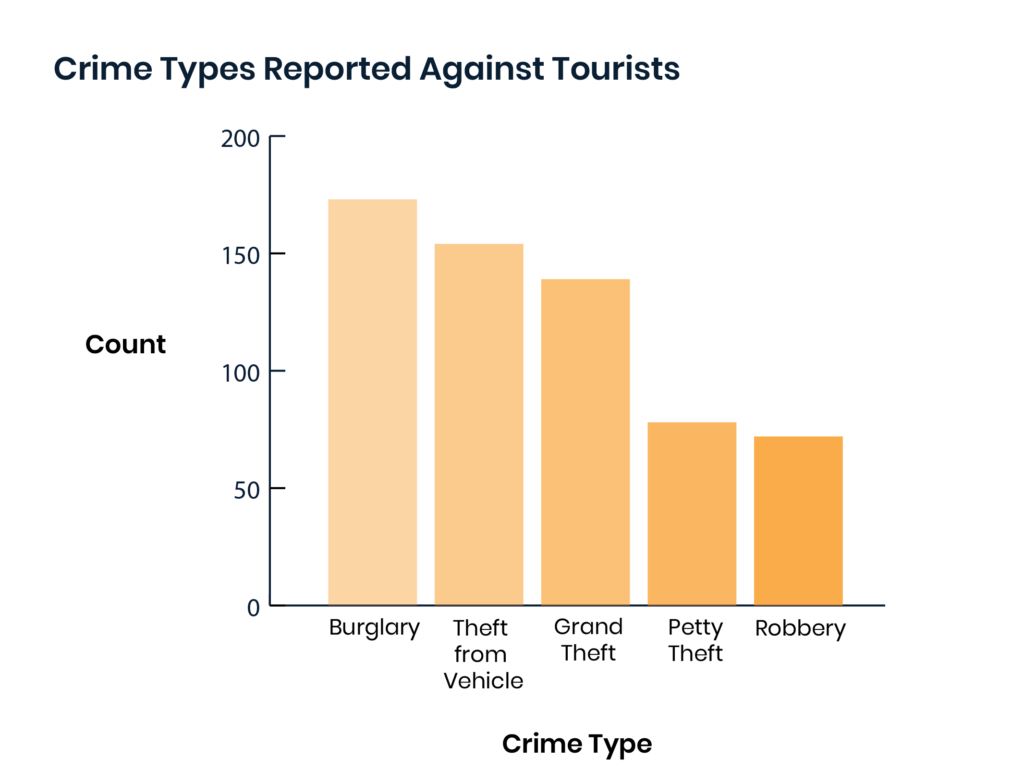 The Los Angeles Tourism and Convention board, who reported on LA's tourism success this year, did not respond to Crosstown's attempts at contact for this story.
—
See more on how we organize our crime data here.
Check out our latest crime data story here.
Still have questions? Write to us at askus@xtown.la.
Stay safe out there, travelers!