From a Chat Room to a Crime Scene
Examining the crime reports in LA that began online
It starts harmlessly enough: Two people who don't know each other meet online. But it ends with a crime.
Between 2010 and 2017, crime reports in which the victim and suspect met online have risen by 281% percent, to 225 instances last year from 59 in 2010. The data shows up on incident reports when the police specify "suspect meets victim on internet/chatroom."
Meeting online could mean any number of things, from selling used furniture to looking for a roommate or, of course, dating. When it comes to crimes, though, the most common offense is "bunco, grand theft." Bunco is a term used for various forms of swindling, which could include welching on an agreement to deliver goods, or skipping out on a payment.
Out of the 225 crimes connected to people who met on the internet last year, 60 were described as "bunco."
Considering the amount of commerce that now takes place online, whether it's selling a table on Craigslist, or buying tickets on StubHub, it's not surprising that some deals go bad. So far in 2018, there have been 163 reports where the victim met the suspect online. There were 155 up to this point last year.
The LAPD did not respond to multiple requests for comment on these reports.
The other two most common crimes stemming from interactions that began on the internet are rape and robbery. Last year, there were 18 rapes reported to have been associated with meetings beginning on the internet. There were 25 such robbery reports in 2017. 
For each of the top three crimes listed by the LAPD—bunco, rape and robbery—there has been a generally rising trend since 2010. Rape reports took a particularly big jump from 2013 to 2014: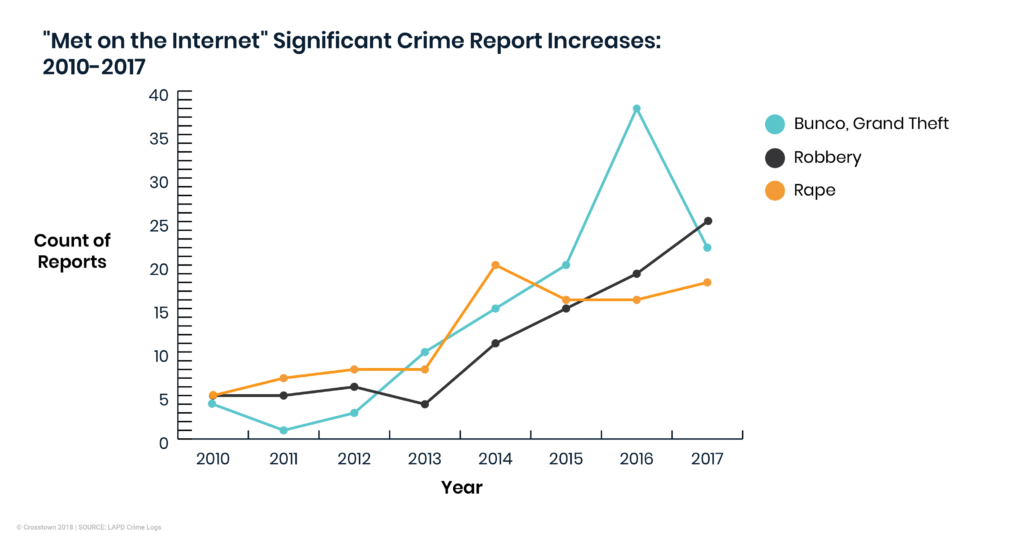 Since 2010, there have been 113 reports of rape and 107 reports of robbery that originated from online meetings. North Hollywood had more instances of these types of crime during this period than any other neighborhood in the city, with 14 cases of rape and 12 robberies.
For the crime of rape, since 2010, every victim across the city that met the reported suspect online was female. 
Female teenagers are also just as likely to be victims of rape as are women in their 20s when meeting a suspect over the internet. Our data shows that these age groups each account for 41% of rape reports that are connected to internet meet-ups over the past eight years.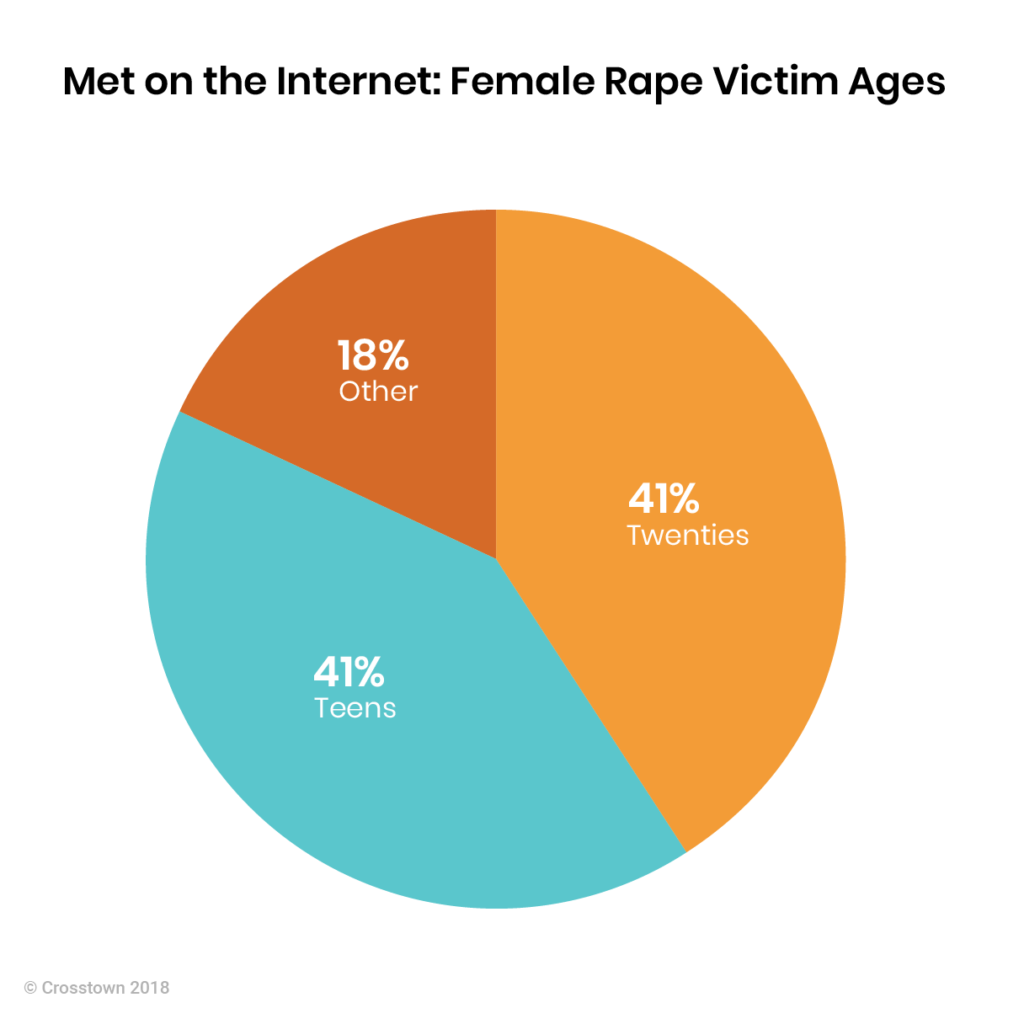 The age differentiation is more spread-out, however, when we include all crime reports stemming from online interactions.
See more on how we organize our crime data here.
Check out our latest crime data story here.
Still have questions? Write to us at askus@xtown.la.
Stay safe out there!