'Harassing emails and texts:' tales of cybercrime in the city
Online crimes in Los Angeles leveling off so far this year
A July cyberattack against Los Angeles city computers resulted in the data theft of about 20,000 police department applicants' personal information, many of whom are now active LAPD officers. 
But online crime is not limited to massive data heists. It can include online credit card fraud, hacking and even online harassment.
Online crime in the City of Los Angeles has been rising steadily since Jan. 1, 2010, when the LAPD started making its crime data publicly available. However, it dipped in the first eight months of this year.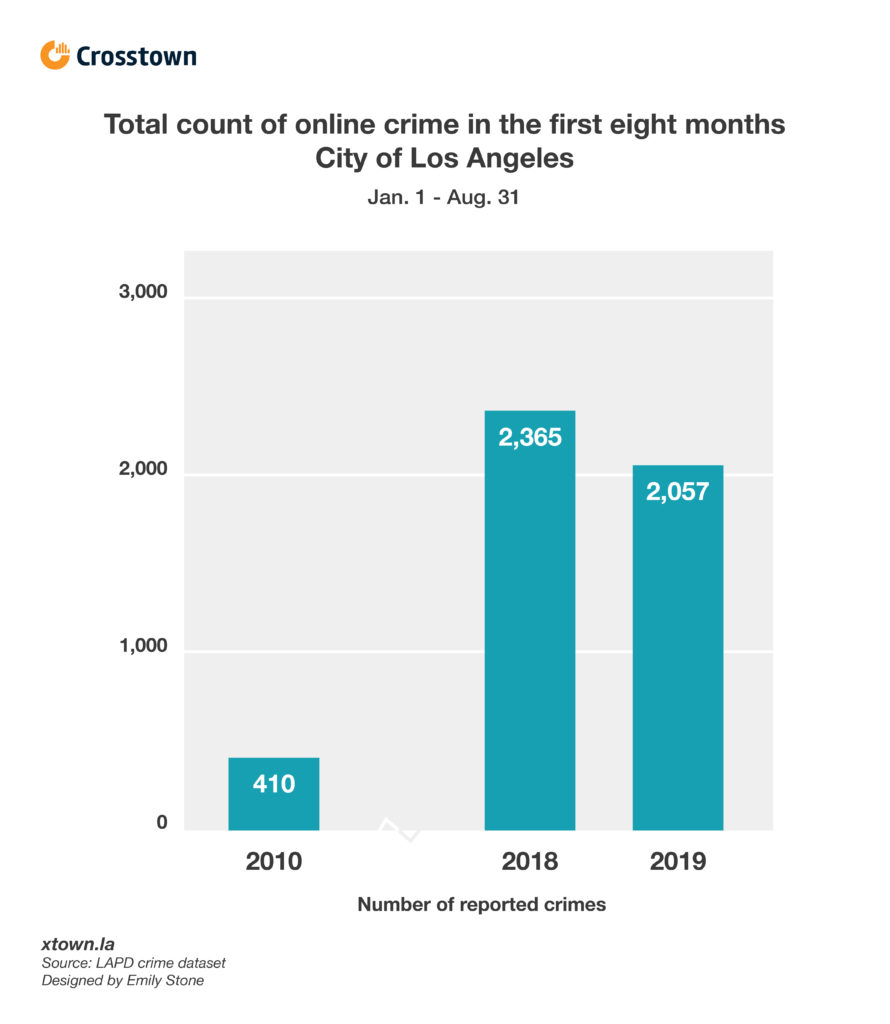 From Jan. 1 – Aug. 31, 2019, there were 2,057 online crimes reported to the police. That is a 13% decrease from 2,365 reported online crimes in the first eight months of 2018.
We included the following offenses in our definition of online crime from the LAPD crime database:
Suspect met victim online

Internet-based theft

Child pornography via computer

Credit card fraud

Cyberstalking

Denial of computer services

Destruction of computer data

Harassing email, text messages

Hate crime material

Identity theft via computer

Introduction of virus to system

Minor solicited for sex via internet

Theft of computer data

Threatening email, text messages

Suspect met victim on an online chatroom

Unauthorized access to system

Internet extortion

Victim paid by wire transfer
Yet, despite the recent dip, today's numbers far outstrip the online crime from just a few years ago. During all of 2010, there were just 410 online crimes reported to the LAPD.
The most common online crime reported in the first eight months of this year was "Harassing E-Mail/Text Message/Other Electronic Communication," with 923 reported instances. The second highest category was similar: using texts of emails to make threats, with 358 reported crimes. 
The difference between the two is that "threatening messages have shown repeated criminal intent," said Det. Russell Kumagai of the LAPD computer crimes unit. "Also, threatening messages are felonies."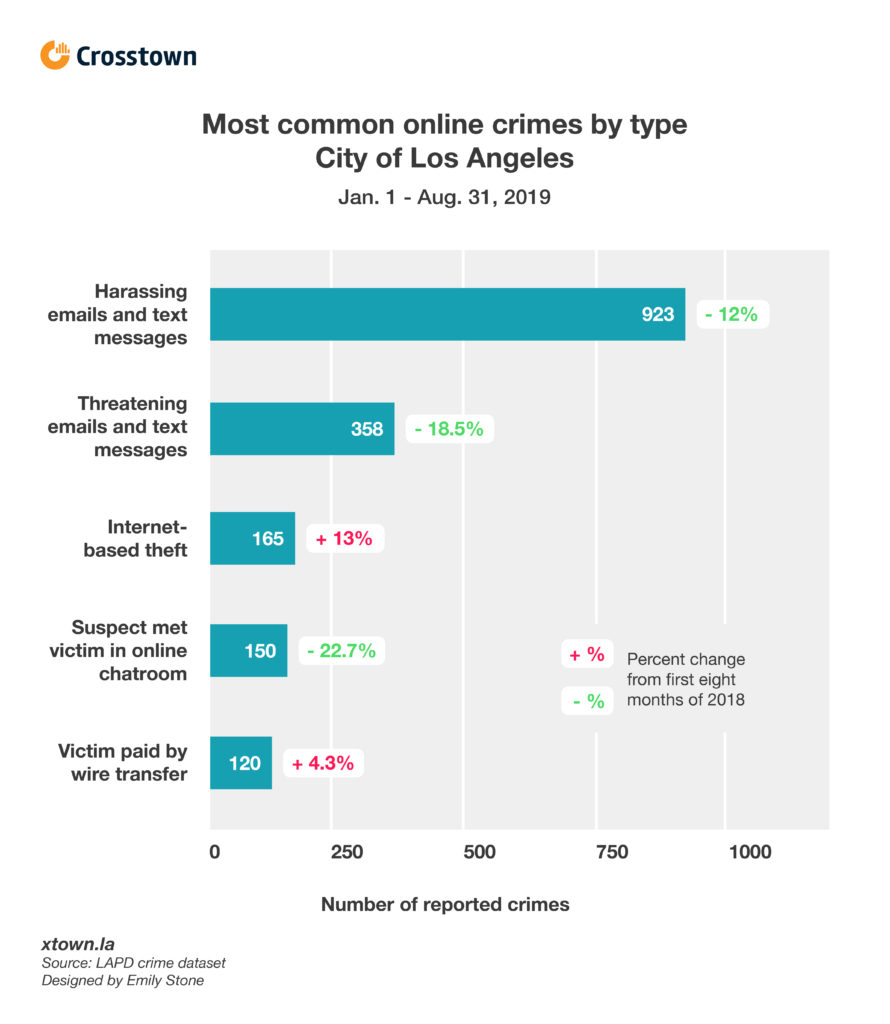 Six of the seven reported cyberstalking crimes this year involved female victims of color; at least two were sexual in nature. 
In one incident, the current or former boyfriend of the 23-year-old black female victim allegedly cyberstalked her on May 14 in a single family dwelling on 700 block of East 55th St. in the South Park neighborhood. 
In the City of Los Angeles, identity theft via computer spiked in 2016, but the numbers have remained steady since. In 2018, 25 identity thefts via computer were reported, with 16 cases from Jan. 1 – August 31, 2018. 
From Jan. 1 – Aug. 31 of this year, 13 identity thefts were reported. 
In one case at 5:45 p.m. on March 10, a suspect committed credit card fraud and stole a 26-year-old white female victim's identification or driver's license in the Sun Valley neighborhood.
However, that number likely is only a small fraction of the total number of both online and off-line identity thefts that happen, said Det. Kumagai. 
"The department literally gets thousands of reports [of identity theft] every day," he said. 
In fact, even in 2003, there could have been as many as "10,000 reported identity theft incidents within the City of Los Angeles," according to the LAPD website. 
However, the LAPD was unable to comment on why their website is at odds with their publicly available crime data. 
That number includes identity thefts that happen both online and offline. For example, stealing personal IDs and mailed credit cards from individual mailboxes can also be classified as identity theft, said Det. Kumagai.  
Another major element of online crimes, of course, is financial crimes. There were 384 financial crimes, which include extortion, internet theft, credit card fraud and wire transfer. Financial crimes accounted for 18.7% of all online crimes in the first eight months of this year.
Notably, 150 crimes so far this year involved the suspect meeting the victim in an online chatroom. Many of these incidents developed into the suspect meeting the victim in real life and subsequently committing crimes. For example, of these 150 reported crimes, there were nine rapes, two attempted rapes and two batteries with sexual contact committed by the suspect.  
There were 28 sexual crimes that began from online chat rooms. There were also 14 cases of child pornography and 11 cases of minors solicited for sex this year. 
How we did it: We examined LAPD publicly available data on reports of crimes with the 18 crime codes described above for the first eight months of 2019. For neighborhood boundaries, we rely on the borders defined by the Los Angeles Times. Learn more about our data here.
LAPD data only reflect crimes that are reported to the department, not how many crimes actually occurred. In making our calculations, we rely on the data the LAPD makes publicly available. On occasion, LAPD may update past crime reports with new information, or recategorize past reports. Those revised reports do not always automatically become part of the public database.
Want to know how your neighborhood fares? Or simply just interested in our data? Email us at askus@xtown.la.