'Is the rent free now?'
Calls about the landlord flood the 311 request center in LA
Customer service operators at the City of Los Angeles's 311 center get all kinds of requests, from complaints about dilapidated couches left on the curb to calls to remove mattresses that have seen better days. 
But on March 9, 311 requests jumped 218% from the previous day, hitting more than 6,000, the heaviest day so far this year. Why the spike? 
That day, operators began hearing a new question: "We received a lot of calls asking, 'Is rent free?'" said Nicole, a 311 operator who has worked at the center for 15 years. (She asked not to use her last name.)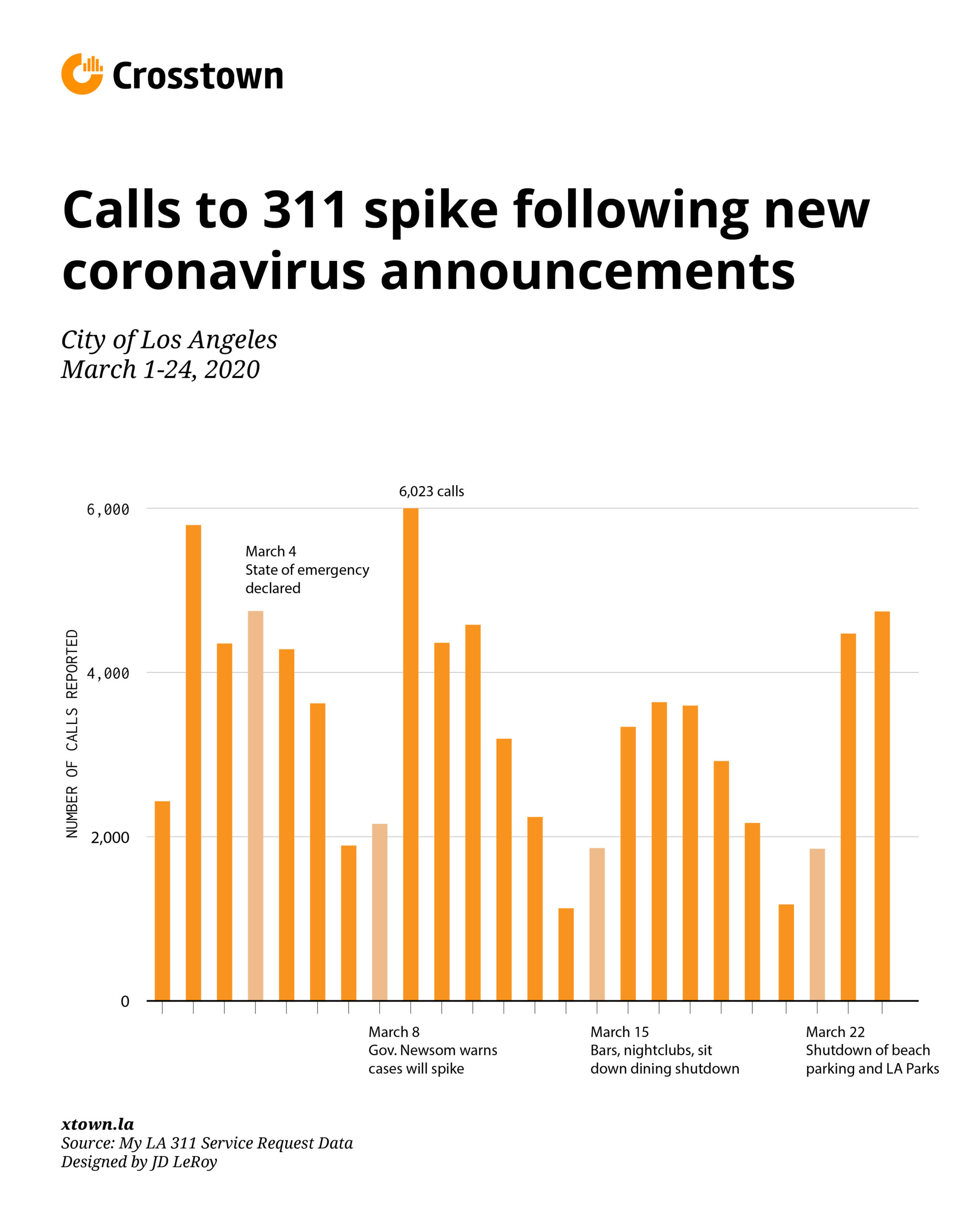 There have been several request surges over the past few weeks. Each one followed significant announcements about the coronavirus pandemic. 
The day before the March 9 surge, the Food and Drug Administration announced the coronavirus was past the point of containment. Also that day, Gov. Gavin Newsom warned that the number of cases in California would rise and some school districts also began to announce closings.
There was an 80% increase in 311 requests on March 16, the day after Los Angeles Mayor Eric Garcetti ordered the closure of gyms, bars and movie theaters, and ended dine-in service at restaurants. Requests increased even more over the next two days.
Requests to 311 more than doubled on March 23, the day after the city closed beach parking lots and parks. 
[What LA looks like on lockdown]
As for the rent, Garcetti never said people don't have to pay. However, some relief did come later in the month. On March 17, the Los Angeles County Board of Supervisors announced that it would cease all residential and commercial evictions through at least May 31. 
That issue has been on a lot of people's minds as job losses mount, said Elizabeth Blaney, a spokesperson for the Eastside Chapter of the Los Angeles Tenants Union. Blaney added that the union is receiving hundreds of calls from people who say they cannot pay their rent on April 1 because they have lost their jobs or are being forced to stay home without pay. One of those calls was from a woman who said both she and her husband lost their jobs. 
"Their rent is $2,200 per month and they can't pay April or May," said Blaney. "That is a $4,400 debt they will have incurred and the temporary moratorium on evictions for non-payment of rent does not address this issue."
At a press conference on March 25, the governor announced many banks had agreed to give mortgage relief to homeowners in California, allowing them to defer payments for a minimum of three months if their income was affected by the coronavirus pandemic. 
And here in LA, Garcetti announced Monday that landlords could not kick tenants out of their rent-stabilized apartments under the Ellis Act, a state law that gives landlords a legal way to get out of the rental business.
Still, however, no free rent. 
How we did it: We examined publicly available My 311 data.  For neighborhood boundaries, we rely on the borders defined by the Los Angeles Times. Learn more about our data here.
Want to know how your neighborhood fares? Or simply just interested in our data? Email us at askus@xtown.la.