Did someone steal my mail?
Mail theft is increasing in Los Angeles, and so are attacks on letter carriers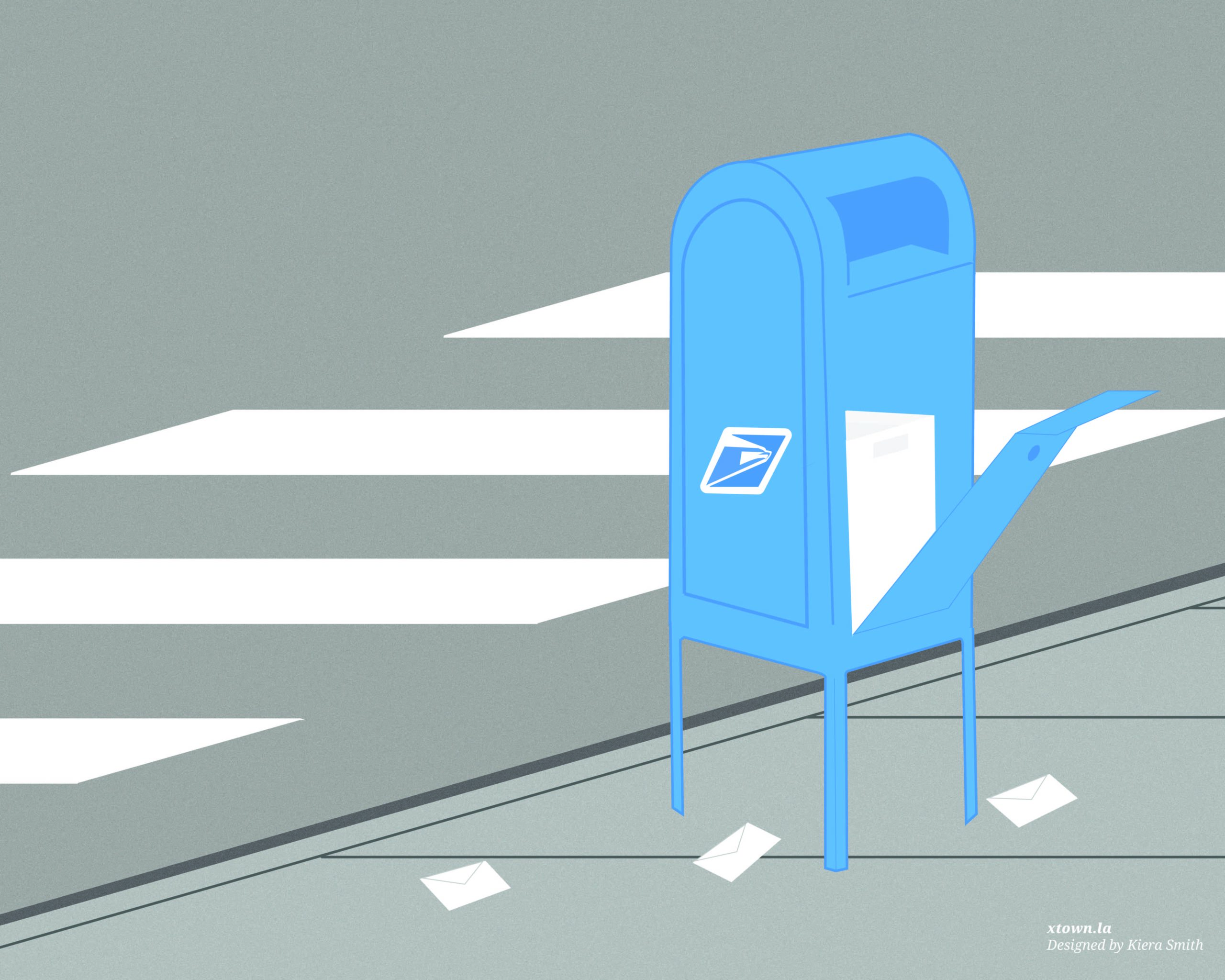 Slowdowns in mail delivery and cuts to the United States Postal Service budget are causing outrage across the country and raising concerns about the potential impact on mail-in ballots for the November presidential election. But that's not the only worry in Los Angeles: The city is seeing an increase in both mail theft and attacks on postal workers.
There were 300 reports of mail theft in Los Angeles during the first seven months of this year, a 30% increase from the same time period in 2019, when there were 230 criminal reports, according to LAPD data. That comes on top of a steady increase over the last decade. From 2010-2019, the city experienced a 320% rise in reports of mail theft. 
Last year there were 437 instances of mail theft, just shy of the 2017 record of 444.
Mail theft incidents from 2010-2019
Nearly 55% of the reports from January – July were for petty theft, with losses valued under $950. The 64 reported thefts in May mark the highest monthly total of the year. 
Mail theft reports January – July, 2020 vs. 2019
More mail, more theft
It may be no coincidence that the spiking May count occurred during the coronavirus pandemic, when many Angelenos were adhering to stay-at-home orders. That led to a flood of package deliveries as people ordered goods online rather than shopping in person. There have also been reports of increasing crimes by "porch pirates," with opportunistic thieves grabbing boxes or packages left outside homes by Amazon, UPS or other non-Postal Service companies.
Hollywood was the top location for mail thefts, with 25 reported incidents in the first seven months of the year. There were also a high number of crimes in Westlake (19) and Koreatown (17). 
In one instance, at 4:37 a.m. on April 6, on the 100 block of S. Burlington Ave. in Westlake, an unidentified individual picked the lock of a 19-year-old's mailbox and stole the contents. The suspect, who wore a hoodie, got away.  
In another incident, at 5 a.m. on June 22, in the 7000 block of Lanewood Ave. in Hollywood, an individual wearing a mask broke into a 65-year-old woman's mailbox and took packages. An investigation is ongoing, according to the LAPD. 
A spokesperson for the Wilshire Center-Koreatown Neighborhood Council said they have not heard much from residents recently about mail being stolen, but often get complaints about stolen packages.
According to the United States Postal Inspection Service's Annual Report, postal inspectors, who are federal law enforcement agents, "aggressively" investigate reports of mail theft and track complaints through their online Mail Theft Analytics Program.
Alyssa Rodriguez, a postal inspector with the Los Angeles branch of the Postal Inspection Service, recommended that people remove mail from the mailbox every day, not leave mail unattended for long periods of time, and hand outgoing mail directly to a letter carrier or bring it to the post office.
She also advised that people who change their address immediately notify the USPS and any necessary financial institutions, as many mail thefts lead to identity theft. Thom Mrozek, a spokesman for the U.S. Attorney's Office for the Central District of California, said the office handles a "fair number" of mail theft cases related to identity theft. 
The US Postal Service delivers almost 150 billion pieces of mail annually across the country without taxpayer money, according to a report released by the United States Postal Inspection Service, the unit's law enforcement arm.
Not just dog bites
Other Postal Service incidents involve the people delivering the mail. And this doesn't mean the approximately 5,800 dog bites that postal carriers endured last year, according to a statement by the USPS.
Although attacks on postal workers in Los Angeles have been on an overall decline since 2016, postal employees were the victim of a crime 12 times between January and July of this year, a 71% increase over the seven incidents in the same period last year. The 2020 figure is already approaching the 14 postal service victims for all of 2019. 
USPS employees who have been victims of crime in Los Angeles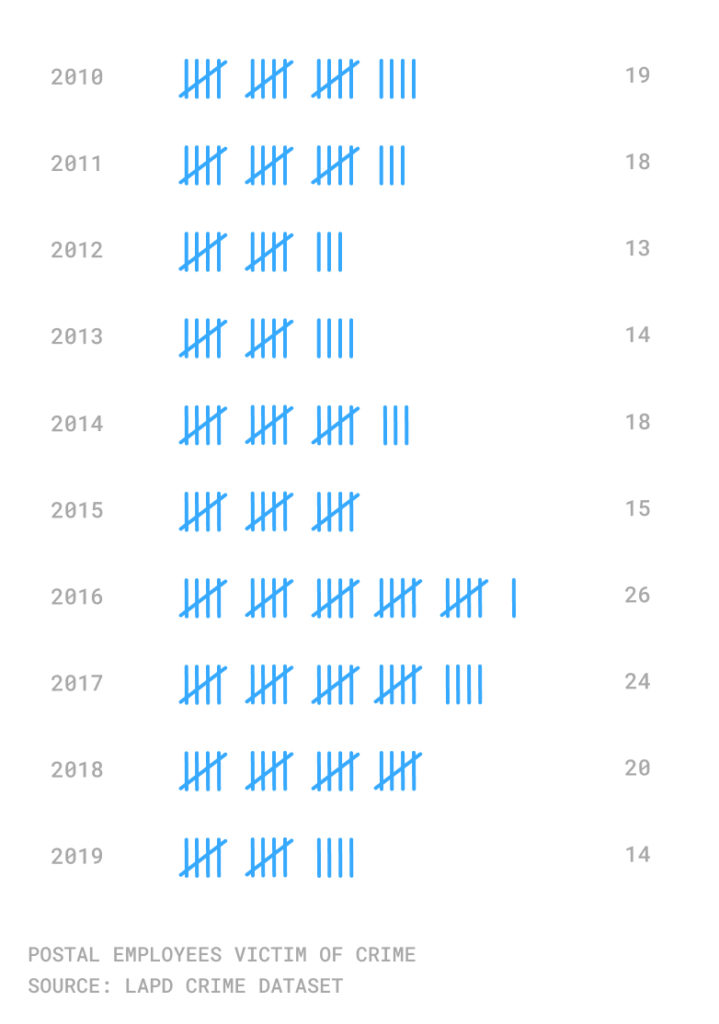 In an incident at 4 p.m. on July 6, in the 8500 block of Cedros Ave. in Panorama City, a suspected gang member grabbed and choked a 48-year-old female postal carrier in an apartment complex. The suspect, who police said was under the influence of drugs, was arrested. 
This is similar to an incident last fall when postal inspectors arrested Tommy Lee Jones (not to be confused with the film actor). Jones was sentenced to 51 months in federal prison for assaulting a letter carrier delivering mail. Jones also pushed the woman on the floor of her postal vehicle and choked her. 
How we did it: We examined LAPD publicly available data on reported crimes that involved mail theft and crimes where a postal employee was the victim from Jan. 1, 2010 – July 31 this year. For neighborhood boundaries, we rely on the borders defined by the Los Angeles Times. Learn more about our data here.
LAPD data only reflect crimes that are reported to the department, not how many crimes actually occurred. In making our calculations, we rely on the data the LAPD makes publicly available. On occasion, LAPD may update past crime reports with new information, or recategorize past reports. Those revised reports do not always automatically become part of the public database.
Want to know how your neighborhood fares? Or simply just interested in our data? Email us at askus@xtown.la.