More skirmishes and crime at homeless encampments
The pandemic has led to an increase in tents on the streets, sparking turf battles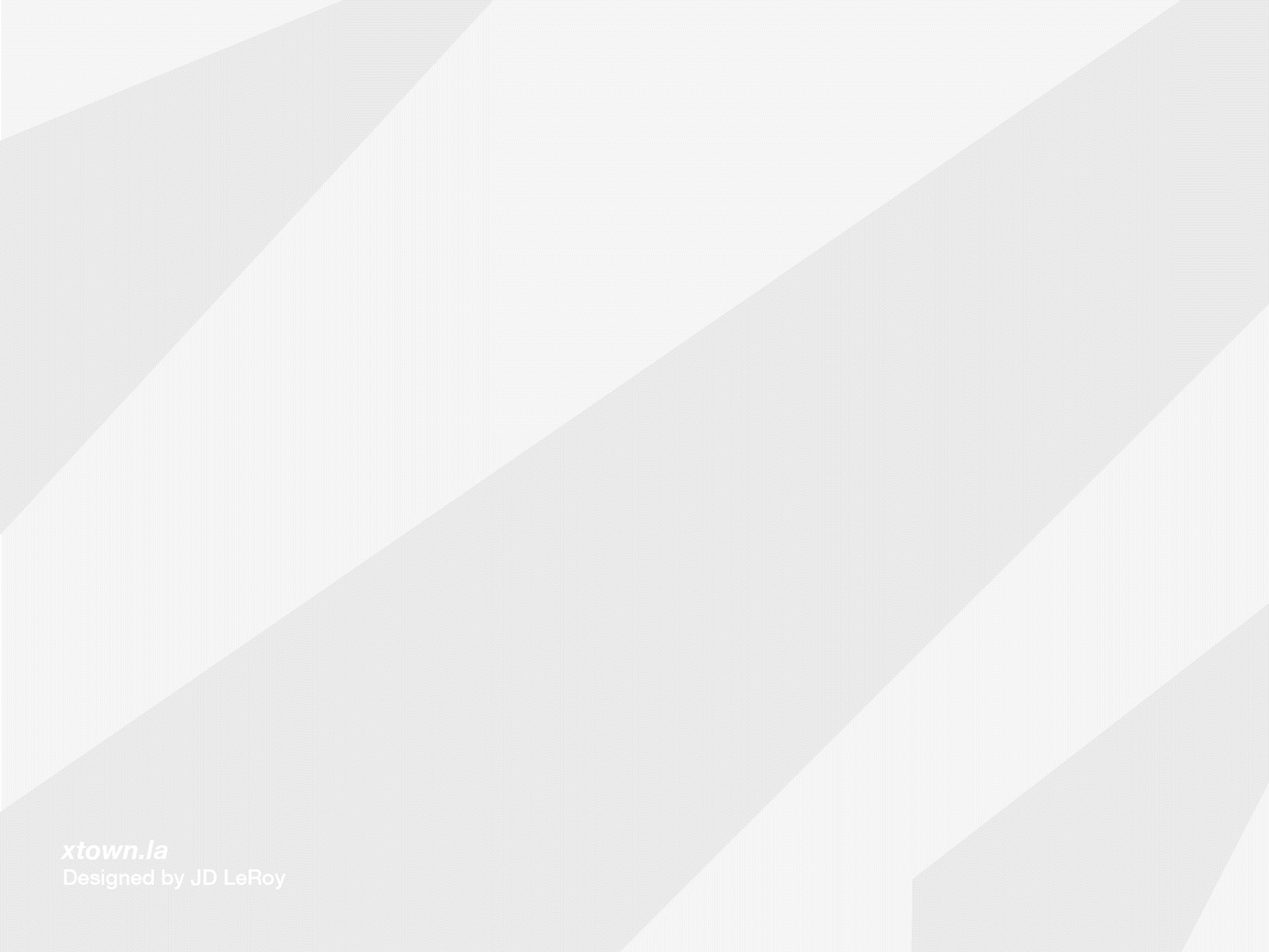 Crime is rising within Los Angeles's many homeless encampments, and the city's response to COVID-19 might be exacerbating the problem. 
In the first 10 months of the year, there were 161 reports of crimes that took place in and around the tents and encampments of the city's homeless population, according to Los Angeles Police Department data. That is a rise of 31% more than in the same time period in 2019. It also exceeds the total 143 incidents in encampments during the entirety of last year.
The rise occurs despite overall crime being down in the city by nearly 10%. 
Crime reports at homeless encampments, 2019 vs. 2020
Commander Donald Graham, Jr., the homeless coordinator for the Los Angeles Police Department, said the increase in the overall number of people experiencing homelessness is one factor driving the increase. But he also believes the coronavirus pandemic is playing a role. He pointed to the City Council's move in March to back off the requirement that people experiencing homelessness take down their tents during daylight hours in many parts of the city. 
Graham said since the police stopped enforcing what is known as Ordinance 56.11, homeless encampments began to spread. 
"That can cause tension, which can cause violence," he said. "They also tend to form social hierarchies within the encampments." As the number of encampments rises, so do turf battles. "So when tensions rise in a homeless encampment they don't have the option to retreat back into their homes or where they can find security. Their only defense is a zipper and a thin piece of fabric."
Police have seen a steady rise since they began tracking crime at transient encampments in 2015. In 2016, the first full year of tracking, the LAPD recorded just 20 crime reports at encampments. Last year, there were 143, a 615% increase. 
Crime reports at encampments, 2015-2019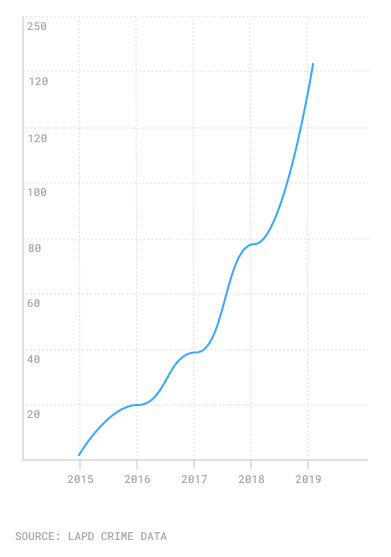 Meanwhile, the number of complaints Angelenos are making about homeless encampments decreased slightly this year. Between Jan. 1-Oct. 31, there were 43,864 calls to My311 about homeless encampments, down from the 46,574 during the same time last year, according to My311 data.
In the first 10 months of the year, 54 incidents in homeless encampments involved assault with a deadly weapon, making up 33.5% of those reported to the police. Intimate partner simple assault made up 14% of the incidents, with 23 reports. Sixteen robberies were reported during the same period. 
Venice recorded the greatest jump in crime at homeless encampments from Jan. 1-Oct. 31, with 32 incidents. That marked a 60% spike from the 20 during the same time last year. Mark Ryavec, president of the Venice Stakeholders Association, attributed some of the rise to fewer police at places like the boardwalk, but said there has been more homeless-on-homeless crime due to turf battles and other issues.
"It's become far more brazen and it has spread through parts of Venice that never had any homeless encampments, and that has driven the increase in a variety of crimes and quality-of-life issues," Ryavec said
Ryavec added that a member of the Venice Neighborhood Council witnessed two homeless men on the boardwalk get into an altercation in October, which resulted in one lighting the other person's tent on fire. Tent fires in homeless encampments have also been frequent occurrences in Downtown.
Koreatown had 23 criminal incidents, a nearly 28% increase from the 18 during the same time last year. Crimes in Hollywood rose to 12 this year from seven in 2019.
The LAPD's Graham said the department's goal is to build relationships with people in homeless encampments, with the ultimate aim of connecting them with support services. He noted that this approach could be leading to increased contact between officers and people experiencing homelessness. That, in turn, might be helping people feel more comfortable filing a criminal report. 
"The police stations are also closed because of COVID, so they are talking to officers out in the field," he said. "They have the trust to sit down and make a crime report."
How we did it: We examined publicly available My 311 data and crime data from the  Los Angeles Police Department from Jan. 1, 2015 – Oct. 31, 2020. 
For neighborhood boundaries, we rely on the borders defined by the Los Angeles Times. Learn more about our data here.
LAPD data only reflects crimes that are reported to the department, not how many crimes actually occurred. In making our calculations, we rely on the data the LAPD makes publicly available. LAPD may update past crime reports with new information, or recategorize past reports. Those revised reports do not always automatically become part of the public database.
Want to know how your neighborhood fares? Or simply just interested in our data? Email us at askus@xtown.la.