April hits new record for hate crimes in Los Angeles
Rising tide of hate crimes comes as new federal legislation is signed
Hate crimes in Los Angeles hit a record high in April, with 62 reports, more than any other month since at least 2010, when the LAPD began making its records public. 
The April tally surpasses the 51 crimes reported in August 2020. Hate crimes increased for the seventh consecutive year in 2020. 
Thirty-three of the hate crimes reported in April involved a verbal threat or the use of bodily force to injure. Thirteen of those hate crimes were classified as battery-simple assault, according to Los Angeles Police Department data. 
Over the past year, there has been mounting concern about the rise of crimes motivated by bias, particularly against people of Asian descent. But other groups have also experienced an increase in attacks. On May 18, several Jewish diners at a sushi restaurant in Beverly Grove were attacked by a group shouting anti-semitic slogans. The police are investigating the incident as a hate crime. 
Reported hate crimes in Los Angeles by month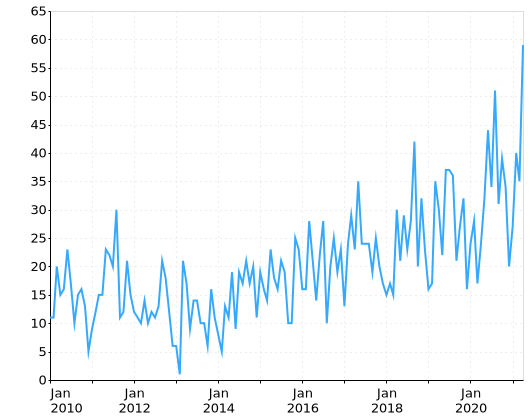 Source: LAPD crime dataset
Det. Orlando Martinez, the Los Angeles Police Department's hate crime coordinator, said the department has adopted a new policy of categorizing any instance of bias motivation as a hate crime, allowing victims to get information for support services and qualify for California's victim compensation programs. 
"Due to these changes, crimes classified as hate crimes have substantially increased as compared to last year," said Martinez. "Keep in mind that residents rarely call the police to report being the victim of a hate crime or hate incident. They call the police for another crime or because they do not feel safe, and our officers end up completing a report which the Department classifies as a bias-motivated crime."
The LAPD defines a hate crime as "any criminal act or attempted criminal act directed against a person or persons based on the victim's actual or perceived race, nationality, religion, sexual orientation, disability or gender."
These are not to be confused with "hate incidents," which typically include instances of abuse involving racial, gender or sexual-orientation bias, but do not result in a formal crime report. 
[Get COVID-19, crime and other stats about where you live with the Crosstown Neighborhood Newsletter]
Hate crimes are underreported because victims often do not trust the police will do anything about it or are unaware they can report what happened. The Bureau of Justice Statistics estimates that less than half of all hate crimes are reported to law enforcement.
"The underreporting of hate crimes has been an issue for decades and we hope that this is one step in moving forward so that victims feel heard and confident that the LAPD will treat their case with the importance it deserves," said Martinez. 
Some trends this year include:
From Jan. 1-April 30, the LAPD recorded 46 hate crimes against Black people, a 70% increase from the 27 reported during the same time last year. 

For people of Hispanic descent, the LAPD recorded 32, a 113% increase from the 15 reported during the same time last year. 

People of Asian descent saw a 41% increase, going from 12 to 17.

Attacks on gay males saw a 56% increase during that time period.
The numbers recorded by the LAPD for Asian Americans aligns with an analysis released by the Center for the Study of Hate & Extremism (CSHE) at California State University, San Bernardino. The study found there were nine anti-Asian hate crimes during the first quarter of 2021, an 80% increase from the five reported in the same time period last year. A bill intnded to fight hate crimes against Asian Americans and Pacific Islanders passed the House on Tuesday after passing the Senate weeks ago and was signed by President Biden Thursday. 
The LAPD has also expanded how it records hate crimes and incidents motivated by intolerance. It now encompasses 35 categories including anti-Black, anti-Jewish and anti-transgender. These are the same codes the FBI uses to track bias motivated offenses.
Martinez said these changes happened because it was hard to prove the mindset of a suspect and because the crime had to be against a protected characteristic and a substantial factor for the reason the crime was committed which was difficult to prove in court.
How we did it: We examined LAPD publicly available data on reported hate crimes from Jan. 1, 2010-April 30, 2021.  For neighborhood boundaries, we rely on the borders defined by the Los Angeles Times. Learn more about our data here. 
In making our calculations, we rely on the data the LAPD makes publicly available. On occasion, LAPD may update past crime reports with new information, or recategorize past reports. Those revised reports do not always automatically become part of the public database.
Want to know how your neighborhood fares? Or simply just interested in our data? Email us at askus@xtown.la.