Hate crimes against Black people on the rise
City sees nearly 90% increase in first five months of the year
Los Angeles has suffered a litany of hate crimes this year, and the city recorded a grim "record" in April—the 62 hate crimes were the highest monthly tally since at least 2010. 
Black Angelenos continue to be a frequent target. From Jan. 1-May 27, Black people were the victim of 59 hate crimes, a 90% increase from the 31 during the same time last year, according to Los Angeles Police Department data. 
Reports of anti-Black bias also saw a nearly 69% increase during the same period (some figures in 2020 may have been decreased due to people staying home in the early part of the pandemic).
Black hate crime victims in Los Angeles, Jan. 1-May 27, 2021 vs. 2020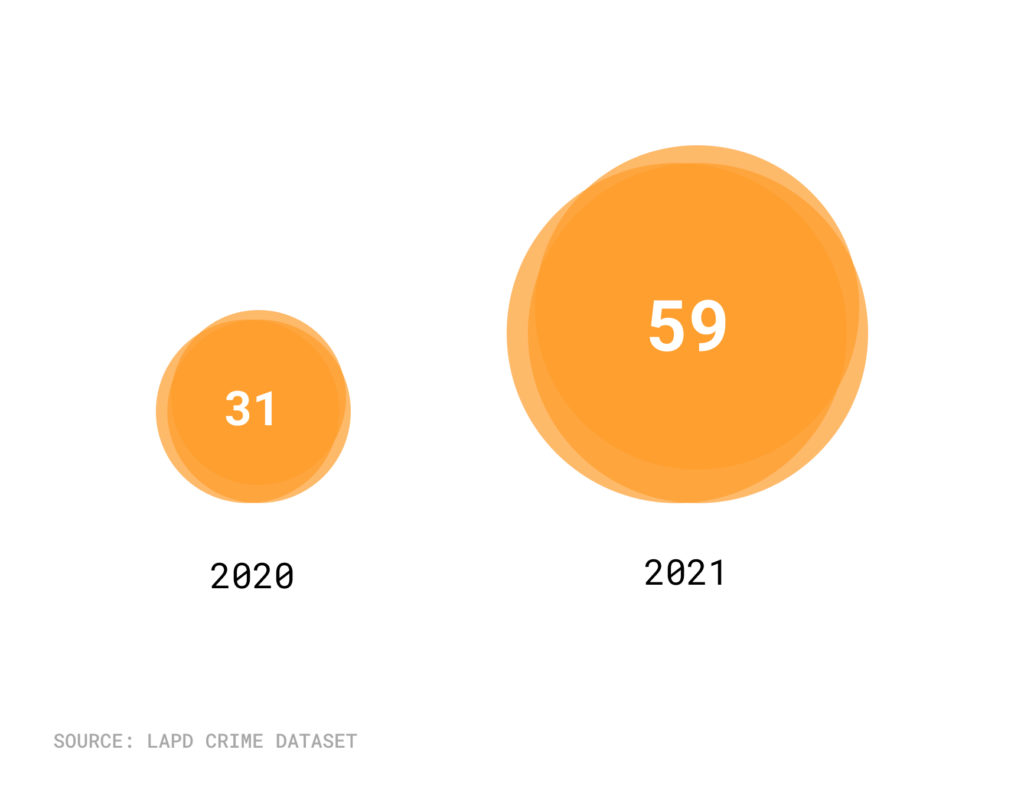 The LAPD defines a hate crime as "any criminal act or attempted criminal act directed against a person or persons based on the victim's actual or perceived race, nationality, religion, sexual orientation, disability or gender."
These are not to be confused with "hate incidents," which typically include instances of abuse involving racial, gender or sexual-orientation bias, but do not result in a formal crime report. 
Dr. Melina Abdullah, co-founder of Black Lives Matter Los Angeles, said Black people continue to be at the center of racial inequity and targeting.
"Black people have always been targets for hate crimes," she said in an interview. 
Hollywood saw eight instances in which a Black person was the victim of a hate crime, the most of any local neighborhood. In the same time period in 2020 there were no reports of hate crimes where a Black person was the victim. There were six Black people targeted for their race, one targeted for being transgender and another for their religion. In two instances, racial slurs were used and there was one instance of hate-related language.  
The neighborhood with the highest number of anti-Black discrimination incidents was also Hollywood, with six reports, double the three during the same period last year.
Abdullah said the increase in hate crimes in places like Downtown and Hollywood could be a reaction to protests for racial and economic justice. 
"It also shows that when Black people assert our rights, we are met with immediate pushback," she said.
Black men were the victim of a hate crime 42 times from Jan. 1-May 27. Black women were victims 15 times. More than half of those hate crimes happened while Black people were on a public street, parking lot or sidewalk. 
[Get COVID-19, crime and other stats about where you live with the Crosstown Neighborhood Newsletter]
Journalist and political strategist Jasmyne Cannick said Black people of all gender identities, expressions and sexual orientations continue to be at the top of the list of victims of hate crimes.  
"I think the first step in dealing with it is to stop acting like it's not happening," she said. 
Cannick pointed to a 2019 report by the Los Angeles County Commission on Human Relations that found Black people were the largest group of victims of racial hate crimes, despite representing only 9% of Los Angeles County residents. 
"The same report concluded that after declining two years in a row, white supremacist crimes jumped 38%," she said. "So it's clear that there's a lot of anti-Black aggression happening in Los Angeles."
Cannick said Black people are also over-represented as victims of sexual orientation and anti-transgender crimes. Indeed, 16 Black people were also targeted in 2020 because of their sexual orientation, according to the LAPD.
Black people endured verbal threats 18 times, and 11 of those incidents escalated and involved a suspect using bodily force. On March 24, a suspect hurled a brick at a 24-year-old Black man at his home in Mid-City while using hate-related language. The suspect was the victim's neighbor. 
How we did it: We examined crime data from the  Los Angeles Police Department from Jan. 1, 2020-May 27, 2021. For neighborhood boundaries, we rely on the borders defined by the Los Angeles Times. Learn more about our data here.
LAPD data only reflects crimes that are reported to the department, not how many crimes actually occurred. In making our calculations, we rely on the data the LAPD makes publicly available. LAPD may update past crime reports with new information, or recategorize past reports. Those revised reports do not always automatically become part of the public database.
Want to know how your neighborhood fares? Or simply just interested in our data? Email us at askus@xtown.la.