The Crosstown Vaccine Tracker
A look at the weekly trends in Los Angeles inoculations
Los Angeles continues to make progress against the coronavirus, with the number of new daily cases declining and vaccinations powering forward this week. However, there are some red flags, including rising caseloads among young Angelenos. Crosstown is following the progress on all COVID-19 information to deliver the most important data about infections and vaccinations.
Case count
The seven-day average COVID-19 case rate decreased by 14.4% from Aug. 25-Sept. 1. The previous week, cases fell by 12.6%. On Wednesday, the seven-day average of new cases was 2,632.
Daily COVID-19 test positivity rate in Los Angeles County, Aug. 1-31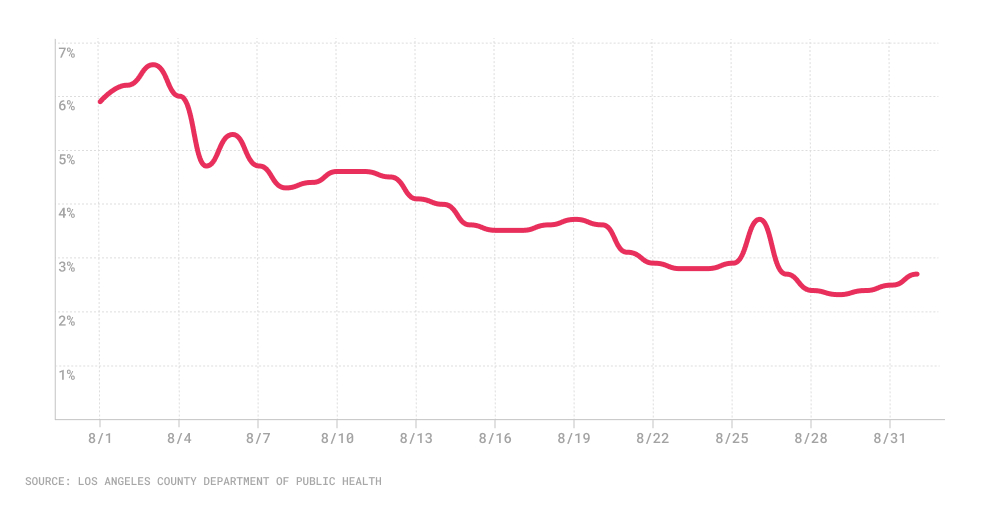 Another bit of good news is the declining positivity rate. On Wednesday, the daily test positivity rate was 2.7%, a slight decrease from the 2.9% reported one week prior. The positivity rate has tumbled from the beginning of August, when it stood at 5.9%.
[Get COVID-19, crime and other stats about where you live with the Crosstown Neighborhood Newsletter]
Yet not all trends are positive. Health officials and parents are increasingly concerned about the rising number of cases in children, especially since those under 12 are still ineligible for a vaccine. On Aug. 28, the Los Angeles County Department of Public Health found a four-fold difference in the case rate between vaccinated and unvaccinated children ages 12-18. On Wednesday, the department reported that the case rate among children ages 5-11 increased by 50%, the most for any age group. 
The seven-day average of daily deaths continues to remain in the mid-20s, landing at 25 on Wednesday. This is a 150% increase from a month prior, but a 7.4% decrease from one week earlier. Yesterday the Department of Public Health reported 38 deaths.
Daily hospitalizations remain fairly constant, slightly above or below 1,700 for the last week. From Aug. 25-Sept. 1, hospitalizations decreased by 2.7%; a week prior, the level dropped by 0.4%. On Wednesday, Los Angeles County reported 1,699 people hospitalized due to COVID-19, marking a 3.1% decrease from two weeks prior. 
Taking a shot
The public relations push for more people to get a shot in the arm, combined with mandates from public and private employers and institutions, appears to be paying off, as the weekly vaccination rate has surged to a level not seen since mid-June. Between Aug. 20-26, the County dispensed 244,973 total doses, including 121,978 second doses. That marks a 319% increase from the nearly 60,000 vaccinations administered between Aug. 13-19.
As of Aug. 26 (the most recent day for which data is available), a total of 11,719,795 doses had been administered to Los Angeles County residents. A total of 5,216,995 people have received second doses.
This breaks down to 74.2% of residents 12 and older having received at least one dose, and 65% are fully vaccinated. 
How We Did It: We analyzed coronavirus data related to new cases, deaths, hospitalization and vaccinations data provided by the Los Angeles County Department of Public Health.
Interested in our data? Check out the Crosstown coronavirus interactive map or email us at askus@xtown.la.