The Crosstown Vaccine Tracker
A look at the weekly trends in Los Angeles infections and inoculations
With Thanksgiving landing in two weeks, and the winter holidays arriving shortly after that, the Los Angeles County Department of Public Health is urging residents to get vaccinated—or get boosters, when applicable. To incentivize inoculations, the city of Los Angeles on Monday launched "SafePassLA," which requires proof of full vaccination to enter restaurants, bars, coffee shops, gyms and other locations. With the Vaccine Tracker, Crosstown is staying up to date on the latest and most important data on infections and inoculations.
Move the needle
Despite the push for more vaccinations, the number of shots that went into arms this week was the fewest since mid-August. From Oct. 29-Nov. 4, a total of 107,465 doses were dispensed to county residents, with 18,607 of them being second doses. This marks a 55.2% decrease from one week prior. 
This could begin to change, as on Nov. 3 local providers began administering the Pfizer vaccine to children ages 5-11. Many kids that age don't have school in the days leading up to Thanksgiving, potentially allowing more time for parents to arrange shots for them.
As of Nov. 4, the most recent day for which data is available, the county administered a total of 13,376,297 doses. That includes 5,769,338 second doses.
Percentage of Los Angeles County residents 12 and up who have been vaccinated
As of Oct. 31, nearly 610,000 people in L.A. County have received booster shots. That also could begin to rise soon, as on Thursday California Department of Public Health officials directed vaccination providers to allow any adult who wants a booster to get one (provided the appropriate time has passed since their initial vaccination). Previously, the recommendation had been that only more at-risk individuals get a booster.
More eligible women than men continue to take the jab. According to County Department of Public Health data, 82.3% of the 4.5 million female residents who are 12 and older have gotten at least one shot. This compares with 77.7% of the 4.3 million eligible 12-plus men. 
[Get COVID-19, crime and other stats about where you live with the Crosstown Neighborhood Newsletter]
On the case
While the seven-day COVID-19 case average had dipped below 1,000, numbers are creeping up again, just as they did last year around this time. On Thursday, the seven-day average of cases stood at 1,351, a 31.9% increase over the past four weeks.
On Thursday, the seven-day average of deaths hit 18, a 20% rise from one week prior. Hospitalizations, however, are dropping again. On Thursday, the county reported that 617 people were hospitalized with COVID-19, marking a 6.8% decline from the week before. As of Wednesday, 26% of patients were being treated in the ICU.
The daily test positivity rate is now sitting just above 1%. On Thursday, the county reported 1.1% positivity, a drop from 1.6% one week prior.
Daily positivity rate in Los Angeles County, Oct. 1-Nov. 11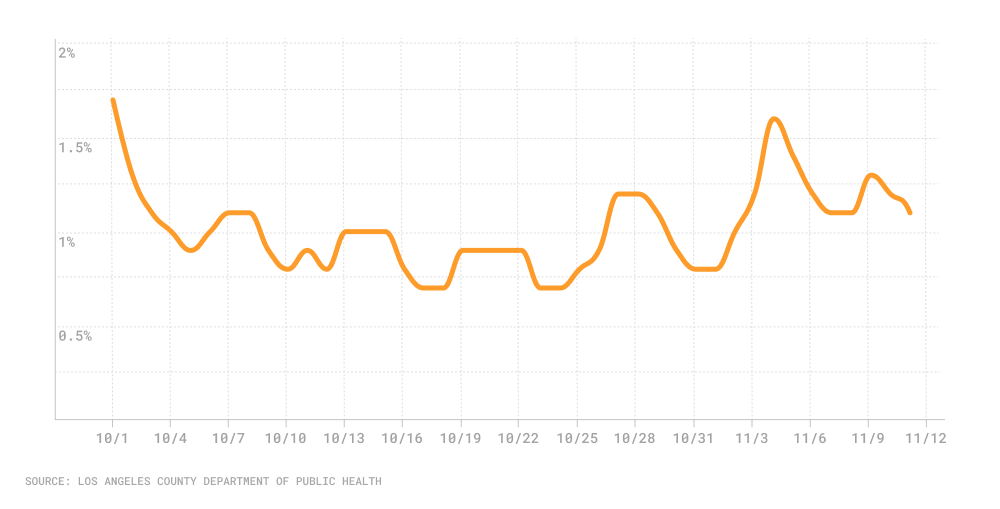 There has been an increase in cases on Los Angeles Unified School District campuses, where all students and staff are tested each week. From Nov. 5-11, there were 516 positive results out of more than 393,000 tests. That works out to a 0.13% positivity rate. Two weeks prior, there were 313 positive results. 
How we did it: We analyzed coronavirus data related to new cases, deaths, hospitalization and vaccinations data provided by the Los Angeles County Department of Public Health, as well as data from the Los Angeles Unified School District.
Interested in our data? Check out the Crosstown coronavirus interactive map or email us at askus@xtown.la.