The Crosstown Vaccine Tracker
A look at the weekly trends in Los Angeles infections and inoculations
As the weather cools and the winter holidays approach, local political and health leaders are taking additional steps to incentivize vaccination. On Thursday, a Los Angeles County Department of Public Health order went into effect requiring proof of full vaccination and photo ID for indoor admission to bars, breweries and nightclubs for all customers and employees. This coming Monday, the city of Los Angeles' vaccine verification program "SafePassLA" will require proof of full vaccination to enter restaurants, bars, coffee shops, gyms and malls. With the Vaccine Tracker, Crosstown is staying up to date on the latest and most important data on infections and inoculations.
Take a shot
On Wednesday, the pool of those eligible to be vaccinated expanded, as Los Angeles County health providers began offering the Pfizer shot to children ages 5-11 (the dose is smaller than that given to adults). This means about 900,000 county kids can now get their own shot in the arm. 
In the week of Oct. 22-28, a total of 239,949 doses were administered to Los Angeles County residents, including 44,647 second doses. This marks a 43.2% increase from a week prior, when the county dispensed about 170,000 shots, according to the Department of Public Health.
As of Oct. 31, the most recent day for which data is available, a total of 13,376,297 doses have been dispensed to Angelenos, and 5,769,338 shots have been given out.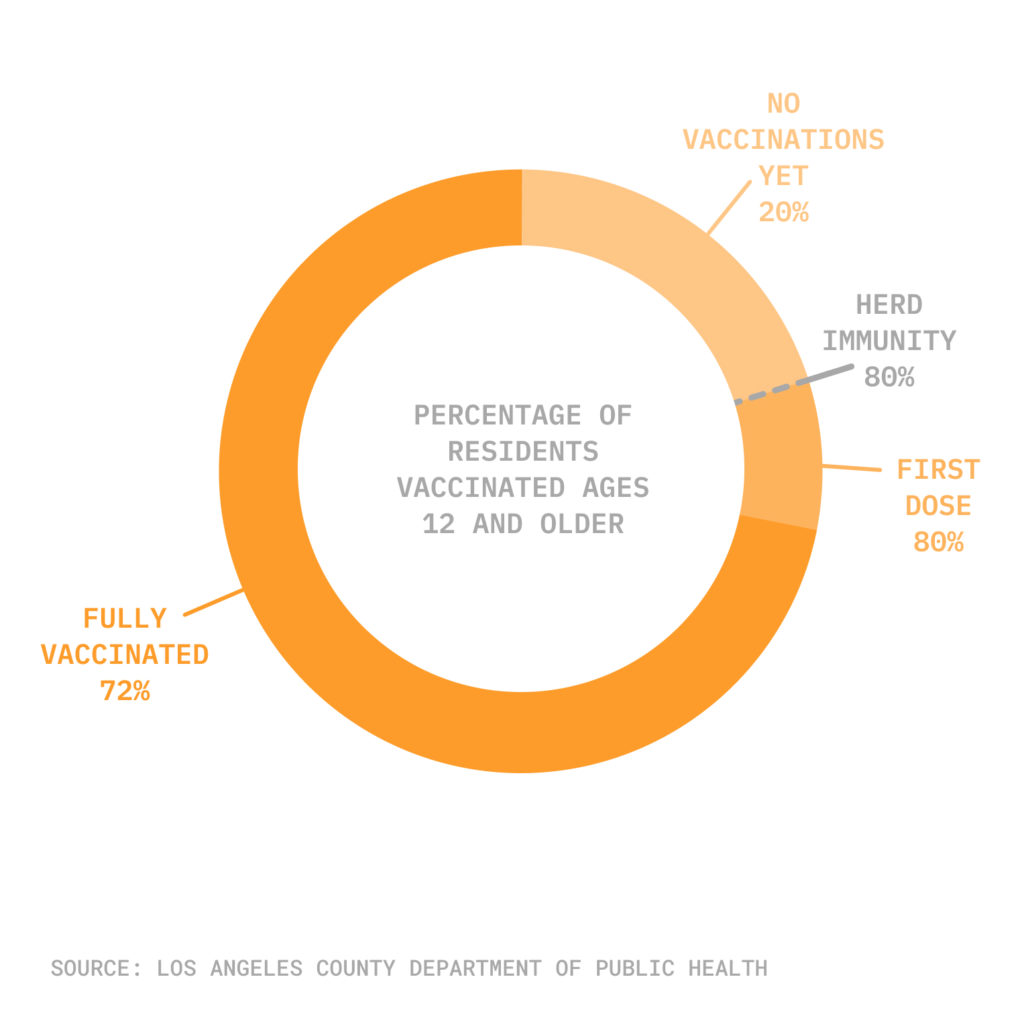 The Department of Public Health has released its first figures regarding third shots (or second, in the case of the Johnson & Johnson vaccine). As of Oct. 31, nearly 610,000 booster doses have been administered throughout the county. An estimated 53,000 of them were dispensed over the Halloween weekend.
With more than 1 million county residents, the 65-79 age group still holds the crown for the most protected group, as 98.3% of them have received at least one dose. However, there seems to be some reticence among Angelenos between the ages of 30 and 49; just 78.7% of the approximately 2.9 million county residents in that sector have taken the jab. This means that more than 620,000 people in that age range have, for whatever reason, chosen not to receive the vaccine.
[Get COVID-19, crime and other stats about where you live with the Crosstown Neighborhood Newsletter]
On the case
Recently, the seven-day COVID-19 case average has been sitting in the low 1,000s, but with more people spending more time indoors, infections are starting to creep up, just as they did last year at this time. On Nov. 4, the seven-day average of new cases was 1,315, a 20.9% rise over the 1,088 a week prior. Still, this is a significant improvement from the 3,086 average cases reported three months ago, on Aug. 4.
Daily and average coronavirus cases in Los Angeles County, Oct. 1-Nov. 23
On Thursday, the seven-day average of deaths stood at 15, just slightly above the 14 reported one week ago. Meanwhile, the number of people in local hospitals with COVID-19 has remained in the mid-600s for the past two weeks. On Thursday, 662 county residents were hospitalized with the virus, a 2% increase from one week prior. Approximately 23% of those in area hospitals are being treated in the ICU.
For the first time since mid-October, the daily test positivity rate has jumped above 1%. On Thursday, the county reported a 1.6% positivity rate, nearly double the level two weeks prior, when the figure stood at 0.9%.
The positivity rate on Los Angeles Unified School District campuses reflects a similar upward trend, though it also remains well below overall county levels. The district does weekly testing of all students and staff. From Oct. 29-Nov. 4, there were 427 positive results out of 449,112 tests (last week there were 313 positive results). That works out to a 0.1% positivity rate.
How we did it: We analyzed coronavirus data related to new cases, deaths, hospitalization and vaccinations data provided by the Los Angeles County Department of Public Health, as well as data from the Los Angeles Unified School District.
Interested in our data? Check out the Crosstown coronavirus interactive map or email us at askus@xtown.la.