The Crosstown Crime Book: October
Stolen-vehicle numbers in Los Angeles continue to soar, and murders decline from a summer high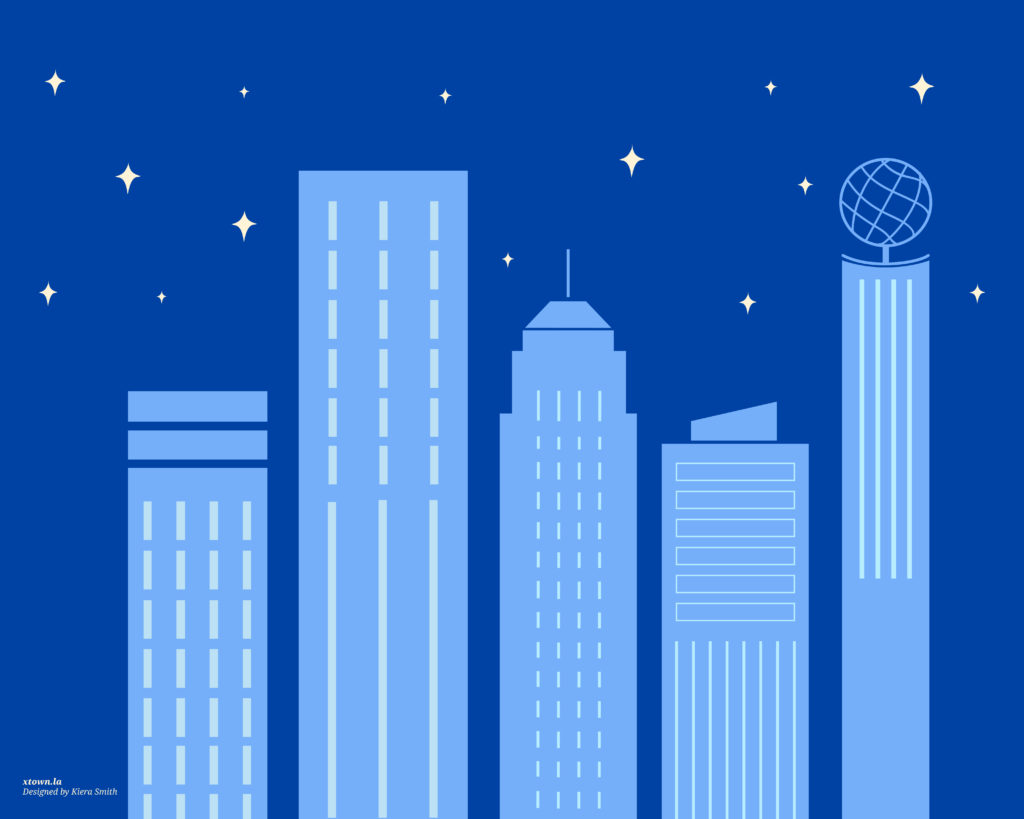 Everyone wants to stay up to date on crime, but it can be hard to know where to get that information. With the Crime Book, Crosstown aims to deliver the most important statistics on public safety, using publicly accessible Los Angeles Police Department data to provide not just numbers from a single month, but context from the recent past and previous years. Here is how Los Angeles fared in October.
World of wheels
Car thefts in the city continue to occur at record levels. In October, the LAPD recorded 2,323 stolen vehicles, by far the highest monthly figure since the department started making its data available in 2010. The previous high was 2,142 in June 2020. The tally has risen for four consecutive months, and the October total marks a 25.6% increase over the 1,849 vehicles that went missing in June.
Car thefts in Los Angeles, July-October 2021
Car thefts have soared since the onset of the coronavirus pandemic, and the figure last month represents a 75% spike over the 1,324 stolen vehicles in October 2019. It also is a more than 600-incident increase over the same month last year. 
Car thefts in October in Los Angeles, 2017-2021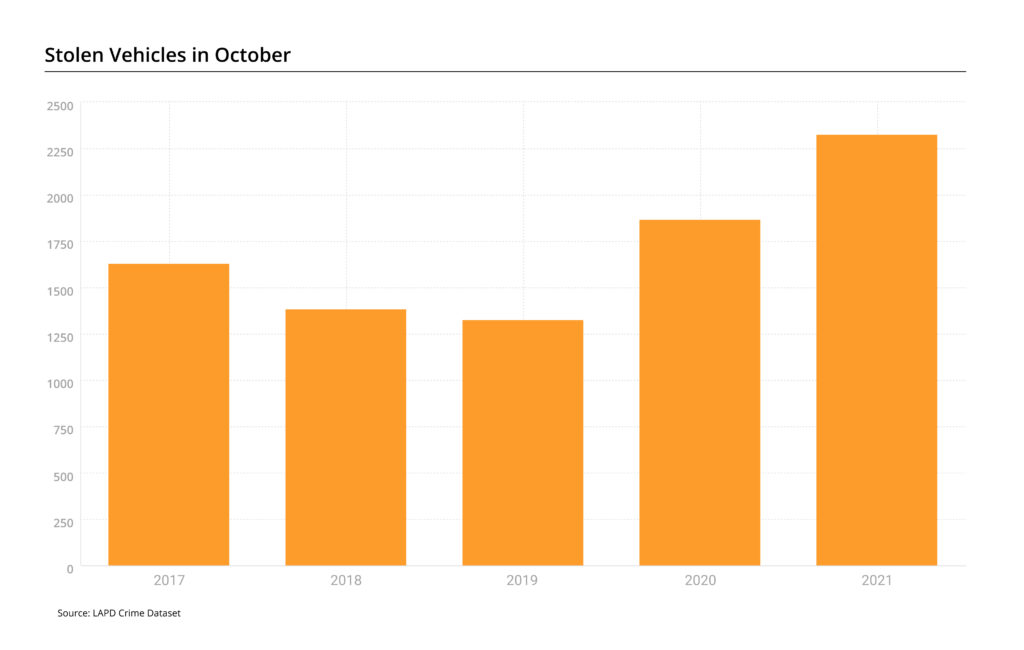 Police officials have said that part of the spike stems from individuals who leave key fobs in their cars, inadvertently making things easy for opportunistic thieves. On Tuesday morning, during a meeting of the civilian Police Commission, LAPD Assistant Chief Beatrice Girmala cited a related factor: Some thefts occur when food delivery drivers leave the engine running while dropping off goods. 
"We as​​k you to please gain better situational awareness," Girmala said.
October also brought an uptick in the number of burglaries or thefts from a vehicle—the most commonly reported crime in Los Angeles. The 2,664 incidents was a 9% rise over September. The most frequent neighborhood for incidents last month was Downtown, with 258 reports. There were 107 in Hollywood and 85 in Studio City.
[Get COVID-19, crime and other stats about where you live with the Crosstown Neighborhood Newsletter]
Fewer murders
After an unsettling surge in murders and other gun violence, incidents have fallen somewhat. In October the LAPD recorded 29 homicides. It is the first time since May that the monthly murder toll has dipped below 30, and is a steep decline from the 48 killings in July (the highest level in at least a decade).
Homicides in Los Angeles, July-October 2021
Although the October total is also well below the 39 in the same month last year, more people are generally being killed each month than before the pandemic. In October 2019 the city experienced 22 murders.
Reports of gunfire, which like murders have decreased from summer highs, are also still above pre-pandemic levels. The LAPD registered 279 shots-fired incidents in October, more than twice the total in the same month in 2019. 
Shots-fired reports in October in Los Angeles, 2017-2021
The community that experienced the highest number of shots-fired reports last month was Boyle Heights, with 15. There were 14 in Green Meadows and Watts, while Downtown and Westlake each recorded 12 incidents.
Breaking stuff
Reports of vandalism have also declined from summer highs. The 1,669 incidents in October is an 11.9% decrease from the 1,891 in July (the highest monthly figure of the year).
Although the October 2021 vandalism count is virtually identical to the same month in each of the last two years, it is an improvement from the years before that. In October 2017, there were 1,923 vandalism reports in Los Angeles. In October 2016 there were 1,958 incidents.
Vandalism incidents in October in Los Angeles, 2017-2021
The most frequently vandalized community last month was Downtown, with 113 incidents, according to LAPD data. Other hard-hit neighborhoods include Hollywood (79 reports), Koreatown (57), Westlake (47), North Hollywood and Van Nuys (41 each).
How we did it: We examined publicly available crime data from the Los Angeles Police Department from July 1-Oct. 31, 2021, and the periods of Oct. 1-31 from 2017-2021. Learn more about our data here.
LAPD data only reflects crimes that are reported to the department, not how many crimes actually occurred. In making our calculations, we rely on the data the LAPD makes publicly available. LAPD may update past crime reports with new information, or recategorize past reports. Those revised reports do not always automatically become part of the public database.
Want to know how your neighborhood fares? Or simply just interested in our data? Email us at askus@xtown.la.