The Crosstown Vaccine Tracker
A look at the weekly trends in Los Angeles infections and inoculations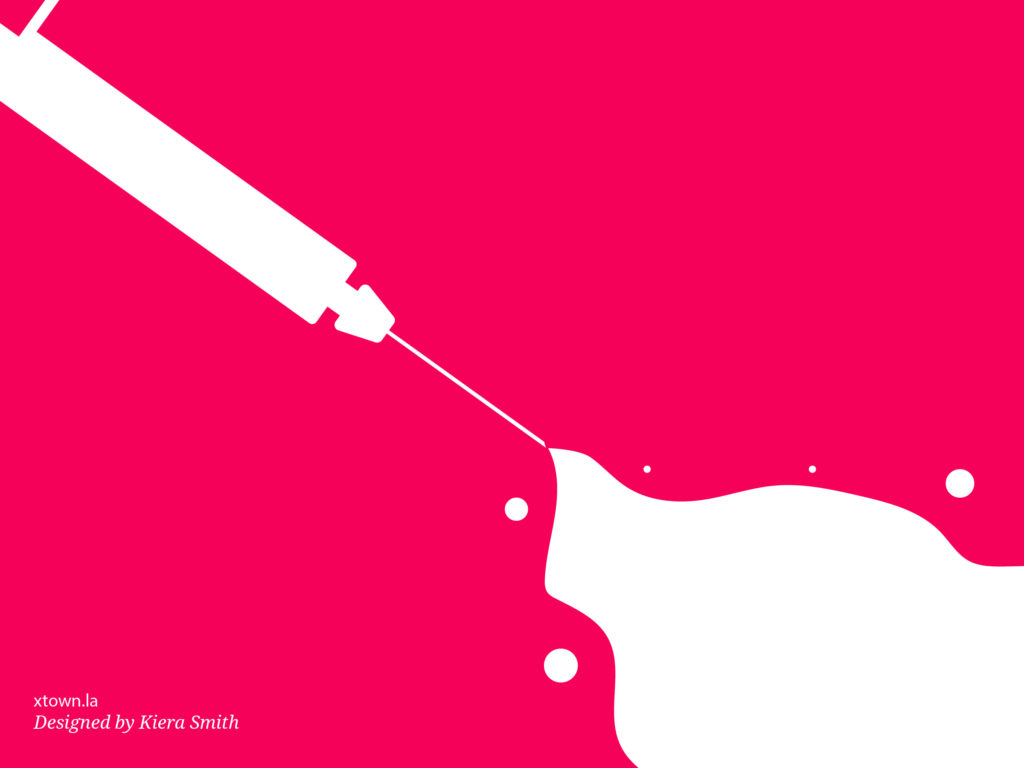 Thanksgiving is two days away, with the winter holidays arriving soon afterwards. Given the dinners and parties these occasions bring, the Los Angeles County Department of Public Health is encouraging residents to get a coronavirus booster shot. Progress, however, has been slow; as of Nov. 17, only about 1 million of the 4.8 million eligible county residents had received an additional dose. With the Vaccine Tracker, Crosstown is staying up to date on the latest and most important data on infections and inoculations.
Tracking the jab
Total vaccinations have been on an upward trend. During the 10-day period of Nov. 5-14, a total of 629,881 doses were dispensed to county residents, with 93,494 of them being second doses. (The County has not released updated figures since Nov. 14).
As of Nov. 14, the county had administered a total of 14,006,178 doses. That includes 5,862,832 second shots. Currently, 73% of Angelenos ages 12 and up are fully protected, and an additional 8.5% have received one dose of the vaccine.
Los Angeles County vaccination rate for residents 12 and older 
Between Nov. 5-14, nearly 371,000 people in Los Angeles County received a booster shot. This figure could rise significantly in the coming weeks, as the California Department of Public Health on Nov. 11 directed vaccination providers to allow any eligible adult who wants a booster to get one. Previously, the recommendation had been that only at-risk individuals get a booster.
As a group, Angelenos of Asian descent continue to be the most protected subset of the population. According to Department of Public Health data, 84.5% of people older than 12 have received at least one jab in the arm as of Nov. 14. Black county residents are on the other end of the spectrum, with only 58.1% receiving at least one dose.
[Get COVID-19, crime and other stats about where you live with the Crosstown Neighborhood Newsletter]
Case count
Around this time last year, COVID-19 cases were rising quickly, part of what would come to be a deadly and devastating winter surge. So it can be instructive to compare present trends with those of 2020.
As of Monday, the COVID-19 seven-day case average stood at 1,220, an 11.7% decrease from two weeks prior. The seven-day average on Nov. 22, 2020, was 3,581, and there had been a 92.3% increase in the case count over a two-week timeframe.
Daily coronavirus case average in Los Angeles County, Nov. 8-22, 2021 vs. 2020
Although case levels currently are far below those of last year, deaths continue to mount, and over the weekend the county death toll since the start of the pandemic surpassed 27,000. The current seven-day average of deaths is now sitting at 22, an increase of 22.2% from one week prior. 
On Nov. 22, 2020, the seven-day death average also stood at 22, though the figure had increased by 57% in one week's time. 
On Saturday, the three-day average of hospitalizations dipped below 600 for the first time in a month. As of Monday, 569 Los Angeles County residents were in area hospitals with COVID-19. On the same date in 2020, the figure was more than double: 1,401 individuals were hospitalized.
Comparing the positivity rate also reveals a stark difference. On Nov. 21, 2020, the Department of Public Health reported a 5.9% seven-day average test positivity rate. As of Nov. 21 of this year, the seven-day positivity rate was 0.98%.
New coronavirus cases on Los Angeles Unified School District campuses have risen in recent weeks, but overall numbers remain markedly low. From Nov. 15-21, there were 646 positive results out of nearly 454,000 tests. That works out to a 0.14% positivity rate.
How we did it: We analyzed coronavirus data related to new cases, deaths, hospitalization and vaccinations data provided by the Los Angeles County Department of Public Health, as well as data from the Los Angeles Unified School District.
Interested in our data? Check out the Crosstown coronavirus interactive map or email us at askus@xtown.la.