LAPD records sharp increase in gun-related arrests
Rise occurs even as most other arrests decrease in Los Angeles
In 2019, approximately one out of 50 arrests made by the Los Angeles Police Department involved a gun. Through October of this year, the ratio is one out of every 15 arrests.
The massive increase is the result of two factors: a decline in overall arrests that has been underway in the city for more than a decade; the surge in gun violence that began during the pandemic. Over the past 21 months, the number of gun-related arrests in Los Angeles has climbed sharply, rising nearly 300% from pre-pandemic levels.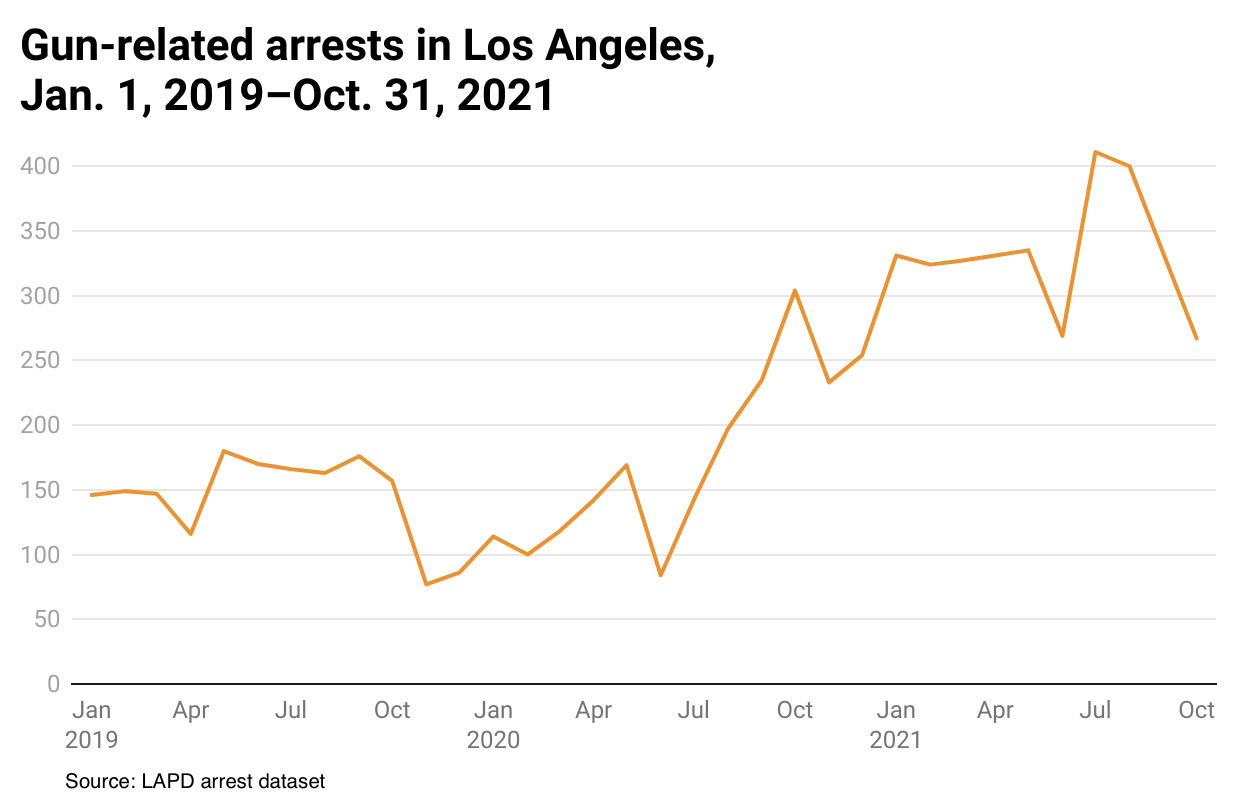 LAPD Chief Michel Moore has repeatedly drawn attention to a rise in gun violence. According to LAPD Compstat data, from Jan. 1-Dec. 11, the department recorded 3,189 shots-fired reports. That is a 16.4% increase over the same period last year, and a 58.5% boost over the equivalent timeframe in 2019. The 375 homicides recorded this year has already surpassed the yearly total for each of the past 12 years. 
"The increased levels of gun violence are now impacting some of our communities in a manner that we have not seen in recent years," Moore said during a media availability on Nov. 23.
Ghost guns
He attributed some of the problem to the proliferation of "ghost guns," firearms that can be ordered online with no registration or background check and assembled at home, or even churned out on a basic 3-D printer. 
The department has sought to take weapons off the street, and during a meeting of the Los Angeles Police Commission on Dec. 14, Moore said the department is seizing an average of 25 guns a day, and will recover more than 9,000 by the end of the year. In October, the LAPD raided a tattoo parlor in connection with an investigation into the shooting of a detective. The raid turned up several ghost guns, as well as a 3-D printer used to make them.  
"Too many guns in too many hands," Moore tweeted  after the shooting. 
The shooting took place in South Los Angeles. A 14-year-old suspect was taken into custody, according to ABC7 news. 
The rise in gun-related arrests runs counter to LAPD trends. The department is making about one-third of the arrests it made a decade ago. Last year produced by far the fewest arrests – 67,508, according to LAPD's publicly available data  – since it began to make its data public more than a decade ago.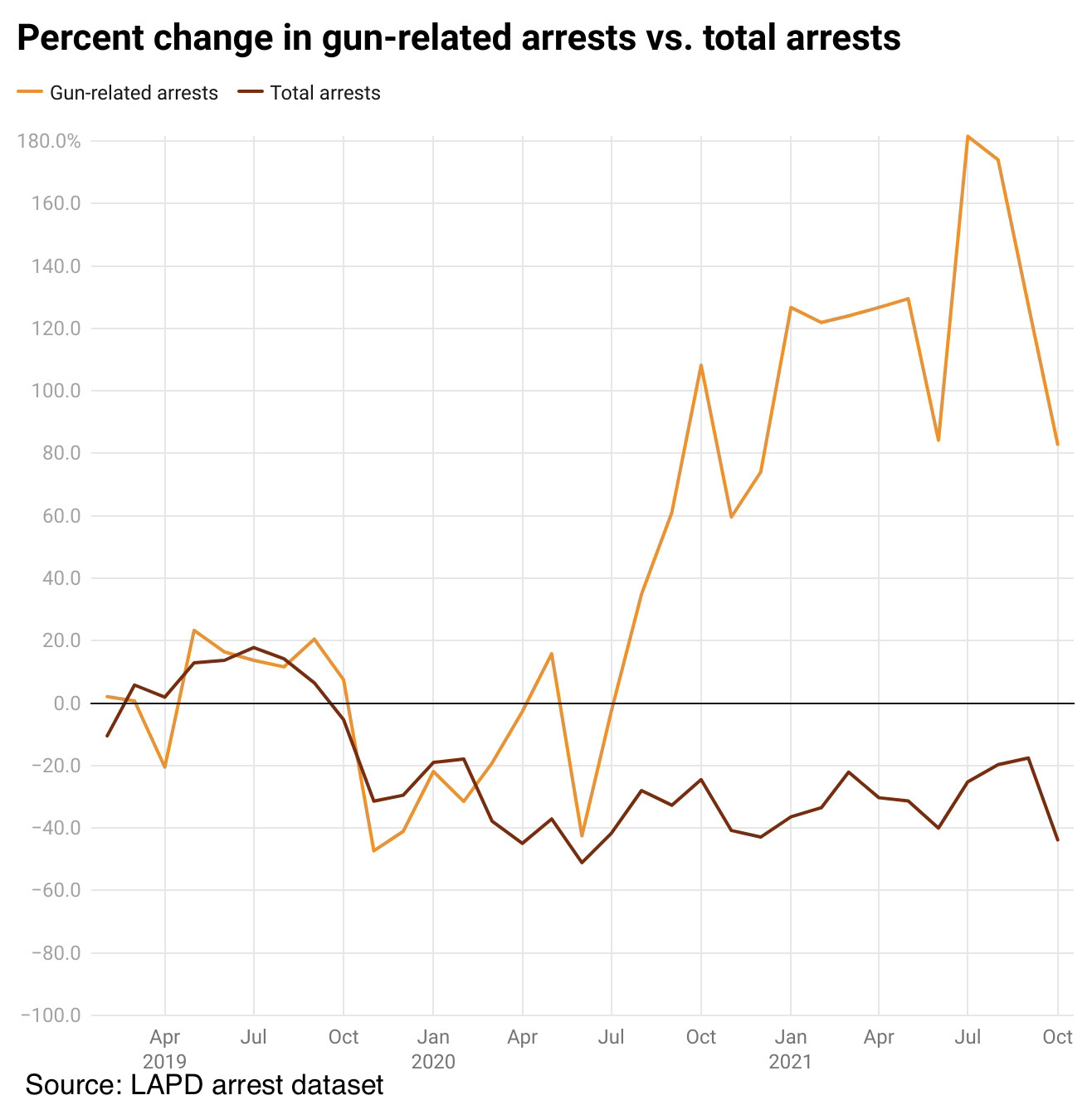 Moore has said that the department has been seeking tools other than arrests to lower crime. In particular, he said, police have tried to reduce juvenile arrests, which can pull young people into a criminal justice system from which it can be hard to escape.  
Courting Conflict
While the increase in gun-related arrests may satisfy those who believe the city is becoming more dangerous, it could lead to a clash with progressive District Attorney George Gascon. Since taking office a year ago, he has worked to reduce the number of gun complaints in criminal cases. 
In years past, prosecutors often filed gun charges as a way to bring tougher sentencing to defendants whom they believed posed significant risks to the community. An analysis by LAist found that the District Attorney's office had filed 731 gun complaints during the first half of this year, down from 1,791 during the same period in 2019. 
Los Angeles is not alone in its wave of gun violence and homicides, and cities across the country have experienced similar spikes since the onset of the pandemic. Margot Bennett, executive director of Women Against Gun Violence, said the coronavirus created the "perfect storm." 
"There was a huge surge in gun sales during COVID, and at the same time, economic hardship increased and stress increased and opportunity decreased, and I think all of them are coming together," she said. 
Last month, the Los Angeles City Council passed a resolution banning the possession or sale of ghost guns. Under federal law, these weapons don't need to be registered because they are shipped unassembled. In California, buyers of ghost gun kits are required to contact the state to request a serial number, as well as complete a background check. However, that is difficult to enforce. 
How we did it: We examined publicly available crime data from the Los Angeles Police Department. Learn more about our data here.
LAPD data only reflects crimes that are reported to the department, not how many crimes actually occurred. In making our calculations, we rely on the data the LAPD makes publicly available. LAPD may update past crime reports with new information, or recategorize past reports. Those revised reports do not always automatically become part of the public database.
Have questions about our data or want to know more? Write to us at askus@xtown.la.