The Crosstown COVID Tracker
Case numbers continue to soar in Los Angeles
Los Angeles is hitting dreadful milestone after dreadful milestone as the Omicron variant continues to sweep across the region. The Los Angeles County Department of Public Health reported record daily case numbers twice last week—peaking at 45,584 on Sunday—and surpassed more than 2 million cases of COVID-19 since the start of the pandemic. 
Weekly COVID-19 cases in Los Angeles County, Dec. 8-Jan. 11
The seven-day case average spiked above 38,000 on Tuesday, and on Wednesday the Department of Public Health classified the 39 new deaths as "troubling," saying they likely result from the surge in infections that began in December. 
With numbers so high, health officials have advised people to avoid unmasked activities and postpone large gatherings for a few weeks, especially if unvaccinated individuals are present. Some have begun to question if the Super Bowl, scheduled for Feb. 13 at SoFi Stadium, should go on as planned.
The Crosstown COVID Tracker helps you stay up to date on the latest and most important data on infections, inoculations and general risk. 
[Get COVID-19, crime and other stats about where you live with the Crosstown Neighborhood Newsletter]
All about Omicron
Wednesday marked the seventh consecutive day that more than 34,000 people in L.A. County tested positive for the coronavirus, and that is an undercount, as an unknown number of people are using home test kits. The seven-day average of new cases on Wednesday was 39,974, a 78.4% increase from the seven-day average a week ago. 
This far outpaces the seven-day average of 15,524 cases reported at the same time last year. 
The spike in cases is accompanied by a rising test-positivity rate. On Wednesday it hit 20.4% in the county. Just four weeks ago, only 1.1% of people were testing positive. 
Despite the worrying death toll, many people who contract the Omicron variant of the virus are suffering only mild symptoms, and fatalities continue to remain far below last year's numbers, with a seven-day average of 22 on Wednesday. Last January, the seven-day average of deaths regularly remained over 200. 
The concern, however, is that deaths will begin to rise quickly. Deaths, like hospitalizations, are a lagging indicator, and a spike in fatalities traditionally occurs weeks after new cases and hospital visits start to increase. 
COVID-19 average daily deaths in Los Angeles County
Hospitalizations remain somewhat difficult to classify. On Wednesday, 3,912 people in the county were hospitalized with COVID-19, the highest number since last February. However, the Department of Public Health said that two-thirds of patients who tested positive for the virus were admitted to hospitals for reasons other than COVID-19; they were tested as they were admitted, and found to be infected.  
COVID-19 hospitalizations in Los Angeles County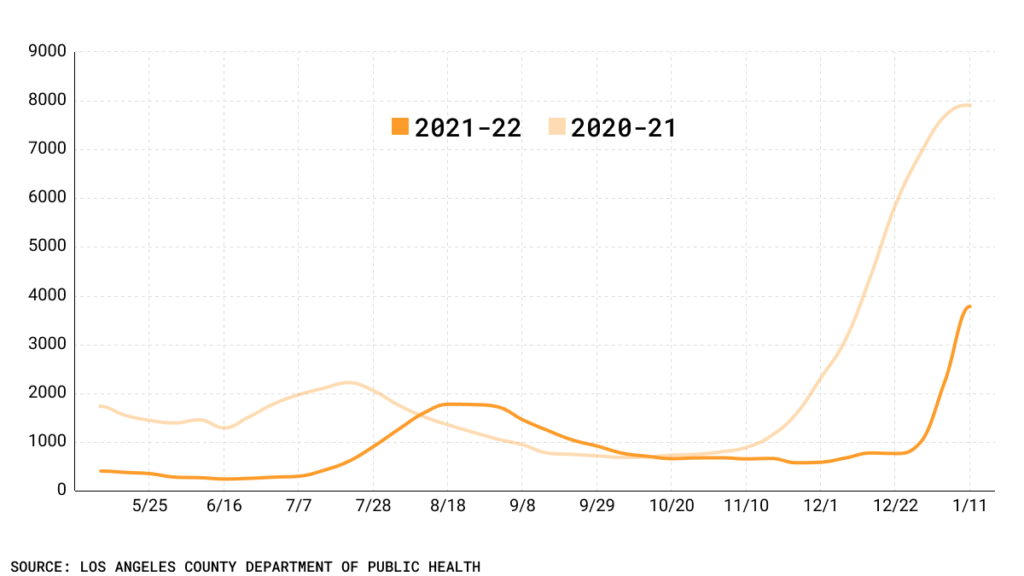 On Monday, 14% of the COVID-positive patients in county hospitals were in the ICU. Last year around this time, more than 20% of coronavirus patients were in intensive care.
Keep on jabbing
As the surge continues, health and political leaders continue to urge people to get vaccinated and boosted. Officials recently estimated that fully vaccinated and boosted individuals were 38 times less likely to be hospitalized than those who are unvaccinated. At the end of December, the Department of Public Health reported that fully vaccinated individuals were 22 times less likely to die from the virus compared with unvaccinated individuals. 
Nearly 79.8% of Los Angeles County residents 5 and up, or about 7.7 million people, have received at least one dose of the vaccine through Jan. 6 (the latest day for which data is available). Approximately 68% of Angelenos were fully vaccinated. More than 2.6 million people have received a booster shot.
In the past week, 260,384 shots were administered, a slight decrease from the approximately 268,000 jabs given the previous week. More than 38,000 of the shots that went into arms in the most recent week were second doses.
Concern also circulates around kids. The Los Angeles Unified School District began its second semester Tuesday, and district leaders mandated that all students and staff test negative before being allowed on campus. From Jan. 5-11, the district identified approximately 67,000 positive results out of 484,600 tests. That works out to about a 13% positivity rate.
School employees are required to wear medical grade masks to limit virus transmission. All public school buildings have high-quality air-filtration systems, and distancing efforts are in place.  
How we did it: We analyzed coronavirus data related to new cases, deaths, hospitalizations and vaccination data provided by the Los Angeles County Department of Public Health, as well as data from the Los Angeles Unified School District.
Interested in our data? Check out the Crosstown coronavirus interactive map or email us at askus@xtown.la.