The Crosstown COVID Tracker
Case numbers remain high, and deaths are increasing
Los Angeles County recorded 66 COVID-19 deaths on Saturday, the highest daily figure since April. That brought the region past yet another unsettling barrier, with more than 28,000 residents lost since the start of the pandemic, according to the Los Angeles County Department of Public Health.
That was the latest dizzying statistic as the Omicron variant continues to spread across the region. Starting Jan. 12, there were five consecutive days with more than 40,000 new cases, but from Monday-Wednesday of this week, the daily level remained below 32,000. The coming days should reveal if the current wave has peaked.
COVID-19 cases in Los Angeles County by week, Dec.16-Jan. 19
Health leaders continue to advise Los Angeles County residents to limit high-risk gatherings and to wear KN95 or other masks that provide more protection than cloth coverings. Next week the federal government is expected to start giving out free N95 masks.
The Crosstown COVID Tracker helps you stay up to date on the latest and most important data on infections, inoculations and general risk. 
[Get COVID-19, crime and other stats about where you live with the Crosstown Neighborhood Newsletter]
Still startling spread
On Wednesday, the Department of Public Health reported 31,108 new cases. That brings the seven-day average to 36,506, an 8.7% decrease from the seven-day average one week prior.
Still this remains much higher than the seven-day average of 13,556 cases reported at the same time last year. 
COVID-19 seven-day average of cases in Los Angeles County
Hospitalizations and deaths are both "lagging indicators," and in previous waves they began to rise several weeks after case counts increased. That is happening once again, and on Wednesday, 4,799 people in the county were hospitalized with COVID-19, the highest number since last February. 
Daily admissions to county hospitals rose by 9.5%, with a total of 644 patients on Monday, up from the 588 patients the week prior. On Tuesday, 31% of the COVID-positive patients in local hospitals were in the ICU, with 27% of them requiring ventilation. Health officials have begun asking people to avoid going to emergency rooms for mild illnesses or COVID testing.
After being relatively low for the first part of the Omicron surge, deaths are beginning to rise again. The seven-day average reached 48 on Wednesday. Still, that is less than 25% of the seven-day average of 209 fatalities recorded on Jan. 19, 2021.
COVID-19 seven-day average of deaths in Los Angeles County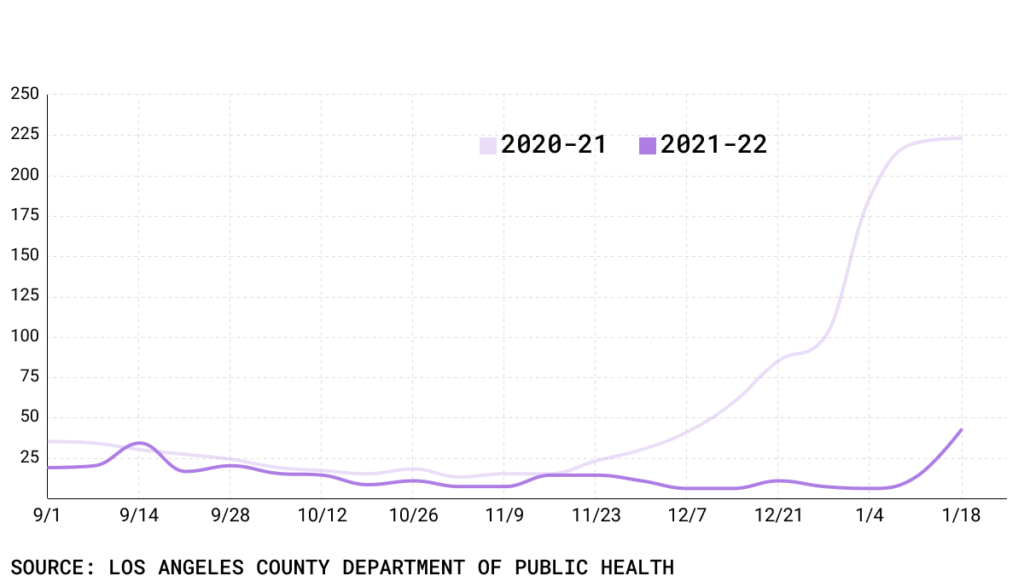 For all the distressing statistics, there is a hopeful indicator. Test positivity rates decreased during the past week. On Wednesday, the positivity rate was 16.9%, down from 21% on June 11. Last year at this time, 15.9% of people were testing positive.
COVID-19 test positivity rate in Los Angeles County, Nov. 18-Jan. 19
Arms, meet shots
As hospital wards fill, health and political leaders continue to beat the drum that vaccines provide the best protection against severe illness or death. The latest estimate is that residents who are fully vaccinated and boosted are 25 times less likely to be admitted to the ICU than those who are unvaccinated.
Through Jan. 13 (the latest day for which data is available), nearly 80.3% of Los Angeles County residents 5 and up, or about 7.81 million people, had received at least one dose of the vaccine. Approximately 72% of eligible Angelenos are fully vaccinated. More than 2.9 million people have received a booster shot.
In the past week, 133,487 shots were administered, down from the 260,000 jabs given the previous week. Approximately 19,000 of the shots that went into arms in the most recent week were second doses.
The Los Angeles Unified School District has been in session for over a week now, after requiring all staff and students to provide a negative test before returning to campus following winter break. From Jan. 13-19, 426,155 tests were given, and there were about 34,000 positive results, an 8.1% positivity rate. That is down from 13% last week. 
The school district has pledged to continue testing all students and staff throughout January, regardless of their vaccination status. Anyone who has tested positive does not have to take a PCR test for 90 days. Masks are required to be worn at all times on campus.
How we did it: We analyzed coronavirus data related to new cases, deaths, hospitalizations and vaccination data provided by the Los Angeles County Department of Public Health, as well as data from the Los Angeles Unified School District.
Interested in our data? Check out the Crosstown coronavirus interactive map or email us at askus@xtown.la.