Car break-ins increasing again
Numbers of windows smashed and items stolen rose in the last quarter of 2021
Car break-ins are the most common crime in Los Angeles. Toward the end of last year, they became even more common.
There were 29,508 reports of burglary and theft from a vehicle (BTFV) in the city in 2021, according to publicly available Los Angeles Police Department data. That is a 7% increase from the previous year. 
The 2021 total marked the first increase after two years of declining numbers. Still, it is 4,730 fewer incidents than occurred in 2018; the 33,055 break-ins that year was the highest total since at least 2010. 
The total was driven by a spike in incidents toward the end of the year. There were 8,195 break-ins during the last quarter of 2021, a 10.5% increase from the third quarter.
There were 2,833 reported break-ins in October alone. That was the highest monthly tally since December 2019.
[Get COVID-19, crime and other stats about where you live with the Crosstown Neighborhood Newsletter]
Allen Shakhbazyan, owner and manager of Vic's Auto Clinic in Glendale, said he saw business increase toward the end of the year. 
"We get the most broken-window repair requests due to car break-ins during the holiday season," Shakhbazyan said. 
The trend is continuing in the early part of 2022. In January, there were 2,669 reported break-ins. Not counting the final quarter of last year, the last time there was a higher monthly total was January 2020, when there were 2,778 incidents.
Quick attack
Police officials warn that thieves can break into and steal something from a car in a matter of seconds. While computers and phones are frequent targets, even visible coins or seemingly innocuous items such as gym bags—which may be mistaken by a thief for a suitcase—can prompt someone to smash a window.
The victims include Los Angeles resident Andrew Esparza. When he had his car broken into in Santa Monica last fall, he had to take a day off work to get it repaired. 
"They only took my favorite pair of sunglasses and some random papers, but I can't drive around with a broken window," Esparza said. "It was something that was a huge inconvenience to have to deal with." 
Esparza, a recent college graduate, said the repairs cost him $150, though some people end up paying much more. He chose to pay out of pocket, rather than go through insurance. 
"When you put in the claim, the process should usually take about two weeks," Shakhbazyan said, though he noted that sometimes the process can take months. 
Not surprisingly, car breaks-ins occur most frequently in the city's densest communities. Downtown was by far the most-victimized neighborhood in Los Angeles in 2021, with 2,390 incidents. That was more than double the 1,012 BTFVs that occurred in Hollywood, which had the second-highest number of crimes.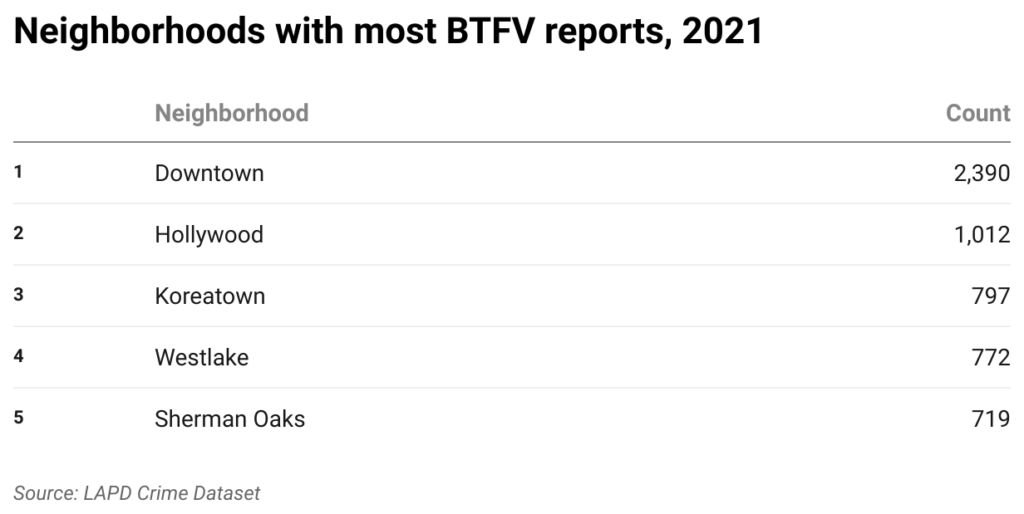 Among the communities at the other end of the spectrum were Beverly Crest, where there were 34 reported break-ins throughout 2021, and Cheviot Hills (59 incidents).
The LAPD continually urges vehicle owners to exhibit common sense with a "Lock It, Hide It, Keep It" public relations campaign, warning that objects left in plain sight in a vehicle are inviting for thieves. In a recent video, Officer Drake Madison points out that an owner who leaves their car door unlocked may come out in the morning to find someone has rifled through their glovebox. Other tips include locking valuables in the trunk, or hiding them under the seats. 
"If you can make it difficult," for thieves says Madison in the video, "It becomes a deterrent."
How we did it: We examined LAPD publicly available crime data from 2011-Jan. 31, 2022. For neighborhood boundaries, we rely on the borders defined by the Los Angeles Times. Learn more about our data here.
LAPD data only reflects crimes that are reported to the department, not how many crimes actually occurred. In making our calculations, we rely on the data the LAPD makes publicly available. LAPD may update past crime reports with new information, or recategorize past reports. Those revised reports do not always automatically become part of the public database.
Questions about our data? Write to us at askus@xtown.la.