The Crosstown COVID Tracker
Finally, the mask rules are relaxed in Los Angeles County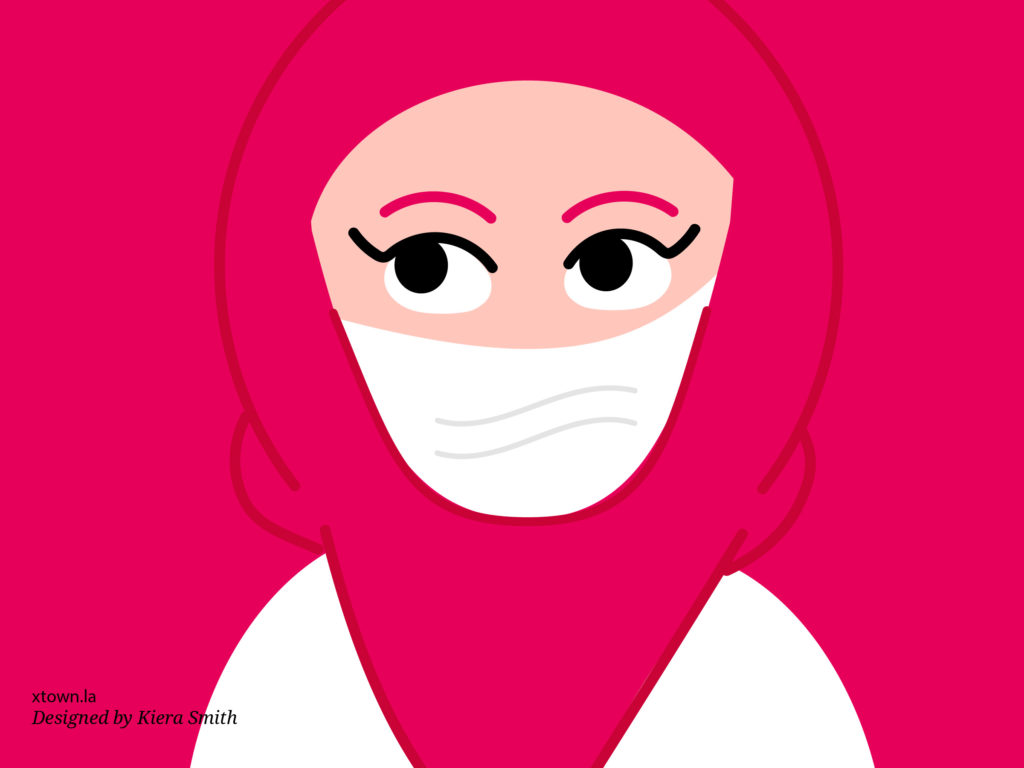 The region has reached a milestone in the nearly two-year struggle against COVID-19: The indoor mask mandate is being relaxed.
The Los Angeles County Department of Public Health is permitting establishments and businesses to allow unmasked patrons and employees if they are fully vaccinated. The updated rules take effect on Friday.  
Those who prefer to mask up can still do so.
Even with the advances, health and political leaders warn that the coronavirus remains a threat, and continues to have disproportionate impacts on disadvantaged groups in Los Angeles. According to the Department of Public Health, people experiencing homelessness died from the virus at a rate twice that of housed county residents. As of Feb. 6, nearly 300 unhoused individuals had passed away from COVID-19 during the pandemic. 
The Crosstown COVID Tracker helps you stay up to date on the latest and most important data on infections, inoculations and general risk. Information on cases in individual communities is available on the Crosstown coronavirus interactive map.
Dwindling case numbers
On Wednesday, the seven-day average of new cases in Los Angeles County was 2,587. That is a 37.7% decrease from the average of 4,153 new cases the week before. 
Weekly COVID-19 cases in Los Angeles County, Jan. 19-Feb. 22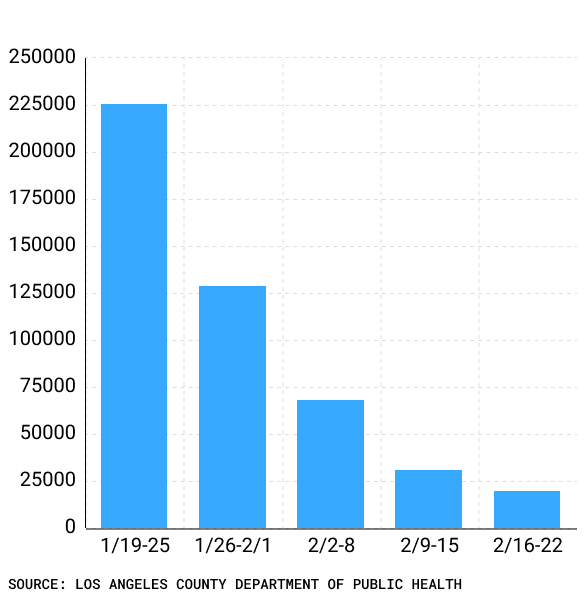 Other key metrics also continue to tumble. The daily test positivity rate dipped to 1.8% on Monday, the lowest level since Dec. 18. On Wednesday, it stood at 2.3%. 
COVID-19 positivity rate in Los Angeles County
The Los Angeles Unified School District also continues to see declines in both case numbers and positivity. From Feb. 16-22, the district reported that there were 1,749 positive results out of 275,180 tests administered to students and staff. That is a positivity rate of 0.64%, down from 1.26% the week prior.
[Get COVID-19, crime and other stats about where you live with the Crosstown Neighborhood Newsletter]
The situation is also getting better for overworked medical staff, as the number of hospitalized COVID-19 patients has steadily declined over the past month. On Wednesday, 1,204 county residents with the coronavirus were in area hospitals. A month ago, 4,568 people were hospitalized. 
COVID-19 hospitalizations in Los Angeles County
Still, deaths remain far above what they were before the Omicron surge, with 70 fatalities last Friday and 85 on Saturday. Previous surges have shown that deaths traditionally come down several weeks after case numbers decline.
Slow going on vaccinations
As the number of cases decreases, health officials continue to remind residents of the vaccines' effectiveness in protecting against serious illness and death. According to the state of California's COVID-19 tracking data, from Jan. 31-Feb. 6, unvaccinated state inhabitants were 10.5 times more likely to be hospitalized with the virus than those who were boosted. From Jan. 24-30, unvaccinated individuals were 16 times more likely to die from COVID-19 than those who had received a booster shot.  
Through Feb. 17, 82.3% of county residents 5 and up, or about 8 million people, had received at least one dose. Slightly more than 74% of them are fully vaccinated, and 3.52 million have been boosted. 
In Los Angeles County, all age groups except for the 5-to-11 set have seen at least 80% of people receive at least one shot (the younger group was most recently approved for vaccination). As of Feb. 17, 84.3% of 12- to 17-year-olds had received at least one dose, and 76% were fully vaccinated. 
Meanwhile, 98.9% of those 65 and older have received at least one shot, and 90% have taken two doses.
From Feb. 10-17, 51,029 shots went into arms in Los Angeles County, down substantially from 147,041 the week prior. Just over 12,000 of the shots administered during the past week were second doses.
Altogether, 17,772,600 shots have been administered in Los Angeles County.
How we did it: We analyzed coronavirus data related to new cases, deaths, hospitalizations and vaccinations provided by the Los Angeles County Department of Public Health, as well as data from the Los Angeles Unified School District.
Interested in our data? Check out the Crosstown coronavirus interactive map or email askus@xtown.la.