The Crosstown COVID Tracker
Case numbers continue to fall, but total deaths surpass 30,000
Just how much progress has Los Angeles made against the Omicron variant? Look at the numbers: On Wednesday, the Los Angeles County Department of Public Health reported 3,348 new coronavirus cases, the third day in a row with fewer than 4,000 new cases. One month ago, on Jan. 16, there were 43,883 cases—the fifth consecutive day of more than 40,000 new infections.
Additionally, the county on Wednesday entered what is formally labeled the "post-surge" period, as daily COVID-19 hospitalizations remained below 2,500 for seven days in a row. This doesn't mean the threat is close to over, but masks are no longer required at large outdoor events. 
Indeed, many regulations are being relaxed. Organizers of the upcoming Coachella outdoor music festival announced that there will be no masking, testing or vaccination requirements. Fully vaccinated visitors to Disneyland no longer need to wear face coverings. 
Yet not all the news is positive. On Wednesday, Los Angeles County reached yet another unsettling plateau, recording more than 30,000 COVID-19 fatalities since the start of the pandemic. 
The Crosstown COVID Tracker helps you stay up to date on the latest and most important data on infections, inoculations and general risk. Information on cases in individual communities is available on the Crosstown coronavirus interactive map.
Numbers game
The seven-day average of new cases in the county Wednesday was 4,153, a nearly 50% drop from the average of 8,235 new cases last week. The daily test positivity rate is seeing a similar decline. On Wednesday, it fell to 3%, the lowest level since Dec. 21. 
Weekly COVID-19 cases in Los Angeles County, Jan. 12-Feb. 15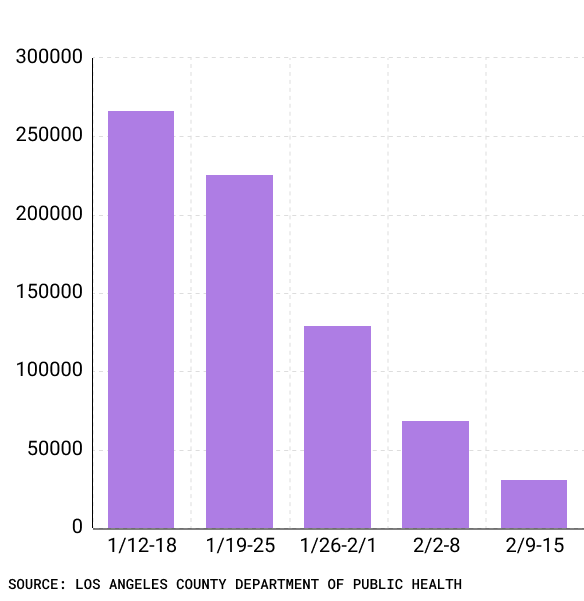 The Los Angeles Unified School District also continues to experience a decrease in case numbers and positivity. From Feb. 9-15, 318,913 tests were administered to students and staff, with 4,018 positive results. The positivity rate was 1.26%, down from 2.22% the week prior. 
[Get COVID-19, crime and other stats about where you live with the Crosstown Neighborhood Newsletter]
Hospitalizations have steadily declined since peaking on Jan. 20 with 4,814 COVID-positive patients. On Wednesday, 1,835 county residents were hospitalized with the virus. That's a 29.3% decrease from the previous week.
COVID-19 hospitalizations in Los Angeles County
COVID-19 deaths, however, remain high. On Wednesday, the Department of Public Health reported 102 new fatalities, putting the seven-day average of deaths at 62. 
Weekly COVID-19 deaths in Los Angeles County, Jan. 12-Feb. 15
Still, the situation is better than it was last year. On Feb. 16, 2021, the seven-day average of deaths was 124. 
The jabs keep coming
Even as numbers improve, the push for people to get vaccinated and boosted continues. According to the state of California's COVID-19 tracking page, from Jan. 24-30, unvaccinated people were 5.6 times more likely to contract COVID-19 than those who received their booster. From Jan. 17-23, the unvaccinated were 17 times more likely to die from the virus than boosted residents.
Through Feb. 10, 82% of county residents 5 and up, or about 7.98 million people, had received at least one vaccine dose. Nearly 74% have taken two shots, and 3.45 million have been boosted. 
Over the last seven days, a total of 147,041 shots went into arms, down from 194,307 the week before. More than 34,000 of the shots given during the past week were second doses. 
A total of 17,656,621 shots have been administered in Los Angeles County.
How we did it: We analyzed coronavirus data related to new cases, deaths, hospitalizations and vaccinations provided by the Los Angeles County Department of Public Health, as well as data from the Los Angeles Unified School District.
Interested in our data? Check out the Crosstown coronavirus interactive map or email askus@xtown.la.