The Crosstown COVID Tracker
More restrictions are relaxed as key metrics approach pre-Omicron levels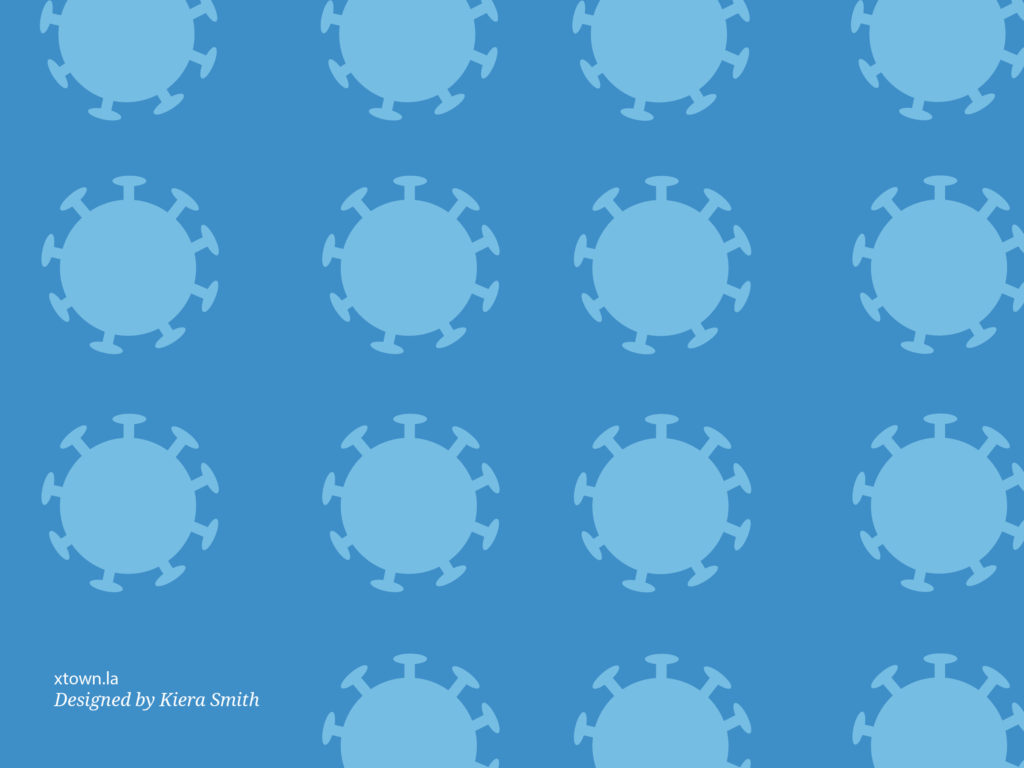 The longstanding local COVID-19 restrictions continue to ease. The city is looking at halting the requirement that indoor businesses ask patrons for proof of vaccination. Additionally, with caseloads declining further, the Los Angeles County Department of Public Health has modified its health order, and people are no longer required to wear masks indoors.
Masks however, still must be worn when riding public transit, and when in healthcare and other large congregate settings. Individuals can continue to mask up when and wherever they want. 
The Crosstown COVID Tracker helps you stay up to date on the latest and most important data on infections, inoculations and general risk. Information on cases in individual communities is available on the Crosstown coronavirus interactive map.
More open hospital beds
Daily new cases in Los Angeles County have remained below 2,000 since Feb. 28. On Wednesday, the seven-day average was 1,157. That is a 28.8% decrease from one week before.
Weekly COVID-19 cases in Los Angeles County, Feb. 2-March 8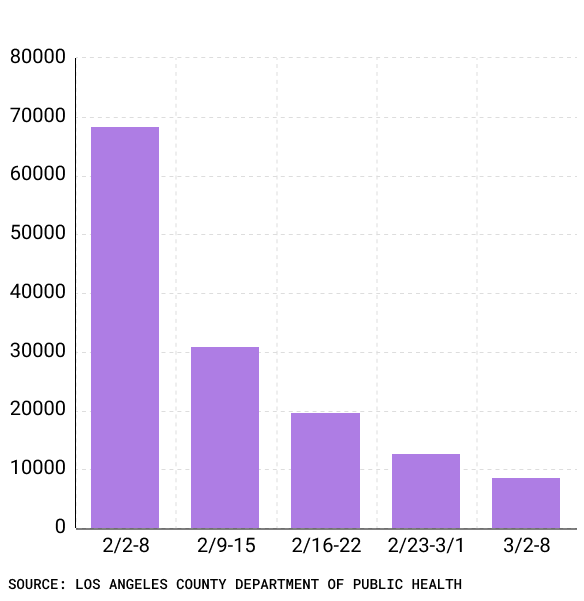 Daily case rates are not the only metric that is tumbling. The positivity rate on Tuesday fell to 0.7%, the lowest level since Oct. 24. On Wednesday, it stood at 0.9%. 
The Los Angeles Unified School District, which aims to test all students and staff each week, also continues to see fewer infections. From March 3-8, the district reported 837 positive results out of the 312,844 tests given. That is a positivity rate of 0.27%, down from 0.44% last week. Two months ago, the district recorded a 13% positivity rate.
The Department of Public Health, following a directive from Gov. Gavin Newsom, has declared that the indoor mask requirement at schools in Los Angeles County will be lifted beginning March 12. However, individual school districts can decide what happens on their campuses. For now, indoor masking will continue to be required on all LAUSD properties.
[Get COVID-19, crime and other stats about where you live with the Crosstown Neighborhood Newsletter]
Another positive indicator is the continued decline in hospitalizations. There were 666 people with the coronavirus being treated in area hospitals on Wednesday. That is the lowest number since Dec. 10.
COVID-19 hospitalizations in Los Angeles County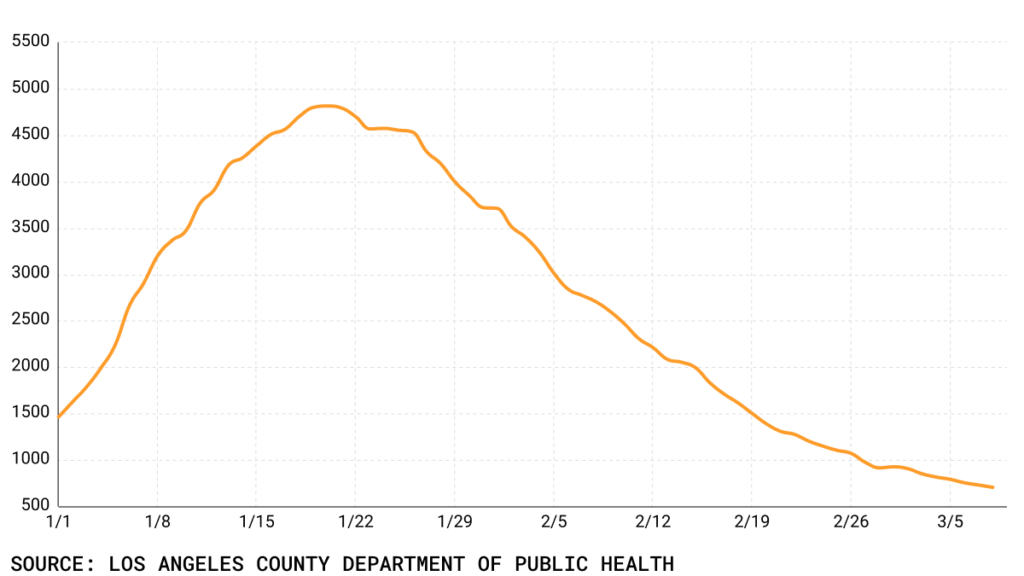 COVID-19 deaths have fallen from the highs recorded several weeks ago, but they still remain elevated. On Wednesday there were 55 fatalities, bringing the most recent seven-day average of deaths to 42. In mid-December, before the full impact of the Omicron variant was felt, the seven-day average of deaths was 15. 
Weekly COVID-19 deaths in Los Angeles County, Feb. 2-March 8
Vaccine protection continues
As masking mandates are relaxed, health leaders continue to remind people of the powerful protection that vaccines provide. According to the state of California's COVID-19 tracking page, from Feb. 14-20, unvaccinated individuals were 5.4 times more likely to contract COVID-19 than those who had received a booster shot. 
From Feb. 6-12 in Los Angeles County, fully vaccinated individuals were 18 times less likely to die from COVID-19 than their unprotected counterparts.
Whether because so many people are fully vaccinated, or the general improvement in conditions, the number of inoculations is declining. From Feb. 24-March 3, a total of 90,860 shots went into arms in Los Angeles, down from the 160,938 the week before. Nearly 20,334 of the shots administered over the past week were second doses.
Through March 3, 82.6% of county residents 5 and up had received at least one dose. Nearly 3.62 million people have received an additional dose.
Altogether, 17,959,448 shots have been administered in Los Angeles County. One year ago today, 2,134,811 shots had been dispensed.
How we did it: We analyzed coronavirus data related to new cases, deaths, hospitalizations and vaccinations provided by the Los Angeles County Department of Public Health, as well as data from the Los Angeles Unified School District.
Interested in our data? Check out the Crosstown coronavirus interactive map or email askus@xtown.la.