Crime increases on Los Angeles buses after pandemic drop
Metro maintains focus on safety amid rider concerns
Ridership on public transit in Los Angeles is climbing back toward pre-pandemic levels. So is crime on area buses and trains. That creates a challenge for Metro, and one that comes just as surging gas prices could be an opportunity to pull more people out of their cars. 
There were 167 criminal incidents on Metro buses in the fourth quarter of 2021, according to publicly available Los Angeles Police Department data. That is higher than any quarter during the pandemic, and approaches the 183 reported crimes in the final quarter of 2019.
The rise in cases mirrors the rebound in ridership. Publicly available Metro data show that in the fourth quarter of 2021, buses logged an average of 635,995 boardings per weekday. That was an improvement from the average of 449,617 riders in the same period in 2020, but well below the 868,580 average daily boardings in the timeframe in 2019, the last full quarter before COVID-19 arrived in Los Angeles.
The rate of crime on Metro buses during the fourth quarter of 2021 was 26.3 incidents per 100,000 passengers. That is 25% higher than the rate during the fourth quarter of 2019. 
Altogether there were 541 criminal incidents on Metro buses last year. While that is a 23% increase over 2020, it is 29% below the annual count in 2019. 
There was a pronounced spike in reports last year of aggravated assault with a deadly weapon on buses. The 81 incidents in 2021 marked an all-time high, compared with 48 cases in 2019 and 47 in 2018.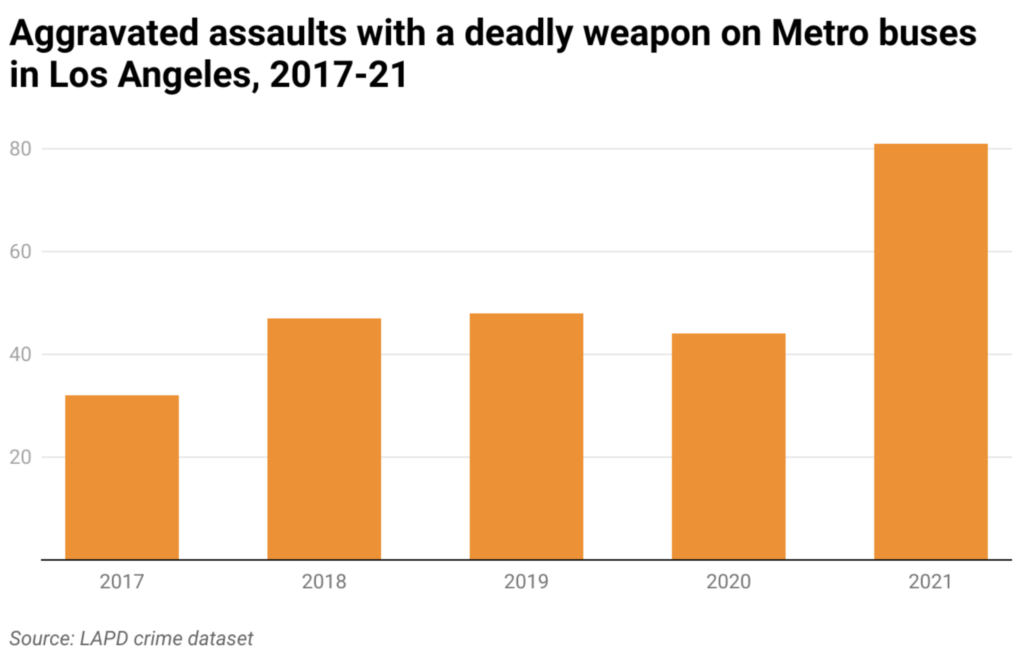 "The LAPD closely monitors all crimes on the rail and bus systems, especially Part 1 crimes such as aggravated assaults, robberies or homicides," said LAPD Commander Natalie Cortez of the Transit Services Group. "We respond by deploying resources to problematic locations, utilizing our Senior Lead Officers to educate the public, create a presence to deter criminal activity, and enforcement of applicable laws, as needed."
Among the calls that police responded to last year was an incident on Oct. 1 on a bus in Mid-City, when a stranger struck a 66-year-old man with a metal pipe. Another harrowing incident occurred on Dec. 1, when a 52-year-old woman on a bus in Westlake was sprayed with Mace. She did not know her attacker. 
There were 45 criminal incidents on Metro buses this January, and 56 in February. 
Vandalizing buses
There were 44 LAPD reports of vandalism on buses last year, the highest annual total ever. The 73 cases of battery in the final three months of 2021 was an all-time quarterly high. 
Metro Communications Director Dave Sotero attributed the spike in reported incidents on buses during the fourth quarter of 2021 to an uptick in crime in the county.
"Our services are within the County of Los Angeles, so we were also affected by broader trends," he said. "Metro is a microcosm of what's going on in the region."
Overall crime in the region was mixed last year. In the city of Los Angeles, homicides and gun violence surged, and the total number of crimes reported to the LAPD was above the level in the pandemic year of 2020. But categories such as burglaries and robberies are below what they were in the middle of the past decade.
[Get COVID-19, crime and other stats about where you live with the Crosstown Neighborhood Newsletter]
Some press reports have detailed public transit users feeling a sense of unease due to incidents involving people experiencing homelessness; these range from assaults to individuals relieving themselves in rail stations. Sotero acknowledged the concerns.   
"We have a very severe homelessness crisis, not just in the Metro system but throughout the county," he said. 
The number of LAPD reports of criminal incidents where the suspect is experiencing homelessness reached record highs in 2021 on both Metro trains and buses. There were 75 cases on buses, a 27% increase from 2020. The 250 reports on train lines is a 28% rise over the previous year.
Metro has sought to address the matter, forming a Homeless Task Force that partners with local agencies and service providers to connect people experiencing homelessness with support services, mental health care and shelter.
On the tracks
Buses accounted for 79% of passengers on the Metro system in 2021. Yet there tends to be more criminal incidents on Metro trains than buses. Last year, the LAPD fielded 988 reports of crime on trains; that was a 13% increase from 2020, but once again, a decrease (of 9% ) from the pre-pandemic year of 2019. 
The Metro Red Line recorded the highest number of crimes last year. Sotero said it is the busiest of the transit agency's rail lines. 
Sotero said Metro continues to prioritize customer comfort and safety, and is looking at developing a "transit ambassador program" to provide a staff presence at Metro facilities and vehicles. He said riders can report safety concerns by calling or texting a hotline at (888) 950-7233, or using Metro's Transit Watch app on their phone.
"We're asking the public to help us ensure safety on the system," said Sotero. "If you see something, say something."
How we did it: We examined Los Angeles Police Department data on crimes involving Metro buses from Jan. 1, 2018-May 31, 2021. For neighborhood boundaries, we rely on the borders defined by the Los Angeles Times. Learn more about our data here. 
LAPD data only reflect crimes that are reported to the department, not how many crimes actually occurred. In making our calculations, we rely on the data the LAPD makes publicly available. On occasion, the LAPD may update past crime reports with new information, or recategorize past reports. Those revised reports do not always automatically become part of the public database.
Want to know how your neighborhood fares? Or simply just interested in our data? Email us at askus@xtown.la.