Murders of people experiencing homelessness are on the rise
In Los Angeles last year, 85 unhoused people were murder victims. Another 32 have been killed in 2022
A rising homicide rate has sparked worry across Los Angeles. Many news outlets reported how the 397 murders in the city in 2021 was the highest total in 14 years.
Yet one aspect of the increase in killings has been largely overlooked: the deaths of some of the most vulnerable Angelenos.
Last year, 85 people experiencing homelessness in the city were murdered, the highest number ever recorded, according to Los Angeles Police Department data. That represented a 47% increase from 58 unhoused victims the previous year, and a 102% spike over the 42 victims in 2019. 
The 85 victims accounts for 21% of those murdered in Los Angeles last year. However, only around 1% of the city's population is homeless. 
"We are disheartened to see the numbers related to the increase in the individuals experiencing homelessness who are the victims of crimes," said Kristina Dixon, co-acting Executive Director of the Los Angeles Homeless Services Authority. "Bringing people indoors and providing them with a safe space is more important than ever."
[Get COVID-19, crime and other stats about where you live with the Crosstown Neighborhood Newsletter]
As recently as 2017, there were fewer than 30 annual unhoused homicide victims. The consistent rise has drawn the attention of law enforcement officials. At the May 3 meeting of the Los Angeles Police Commission, Chief Michel Moore remarked on the increase in violence at homeless encampments.
"The persons experiencing homelessness as victims and suspects has been a recurring feature these last few years," Moore said.
Arrests have been made in less than half of the 85 homicides last year, according to LAPD data. Investigations are continuing for 44 of the killings. 
Too many guns
Dr. Margot Kushel, director of the Benioff Homelessness and Housing Initiative at the University of California San Francisco, noted that the trend of unhoused homicide victims may go counter to what many think of when discussing homelessness.
"There's this perception of people who are homeless as dangerous, but I think what's important to note is how vulnerable people who are homeless are to violent crime," said Kushel. "What I hear when I spend time with many people experiencing homelessness is how terrified they are and how terrifying the experience is, and this is layered on top of a public who is afraid of them."
Just as firearms use has driven the overall murder rate higher in Los Angeles, so guns are causing more deaths of people experiencing homelessness. Of the 85 victims in 2021, 53, or almost two-thirds, were shot.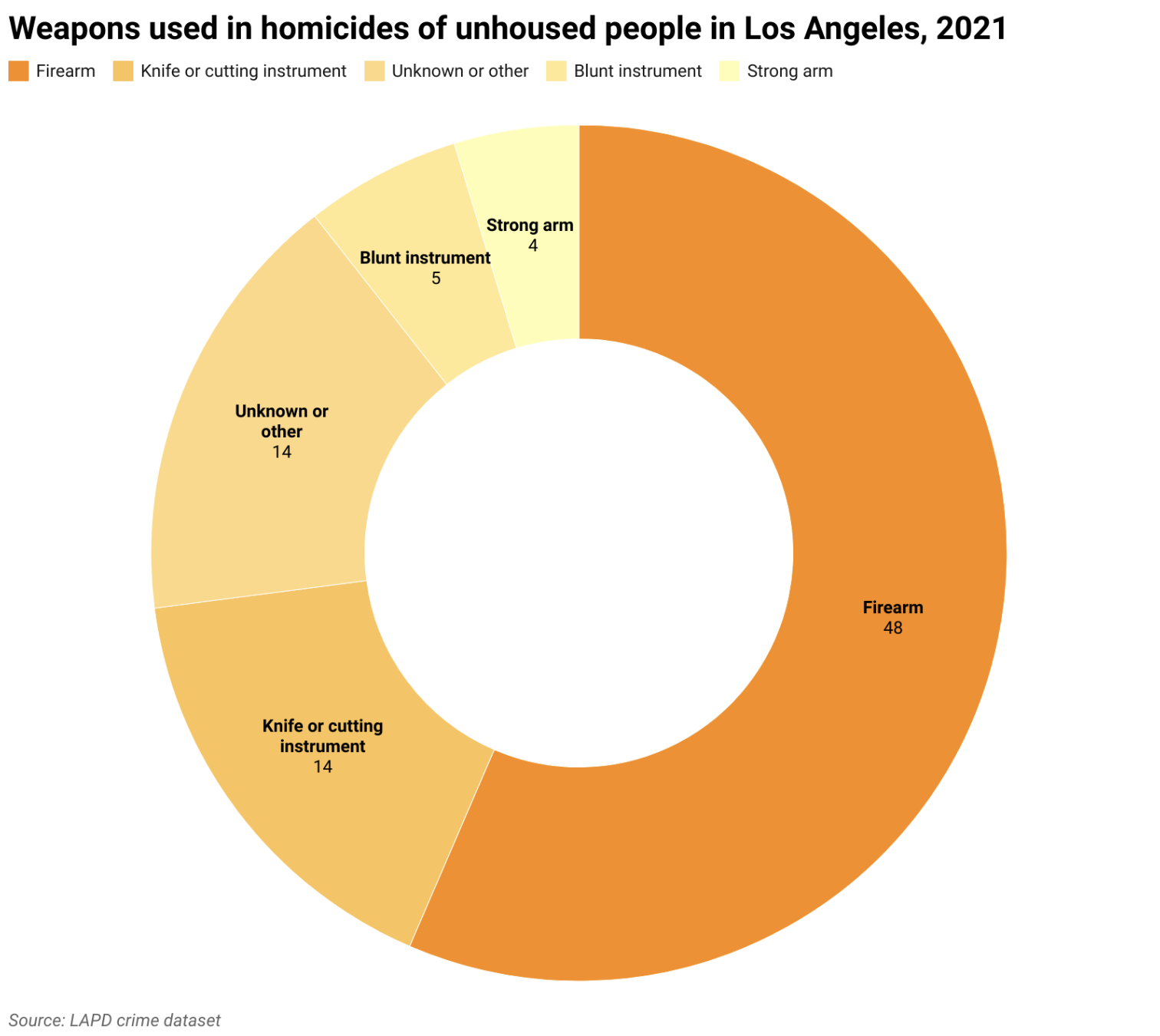 The trend is continuing this year. In the first five months of 2022, 32 people experiencing homelessness were killed in the city. In 21 instances, the murder weapon was a gun. 
There were nine murders of people experiencing homelessness in January, and eight in April. On April 17, a man drove up to an unhoused man in Pacoima, asked some questions, then fired multiple gunshots, killing the 35-year-old victim. This happened just a day after a 42-year-old unhoused man was shot dead at a nearby encampment.
Rev. Andy Bales, president and CEO of the Union Rescue Mission in Downtown, said he has seen an increase in vigilantism as negative sentiments against the unhoused rise. He believes this could be contributing to the spate of violence.
"People feel like the unhoused are busting in on their comfort," Bales said. "They're going up and shaking, hitting their tents, or telling them to get out of town, even lighting their tents on fire."
Of the 85 killings last year, 27% involved a suspect who was also unhoused, according to LAPD data. In 22% of the murders, the victim knew the suspect. 
"Most people who are killed are killed by people in their social circle," said Kushel. "So the fact that nearly two-thirds were killed by people who are not homeless is very disturbing."
More men than women are unhoused in Los Angeles, which is reflected in the homicides. According to LAPD data, 74 unhoused victims last year were male, and nine were female (gender was not available in two deaths).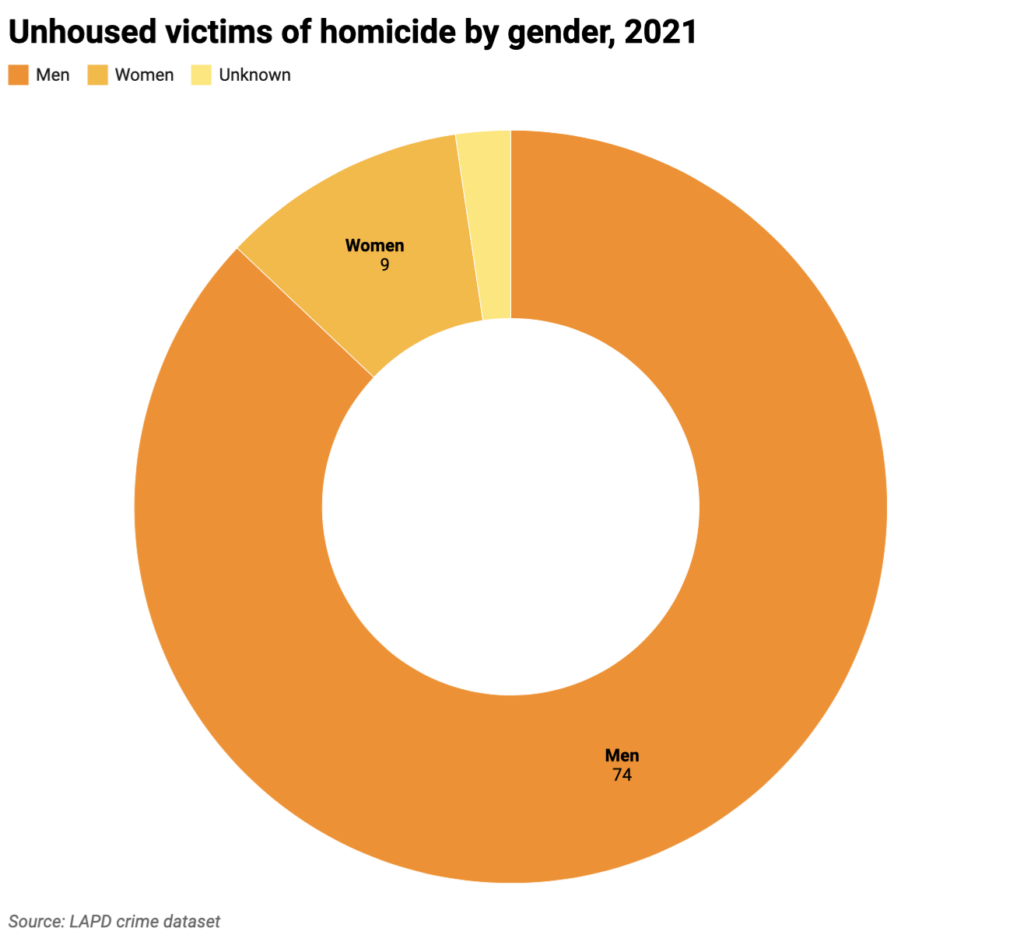 Gangs activity
Gangs were involved in 31 of the murders of those on the streets last year, according to LAPD data. Bales said that people experiencing homelessness may be killed by gangs for unpaid debts, and also during drug deals gone awry. Drug overdose is the leading cause of death among unhoused people in the county.
"[Unhoused people] are vulnerable to the cartels and drug gangs that prey on them," said Bales. "The predatory nature of both the cartels pouring cheap drugs onto our streets, and the violence that comes along with the distribution and collection is a bigger problem than we can ever imagine."
Still, Bales suspects the number of people experiencing homelessness who were murdered is an undercount. He noted that sometimes unhoused individuals who have passed away are not discovered for weeks or even months, due to having lived in remote or overlooked locations.
In 2021, there were 12 murders of people experiencing homelessness in Downtown, more than any other community in Los Angeles. That continues a trend recorded for the past decade, and stems from the large number of people living on the streets in and around Skid Row.
Another five people experiencing homelessness were killed in Lincoln Heights. There were four victims each in Boyle Heights, Echo Park and Florence.
"In L.A., you just reach a tipping point of density. So many people devastated by homelessness in the same area creates havoc, especially on Skid Row," Bales said. "In almost four decades of doing this work, I have never seen the level of violence, the attacks, the shootings like we're having now on Skid Row."
How we did it: We examined publicly available crime data from the Los Angeles Police Department from Jan. 1, 2010-May 31, 2022. Learn more about our data here.
LAPD data only reflects crimes that are reported to the department, not how many crimes actually occurred. In making our calculations, we rely on the data the LAPD makes publicly available. LAPD may update past crime reports with new information, or recategorize past reports. Those revised reports do not always automatically become part of the public database.
Have questions about our data or want to know more? Write to us at askus@xtown.la.