Landlord-tenant disputes reach record levels
As pandemic rental relief recedes, police are called when flare-ups about the rent escalate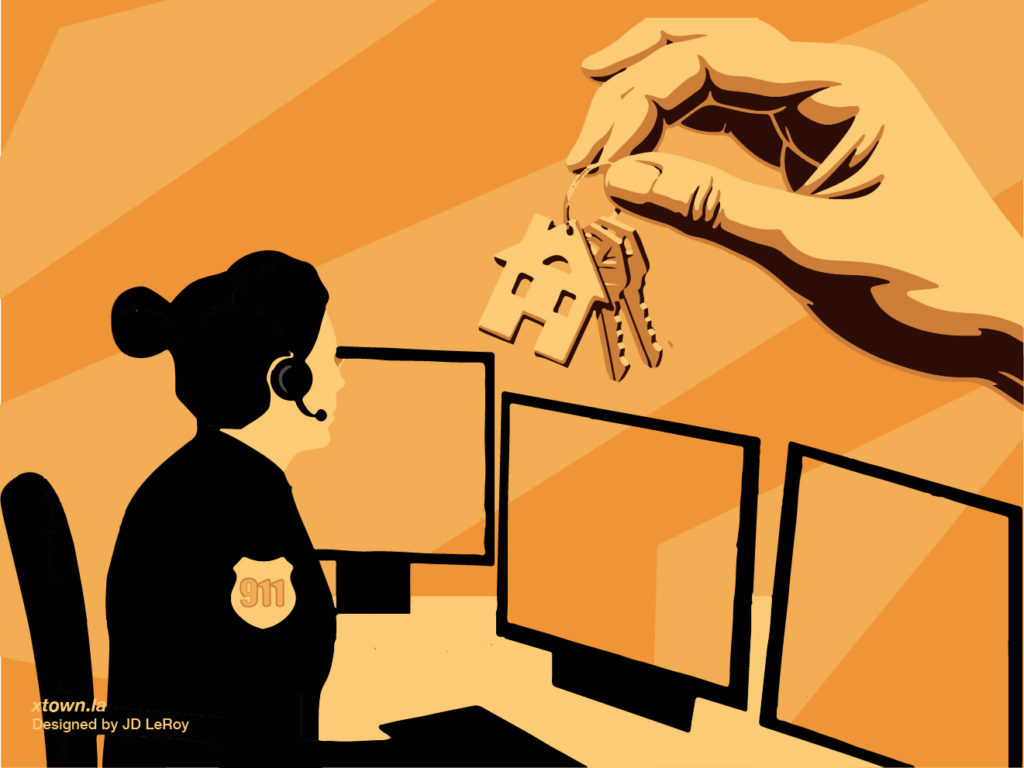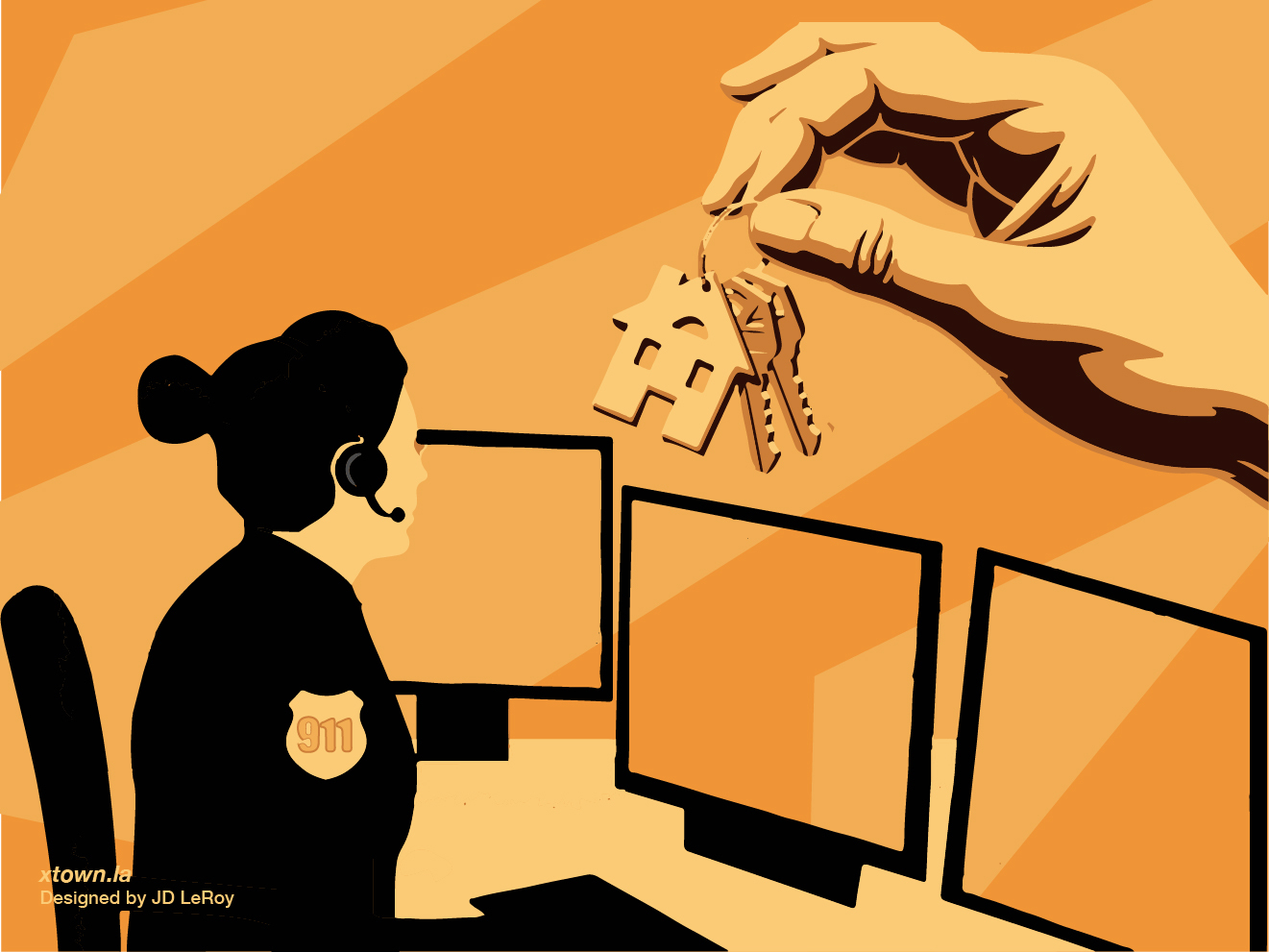 Many pandemic-era tensions have eased, but during a time of inflation, sky-high gas prices and other economic stressors, there remains ample opportunity for conflict between landlords and tenants, or people who live near each other.
Last month, Los Angeles Police Department officers responded to 279 "landlord/tenant/neighbor" disputes, according to publicly available LAPD data. That is the highest monthly total ever.
It is no anomaly. Four of the five highest monthly totals have occurred within the past year. The May count exceeds the previous high of 264, recorded in April.
"Tensions are just running high because of the prolonged nature of the pandemic and [tenant] protections," said Trinidad Ocampo, the director of Housing and Homeless Prevention Programs at Neighborhood Legal Services of Los Angeles County, a nonprofit that provides pro bono legal aid.
From Jan. 1–May 31 this year, there were 1,223 reports of landlord/tenant/neighbor disputes. There were 990 incidents in the same timeframe last year. In the equivalent period in pre-pandemic 2019, police responded to 773 calls.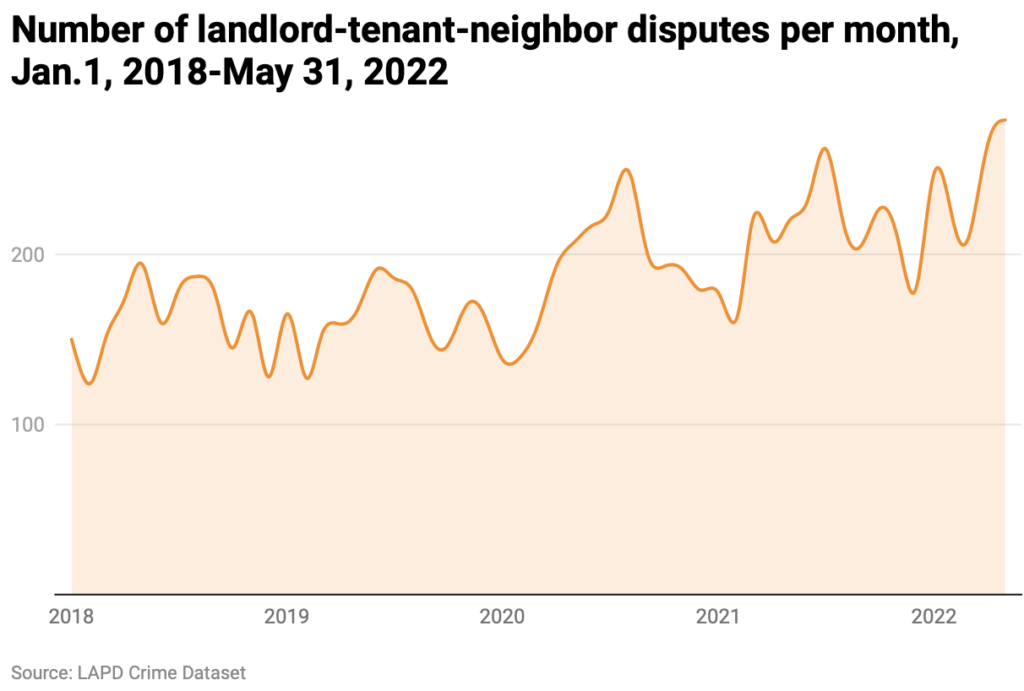 Numbers are up sharply since COVID-19 began spreading. From 2012 through April 2020, there were only seven times in which police answered more than 200 calls in a single month.
There have been 19 months with 200 or more landlord/tenant/neighbor calls just since May 2020.
Behind on the rent
One potential source of landlord-tenant disputes is rent payments. When the pandemic began, multiple levels of government enacted restrictions to halt evictions of people who were unable to pay rent due to job losses or cutbacks of hours.
The state of California helped hundreds of thousands of residents through a rent-relief program, and has doled out more than $3.6 billion in aid since the start of the pandemic. Yet, in April, the state stopped accepting relief applications and began winding down its eviction protections for those who had not applied for aid. 
[Get COVID-19, crime and other stats about where you live with the Crosstown Neighborhood Newsletter]
Although the city of Los Angeles still has strict rules in place against evictions for people facing COVID-related financial hardships, it is possible there is a knowledge gap among certain tenants and landlords when it comes to protections and payment assistance. That could be part of what led to disputes rising in April and May. 
Pressures are being felt on all sides. As of June 9, one-quarter of households in the state that applied are still awaiting promised rent relief, according to the program's dashboard. 
Some landlords have yet to collect rent payments from the start of the pandemic, said Dan Yukelson, executive director of the Apartment Association of Greater Los Angeles. The situation, he added, has put these owners "in a really tough financial situation."
Yukelson said he has heard from some property owners about disputes arising when they ask tenants for rent.
"With landlords merely asking them, 'When do you think you'll be able to pay rent?' there's been a lot of issues that have popped up," he said. "Tenants have been really, in some cases, pushing back hard against landlords, and landlords have no other recourse but to call the police department for assistance."
Ocampo, who works with eviction defense teams, counters that she has seen numerous instances in which landlords falsely report crimes in order to have a reason to force someone out of an apartment. 
"If they're not able to evict tenants based on not paying their rent, then they try to circumvent the process or find other means to try to bring a basis to evict," she said. "Law enforcement is often used as the mechanism through which landlords can both create a record and establish a health and safety violation to use as a basis for eviction."
Escalating tensions
According to police data, there have been 90 landlord/tenant/neighbor disputes this year in Downtown, more than any other neighborhood in Los Angeles. This is more than double the 39 incidents in the same timeframe last year. 
Koreatown has generated the second-highest number of calls, at 64 this year. In Westlake, 63 have been recorded (all three communities are densely populated with high numbers of apartment buildings).
It is unclear from LAPD data how many times the victim in these incidents was a landlord, a tenant or a neighbor. Yet on many occasions the situation turned potentially dangerous.  
When police respond to a call, they are frequently also dealing with some kind of physical altercation. In the first five months of 2022, there were 363 cases of battery related to landlord/tenant disputes. In 129 instances, there was a report of aggravated assault with a deadly weapon. 
That continues a trend. In 2021, police recorded 374 incidents of aggravated assault during landlord/tenant/neighbor disputes. That represents a 56% rise from the number of incidents in 2019, before the pandemic. 
How we did it: We examined publicly available crime data from the Los Angeles Police Department from Jan. 1, 2010-May 31, 2022. For neighborhood boundaries, we rely on the borders defined by the Los Angeles Times. Learn more about our data here.
LAPD data only reflects crimes that are reported to the department, not how many crimes actually occurred. In making our calculations, we rely on the data the LAPD makes publicly available. The LAPD periodically updates past crime reports with new information, leading the department to recategorize past reports. Revised reports do not always automatically become part of the public database.
Have questions about our data? Write to us at askus@xtown.la.