May brings record water waste complaints in Los Angeles
Amid drought conditions, Mid-Wilshire and Brentwood see scores of calls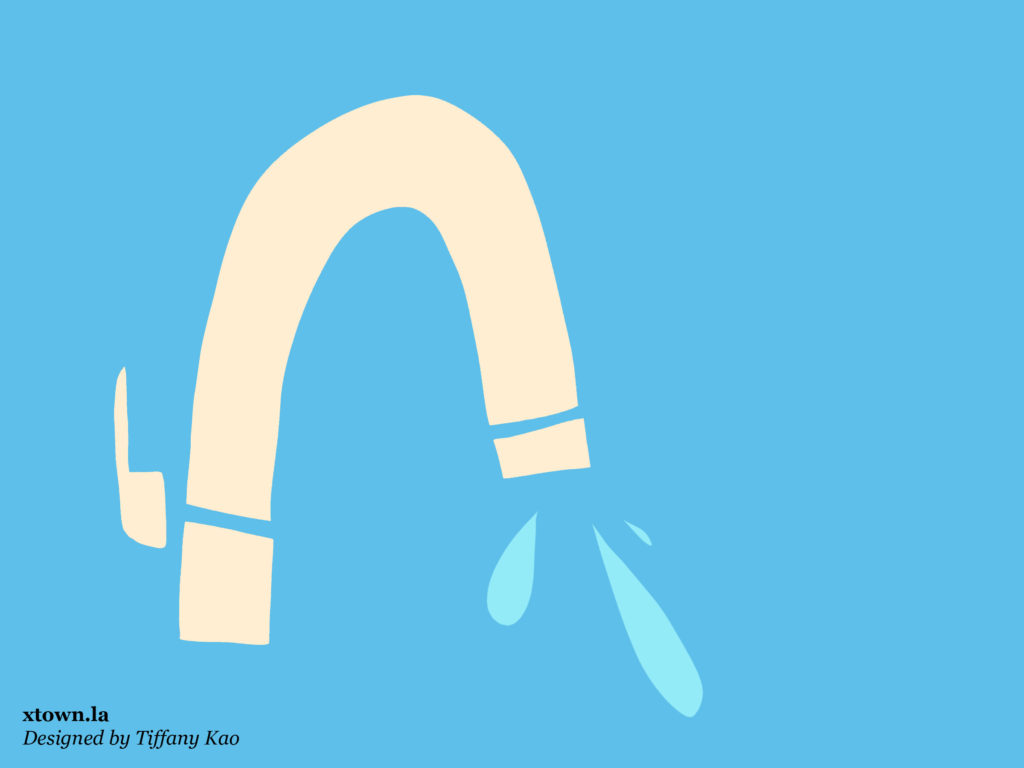 On his walk to work each morning, Brentwood resident Reagan McClymonds passes a sprinkler watering the sidewalk and lawn in front of an apartment building on Mayfield Avenue. There's one problem—the lawn has no grass. It is made of artificial turf. 
"I've reported that at least 15, 20, 25 times on MyLA311," McClymonds said. 
He isn't the only person making these kinds of calls to MyLA311, the city's communication line (and website) to request services and report issues. In May, MyLA311 received 314 reports of water waste, the highest monthly total ever. 
This continues a trend. Water waste complaints have been rising since early 2020, and spiked 57% in 2021 over the prior year. The May record for complaints shatters the previous high, set in March, when 214 reports were made. 
In April, LADWP spokesperson Mia Rose-Wong told Crosstown that complaints picked up last winter, following the launch of an educational campaign about prohibited practices, which include spraying down driveways and washing a car with a hose that lacks a shut-off nozzle. She said the department also observes upticks in calls when drought conditions are heavily covered in the news. 
[Get COVID-19, crime and other stats about where you live with the Crosstown Neighborhood Newsletter]
The most common reports are for watering on the wrong day or time (homes are limited to two days per week, depending on street address). Other common reports include calls about a leak or broken sprinkler, according to the LADWP. 
In May, MyLA311 received 86 reports about water waste in Mid-Wilshire, more than any other neighborhood in Los Angeles. The community with the second highest number of complaints was Brentwood, with 53 reports. 
In 2020 and 2021, Mid-Wilshire and Brentwood also ranked first and second for most water waste complaints. The 298 reports in Mid-Wilshire from Jan. 1–May 31 this year is already more than the 270 recorded in the community in the entirety of 2020.
Wasteful blocks
In Mid-Wilshire this year, there have been 70 calls about water waste on the 1100, 1200 and 1300 blocks of Longwood Avenue. There have also been frequent reports for addresses on Keniston and Tremaine avenues. They are all blocks of single-family homes or residences with multiple units, many (though not all) with modest front lawns. 
It is unclear who is making the complaints, or how many of them come from the same person.
In Brentwood, more than one-third of the complaints concern properties in the 11600-11900 blocks of San Vicente Boulevard, as well as the Mayfield location with the fake grass. Seventeen calls cite a single address on the 11600 block of San Vicente Boulevard.
McClymonds said he has been observing and reporting sidewalk watering, leaks and other problems in Brentwood for the past five years. He said he is driven to make the calls because of the wasteful practices and lack of change. 
"It's just always been bad and it's not improving," he said. "I walk to work every day so that's why I see these things more than the average person does. It's not like I'm hunting this down." 
On June 1, the city of Los Angeles implemented new water restrictions, including reducing lawn watering from three times to twice per week. The DWP will also boost the number of response units that can issue warnings and citations to wasteful residents.
This came after an April declaration of a water shortage emergency by the Metropolitan Water District of Southern California. That meant outdoor watering at approximately 6 million homes in Los Angeles, Ventura and San Bernardino counties would be restricted to one day per week.   
Rose-Wong said that since June 1, the DWP has received 203 complaints, and 13 warnings have been issued. There have not yet been any monetary fines. 
People can report water waste to the LADWP online or by calling 800-DIAL-DWP. Reports can also be made through the MyLA311 website and app.
How we did it: We examined publicly available data about water waste reports from the City of Los Angeles's MyLA311 call center from Jan. 1, 2019–May 31, 2022. For neighborhood boundaries, we rely on the borders defined by the Los Angeles Times. Learn more about our data here. 
Want to know how your neighborhood fares? Or simply just interested in our data? Email us at askus@xtown.la.