The Detective: The danger of lasers in the night sky
A rundown of unusual criminal activity in Los Angeles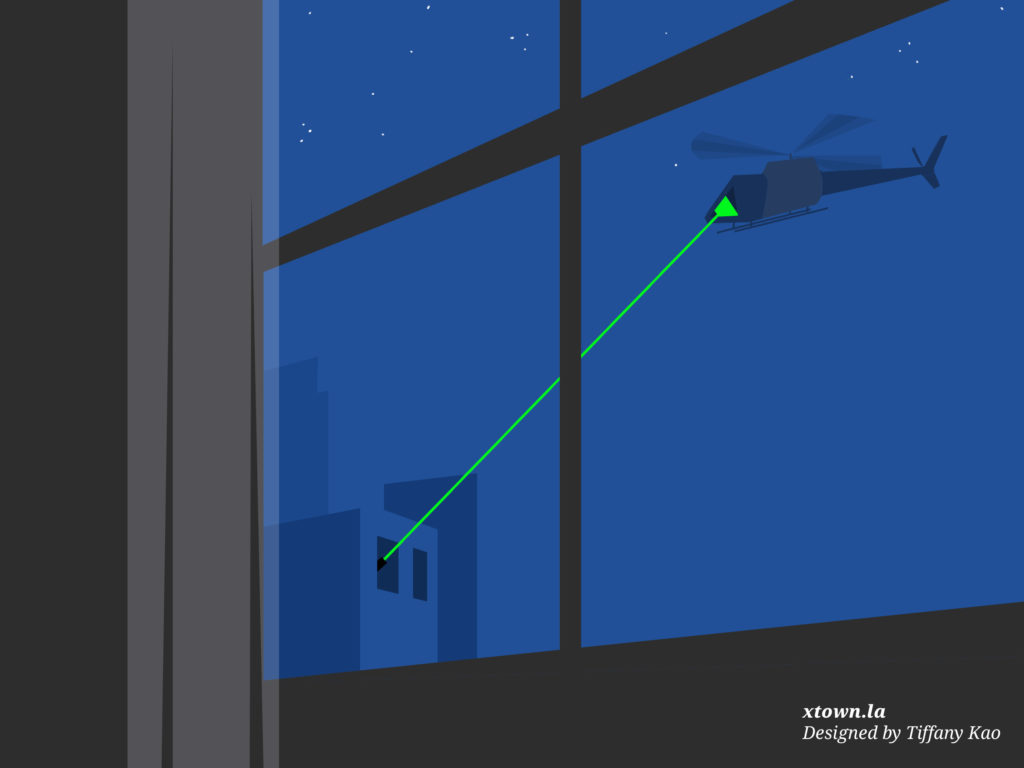 The Los Angeles Police Department logs thousands of crimes each week, and some of them are quite unusual. The Detective, our data-crawling robot, assisted by human assistant Cari Spencer, uncovered a few of the recent anomalies. This period covers May 30–June 5, 2022.
🔎 Pointing lasers is fun when you are playing with a cat, but other times it can be incredibly dangerous, such as when the high-intensity light is shined at someone flying a plane or helicopter. On June 5, a juvenile on a street in Watts pointed a laser at an aircraft. Police classified the incident as aggravated assault with a deadly weapon. 
There have been eight incidents in which someone pointed a laser at an aircraft this year, and six were designated as assault with a deadly weapon on a police officer, indicating an LAPD helicopter was the target. Overall, there has been a slight increase in laser-pointing reports in recent years, with 10 in 2020 and a record 12 in 2021. 
[Get COVID-19, crime and other stats about where you live with the Crosstown Neighborhood Newsletter]
🔎 In movies, thieves commonly steal from a cash register. That doesn't happen too frequently in Los Angeles in real life, but it did occur on June 2. According to the LAPD, an unidentified individual took an unspecified amount of money from the cash register of a store in a Century City shopping mall. 
This marks only the third time this year that someone has stolen from a cash register, or committed what the LAPD terms "till tap." The recent annual high occurred in 2018, when there were 24 till tap reports in the city. 
🔎 Trips to short-term vacation rentals are typically associated with relaxation, but that was not the case recently in Koreatown. On June 5, the guest at a vacation rental assaulted two men who owned the house, according to publicly available Los Angeles Police Department data. During the incident the assailant used an unspecified weapon to strike one of the owners, a 42-year-old man, and vandalized the residence. 
Of 72 instances since 2017 in which rental owners were victims of a crime, only six involved battery, according to LAPD data. Property crime is far more common. In that period police have logged 33 incidents of grand theft, 15 reports of burglary and 10 cases of petty theft. 
🔎 Los Angeles has seen a disturbing run of reports in which a pet is stolen—French bulldogs are sometimes targets. Thieves struck again in Playa del Rey on May 30. According to the LAPD, an animal was taken from a 21-year-old woman while she was at the beach. Although the type and breed of pet that went missing were not specified, the incident was classified as grand theft. 
This marks the first time that grand theft of an animal at the beach has been reported to the LAPD. Most stolen-animal reports occur at single-family dwellings (42 since 2017). The LAPD last year recorded 31 stolen-animal reports, more than any other year since it began making its data available. 
How we did it: At Crosstown, we examine publicly available crime data from multiple Los Angeles County law enforcement agencies. We have a robot on the team called The Detective that scans the LAPD publicly available data for anomalies. LAPD data only reflects crimes that are reported to the department, not how many crimes actually occurred. In making our calculations, we rely on the data the LAPD makes publicly available. LAPD may update past crime reports with new information, or recategorize past reports. Those revised reports do not always automatically become part of the public database.
Questions about our data? Write to us at askus@xtown.la.