Auto-part thefts continue to spike in first half of 2022
Thieves target catalytic converters, which contain precious metals that can be sold for high prices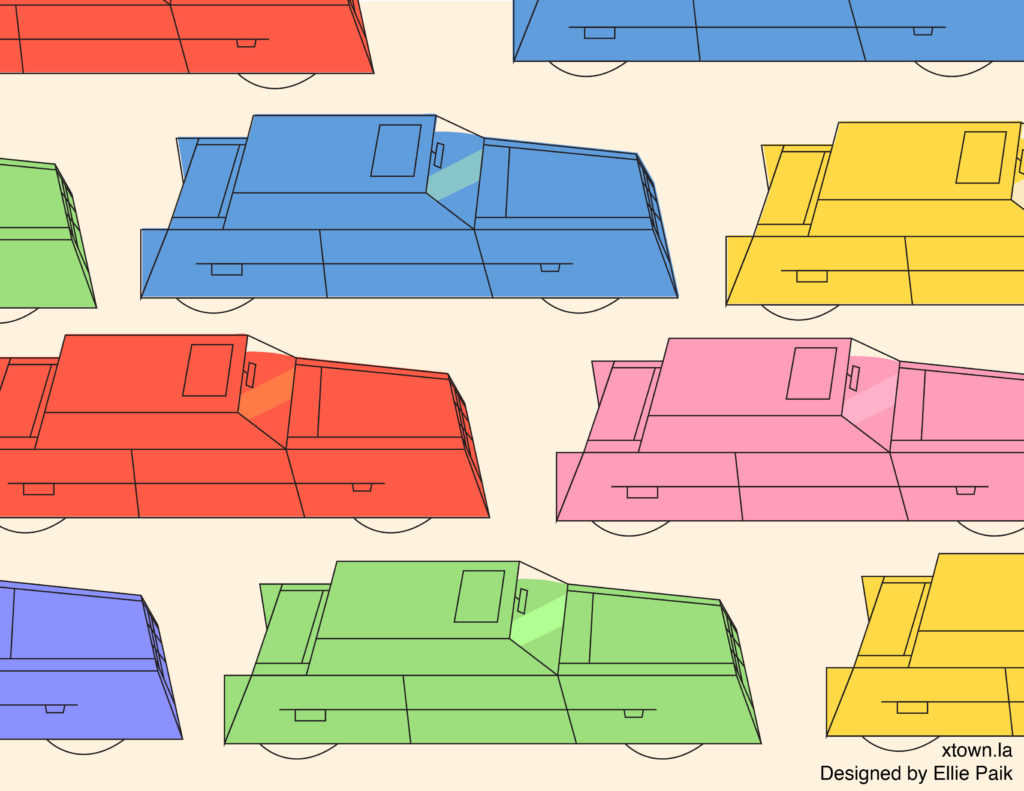 On June 15, West Adams resident Candice Marais felt a jolt when she saw the all-too familiar red Toyota Tacoma pick-up truck parked on her street. Marais, familiar with crime trends in the area, checked the footage from her security camera. It held video of the vehicle owner stealing a catalytic converter from underneath a parked car.
"It was a minute and 15 seconds that it took for him to have the whole catalytic converter taken off and put in the back," said Marais, who would share the video with police. 
This was not the first time Marais spotted the red Tacoma, nor was it a rare occurrence. Driven by high prices for precious metals on the black market, catalytic converter thefts continue to soar. 
From Jan. 1–June 30, there were 2,778 reports of car parts being stolen in the city, according to publicly available Los Angeles Police Department data. This marks a 14.4% increase from the same time period last year. It is a 58.4% jump from the 1,754 reports during the first half of 2020. 
The current pace is even more striking when compared with the period before the COVID-19 pandemic. The number of reports made so far this year represents a 182.6% increase over the 983 reports from Jan. 1–June 30, 2019. 
This continues a trend that is painful for vehicle owners. Last year, auto-part theft reports in the city hit a record 5,150. That is more than double the 2,187 in 2019. 
In March there were 570 auto-part theft reports. That is the highest monthly total ever. 
Black market buyers
In the first six months of this year, there were 123 reports of auto-part theft in car-jammed Downtown, more than any other Los Angeles neighborhood. Thieves were also active in Sylmar (109 reports) and Van Nuys (95).
LAPD data does not specify precisely what part of the car goes missing, and sometimes thieves steal headlamps or air bags. The most frequent target, however, are catalytic converters, which are a crucial component for reducing emissions, and are required for a vehicle to run properly. 
The National Insurance Crime Bureau, a nonprofit organization dedicated to fighting insurance fraud and crime, identified 52,206 catalytic converter thefts nationwide in 2021, an increase of 1,215% since 2019, according to Senior Public Affairs Manager Tully Lehman. The tally was based on data from the organization's members.
Not surprisingly, there was an outsized impact in the most populous state in the U.S.
"California reported the most catalytic converter thefts in 2021, accounting for 37% of all catalytic converter thefts," said Lehman. 
As Marais saw, thieves can steal a converter quickly. It is not uncommon for multiple vehicles on a single block to be hit in a short time span. 
In search of precious metals
The lure for thieves is the prices of the precious metals in the converters. As of June 30, rhodium was selling for $13,100 an ounce, according to NICB data, while palladium was fetching $1,847 an ounce and platinum went for $890 an ounce. All are at least twice what they were two years ago.
"Thieves will often receive $50 to $250 per catalytic converter when sold to unscrupulous purchasers," said Lehman. 
[Get COVID-19, crime and other stats about where you live with the Crosstown Neighborhood Newsletter]
The cost is significantly higher for vehicle owners who need a new converter. People can easily spend more than $2,000 on a replacement. 
According to the NICB, pick-up trucks and delivery vehicles are frequently targeted, as their high ground clearance makes them inviting for thieves. Hybrids such as the Toyota Prius and Honda Civic are also targets.
"These converters tend to see less corrosion than those of other vehicles with equal miles, and therefore are more valuable to thieves," said Lehman. 
According to LAPD data, there have been 1,180 auto-part theft reports this year for vehicles parked on the street, more than any other location. Parking lots (502 reports) are the next most-targeted locale. The most common time for thieves to strike is 5-10 p.m. 
The number of auto-part thefts registered by police is believed to be an undercount, as some victims may not want to report the loss to their insurance provider, given high deductibles and the possibility of having their rates increase. 
To deter catalytic converter thefts, the NICB suggests installing a strap or other anti-theft device, and parking in an enclosed and secured area. The LAPD recommends having the vehicle identification number etched on the catalytic converter.
How we did it: We examined publicly available vehicle theft data from the Los Angeles Police Department from Jan. 1, 2010–June 30, 2022.
LAPD data only reflects crimes that are reported to the department, not how many crimes actually occurred. In making our calculations, we rely on the data the LAPD makes publicly available. LAPD may update past crime reports with new information, or recategorize past reports. Those revised reports do not always automatically become part of the public database.
Want to know how your neighborhood fares? Or simply just interested in our data? Email us at askus@xtown.la.