5 things to know about COVID-19 this week
Deaths more than double, and masks may again be on the horizon
Inconsistency is a given when it comes to the COVID-19 landscape in Los Angeles County. The situation changes rapidly, which is why each week Crosstown runs down the key things that you need to know about the pandemic. Additional information on cases in individual neighborhoods is available on the Crosstown coronavirus interactive map.
1) Deaths are rising
For months, there have been relatively few COVID-19 fatalities. A combination of low transmission, and vaccines that work to prevent serious illness or death, kept the seven-day average regularly in the single digits. In the week of June 15–21, just 36 people in the county died of the coronavirus. 
That run is over. Last Friday there were 18 COVID-19 deaths, and from July 6–12, there were 98 fatalities. That is literally double the number from one month ago. 
While this is distressing, it should not come as a surprise. Deaths, like hospitalizations, are a lagging indicator, and typically rise a month or so after caseloads tick up. In this instance, deaths actually remained low long after cases began to climb. 
If the current surge echoes those of the past, then fatalities will continue to increase, and will remain elevated for weeks or months to come.
[Get COVID-19, crime and other stats about where you live with the Crosstown Neighborhood Newsletter]
2) Even more infections
Omicron subvariants continue to drive case counts higher. On Saturday, the Los Angeles County Department of Public Health reported 8,349 infections, the highest daily total since Feb. 5.
From July 6–12, there were 39,939 new COVID-19 cases. That's a 7.1% increase from the previous week.
3) And higher positivity, too
The drumbeat is familiar: As cases and deaths increase, so do the number of tests that come back positive. Positivity has remained about 14% since July 5. 
On Wednesday, it jumped to 16.3%, marking the highest positivity rate since Jan. 21.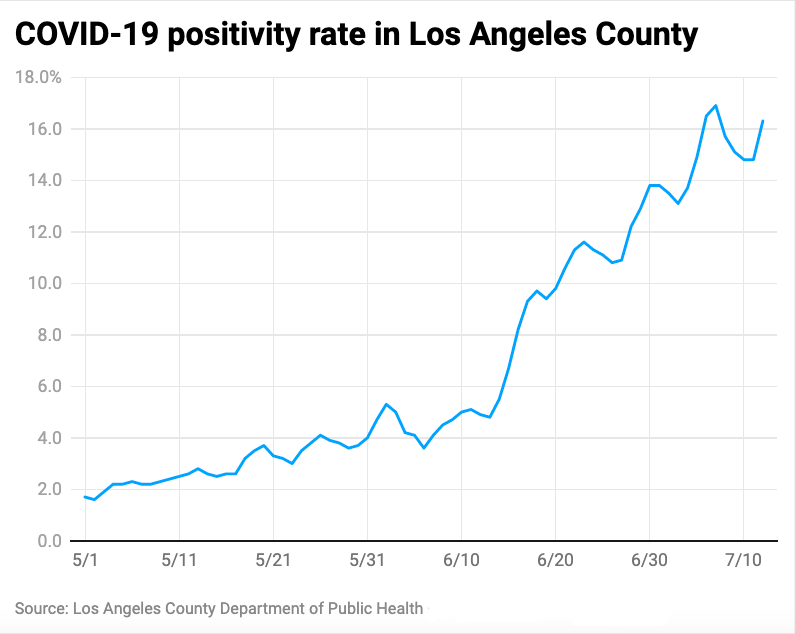 It is worth noting that the prevalence of at-home testing means that many cases are never reported, particularly if symptoms are minor. Thus it is difficult to reliably compare current figures to those of the past.
4) Hospitalizations hit four digits
A key metric for understanding the impact of COVID-19 on the community is hospitalizations, as a rise in patients can put a strain on the healthcare system. Even if someone was not hospitalized for COVID-19, but is found to be positive while there for other treatment, it means dedicating extra resources to prevent transmission.
On Wednesday, the Department of Public Health reported 1,170 COVID-19 patients in area hospitals. This is the highest figure since Feb. 23.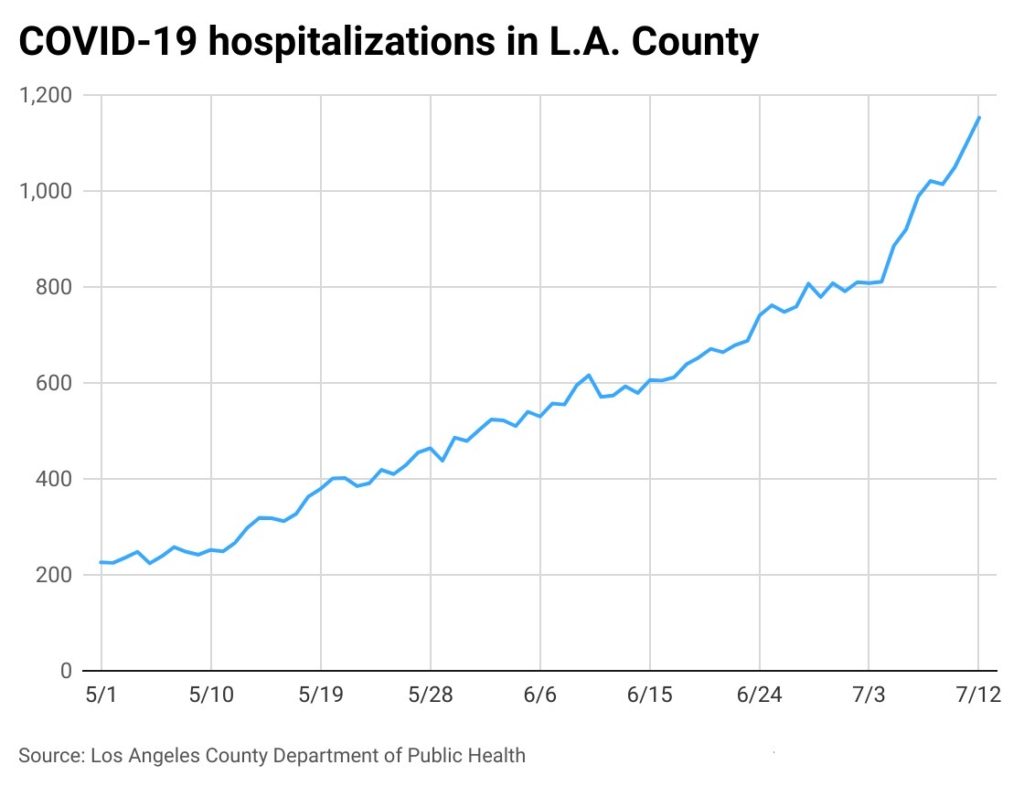 The most recent seven-day average of hospitalizations was 1,071. That marks an 87.6% increase from two weeks prior. 
5) Mask up again?
COVID-19 remains a leading cause of death in Los Angeles County. There have been more than 4,300 fatalities since January, according to the Department of Public Health. 
A department statement declared, "This is more than the average number of all annual deaths from influenza, colds, motor vehicle fatalities, and overdoses together."
Research has shown the effectiveness of wearing high-quality, well-fitting masks in reducing COVID-19 transmission. A 2021 study found that individuals who regularly wore respirator masks, such as N95 and KN95s, were 83% less likely to test positive than those who went without face coverings. 
That type of protection could soon be even more necessary, as Dr. Barbara Ferrer is warning that a new indoor mask mandate is on the horizon. The county has long been in what the Centers for Disease Control and Prevention defines as the "medium" COVID-19 level, based on hospitalizations and other metrics. The region is expected to ascend to the "high" level today, and if the county stays in the zone for two weeks, indoor masking would again be required. 
That means by July 29, county residents would again need those face coverings. 
How we did it: We analyzed coronavirus data related to new cases, deaths, hospitalizations and vaccinations provided by the Los Angeles County Department of Public Health.
Interested in our data? Check out the Crosstown coronavirus interactive map or email askus@xtown.la.