5 things to know about COVID-19 this week
There are more reasons for concern as a number of key indicators increase
When it comes to COVID-19, no two weeks in Los Angeles are the same. That is why Crosstown is regularly running down the key things that you need to know about the course of the pandemic (yes, it's still a pandemic). Additional information on cases in individual neighborhoods is available on the Crosstown coronavirus interactive map.
1) Early alerts move to high concern
The Los Angeles County Department of Public Health tracks local trends and transmission of the virus through the Centers for Disease Control and Prevention's COVID-19 Community Level indicator. Areas can be designated as Low, Medium or High. Currently, Los Angeles County is at Medium.
This week two "early alert" signals notched up to High concern: Those are the case rate for lower-income areas, and the number of new outbreaks at skilled nursing facilities. 
This increase, driven by a spread of Omicron subvariants, could lead to the entire County entering High at some point this summer. If that happens, there may be steps such as reinstituting an indoor mask mandate. 
[Get COVID-19, crime and other stats about where you live with the Crosstown Neighborhood Newsletter]
2) Cases climb again
The slight dip in COVID-19 infections two weeks ago brought hope that the current wave had peaked. Not so fast.
From June 28–July 5, the Los Angeles County Department of Public Health identified 37,274 new cases. That marks a 7.4% increase from one week prior and a 25% rise from the level two weeks ago.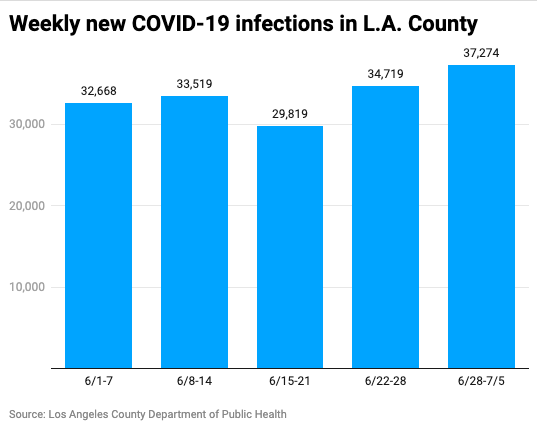 On Wednesday, the seven-day average of cases was 5,189, although the number likely reflects an undercount due to a lag from the Fourth of July weekend. 
3) Positivity rate keeps going up
This week, the test positivity rate reached a level not seen since during the Omicron surge in January. On Wednesday, it hit 16.5%.
This is more than triple the level just one month ago, when nearly 5% of COVID-19 tests were coming back positive. The rate reached double digits on June 21, and has remained above 10% ever since. 
4) Hospitalizations are also rising
A continued elevated case count and climbing positivity rate have led to an expected development: More of those infected with the coronavirus are requiring high-level medical care. 
The seven-day average for hospitalizations is 840, an 11.3% increase from the average reported the week prior. On Wednesday, there were 920 county residents hospitalized with COVID-19, the highest figure since March 1. 
On July 1, the Department of Public Health reported that the seven-day total of new patients admitted to area hospitals was 8.1 per 100,000 residents. That marks a 56% increase from one month ago. 
Although hospitalizations are rising, the current situation remains far better than during the winter surge. The apex was reached on Jan. 20, when 4,814 COVID-19 patients were hospitalized. 
5) Big risks for youth
Early in the pandemic, kids were mostly spared from coronavirus infections. That changed as time went on. According to the Department of Public Health, more than 600,000 people in L.A. County under the age of 18 have contracted COVID-19. 
That is a figure likely propelled by later vaccination approvals for younger individuals. Shots for the under-5 set only began last month. They are now available at more than 900 sites in the region. 
So far, 260,389 kids ages 5-11 have been diagnosed with COVID-19. Another 255,187 confirmed cases are among people 12-17. There have been 91,935 infections in those 5 and under.
According to the Department of Public Health, 8,195 county residents under 18 have been hospitalized with COVID-19. 
How we did it: We analyzed coronavirus data related to new cases, deaths, hospitalizations and vaccinations provided by the Los Angeles County Department of Public Health.
Interested in our data? Check out the Crosstown coronavirus interactive map or email askus@xtown.la.