The Crosstown Crime Book: June
Murders and car thefts in Los Angeles remain high
Crime continues to be a dominant topic in Los Angeles, particularly with high-profile incidents such as the string of violent robberies of 7-Eleven stores, and an increasing murder count. But despite sometimes fevered rhetoric, statistics provide only a snapshot of the moment. To truly understand crime trends, you need comparative information.
The Crosstown Crime Book provides that. Each month, we examine publicly available Los Angeles Police Department crime data and put it into context with recent months, as well as previous years. This includes activity before the pandemic.  
Here is how the numbers in Los Angeles looked in June.
Weapons in use
Homicides tend to rise during the summer, and the 36 murders in June represents a 28.6% increase over May, though it was even with April. The June total was also similar to the 38 homicides in the same month in 2021.
LAPD Chief Michel Moore has repeatedly described how an increase in gun crimes has resulted in more incidents that turn violent and sometimes fatal. There has also been a rise in the number of illegal firearms seized; approximately 20% of the weapons recovered are untraceable ghost guns. 
During meetings with the Los Angeles Police Commission, Moore has detailed rising numbers of robberies involving guns, with the incidents at 7-Eleven outlets adding to the total (two suspects have been charged with murder). Yet the number of robberies involving guns has been fairly flat over the last three months, and the 246 incidents in June is far below the 309 recorded in March.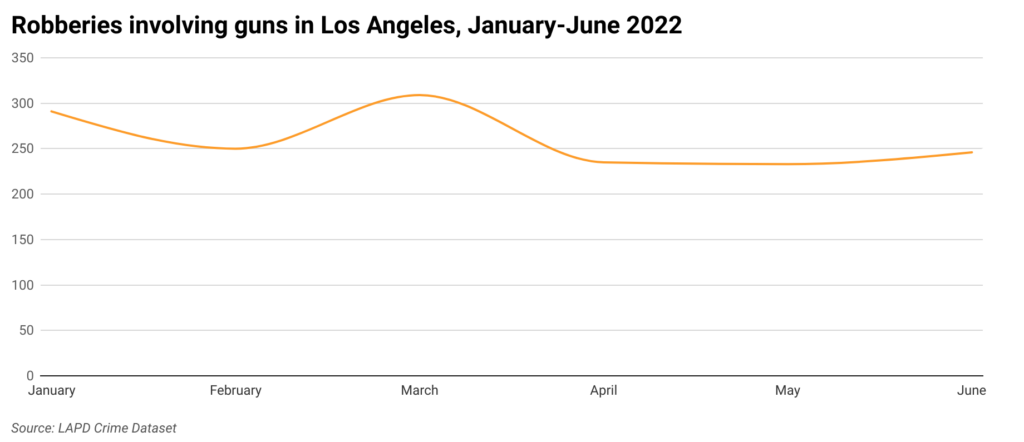 Still, gun violence in general is higher in the city than in previous years. The 246 robberies involving guns in June marks a 51.9% increase over the same month last year. 
There were 143 shooting victims in the city in June, according to LAPD data. That is more than in any month since January 2021. It is also 41.6% higher than during June in the pre-pandemic year of 2019.
Thirteen people were shot in Boyle Heights in the first half of the year, more than any other neighborhood in Los Angeles. There were 10 victims struck by gunfire in Downtown, and nine in Vermont Square. 
According to LAPD Compstat data, through July 2 the city had experienced 15,701 violent crimes, an 8.2% increase over the same period last year. 
Car trouble
Property crime is also up this year. According to Compstat data, the 49,440 property crimes in the city from Jan. 1–July 2 is 13.6% more than in the equivalent timeframe in 2021.
[Get COVID-19, crime and other stats about where you live with the Crosstown Neighborhood Newsletter]
Car thefts continue to soar, and the 12,805 vehicles stolen in the first six months of 2022 is 14% higher than in the same period last year.
There were 2,340 reports of burglary or theft from a vehicle in June, fewer than any month this year.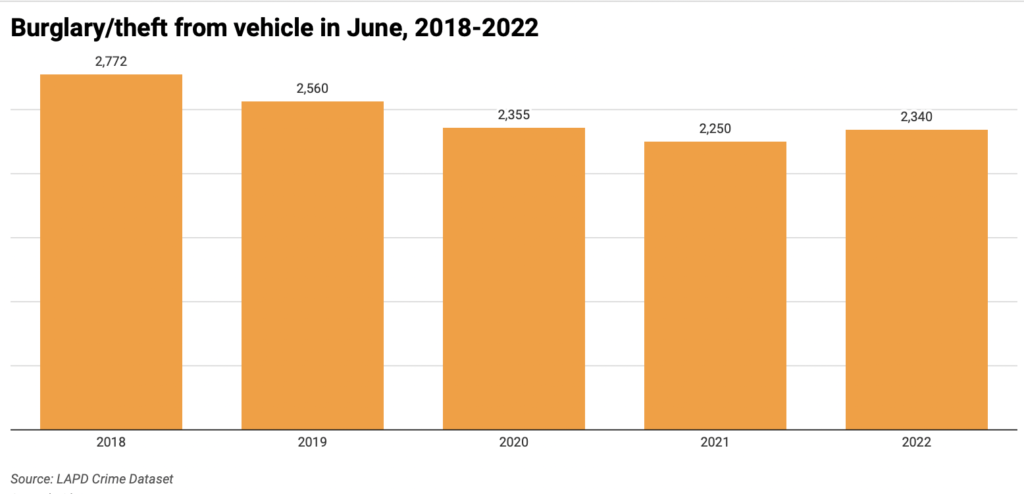 The total number of break-ins is similar to last year, but marks a significant decline from the 2,772 reports in June 2018.
There were 1,241 burglaries in the city in June, equivalent with other monthly totals this year. In the first half of 2022, Downtown was the most frequent location for burglaries, with 463 recorded. There were 226 burglary reports in Koreatown and 218 in Sherman Oaks. 
Robberies have also been fairly flat in 2022. There were 805 reports in June; the total each month this year has been between 763 and 818.
How we did it: We examined publicly available crime data from the Los Angeles Police Department from Jan. 1–June 30, 2022, and the periods of June 1–30 from 2018–2022. We also examined LAPD Compstat data. Learn more about our data here.
LAPD data only reflects crimes that are reported to the department, not how many crimes actually occurred. In making our calculations, we rely on the data the LAPD makes publicly available. LAPD may update past crime reports with new information, or recategorize past reports. Those revised reports do not always automatically become part of the public database.
Have questions about our data or want to know more? Write to us at askus@xtown.la.