5 things to know about COVID this week
Hospitals are short-staffed and crowded
Given the unpredictable nature of the pandemic, Crosstown breaks down the recent trends with the key facts you need to know about COVID-19 in Los Angeles. More information on case counts in individual neighborhoods is available on the Crosstown coronavirus interactive map. 
1. Avoiding really bad COVID-19 outcomes 
Many who test positive for COVID-19 are able to make a full recovery after quarantining. However, not everyone bounces back, and many report having long COVID, or post-COVID condition. 
Individuals with long COVID experience long-term effects, including breathing problems, fatigue, prolonged loss of taste and smell. Many people with long COVID still report symptoms weeks after receiving an initial positive test result. 
In addition to long COVID, high transmission rates in Los Angeles County are leading to more people being reinfected with COVID-19.
To reduce the risk of these negative outcomes, the Los Angeles Department of Public Health urges residents to stay up-to-date on vaccinations. 
According to California's COVID-19 tracking page, currently, unvaccinated residents are 7.1 times more likely to be hospitalized with COVID-19 than their vaccinated and boosted counterparts. Additionally, unvaccinated individuals were 9.9 times more likely to die than boosted residents. (Vaccination reduces the risk of long COVID by about 15%, according to a recent study.) 
[Get COVID-19, crime and other stats about where you live with the Crosstown Neighborhood Newsletter]
2. Overwhelmed hospitals

  
Although most residents who test positive for COVID-19 experience only mild symptoms, some become severely sick. And as more residents fall ill from COVID-19 and seek medical care, hospitals become overwhelmed with admitted patients. 
Visits to emergency departments in Los Angeles County hospitals doubled over the past two months, according to the Department of Public Health. 
Hospitals are also experiencing staffing shortages as COVID-19 outbreaks are becoming more frequent in healthcare facilities. 
On Tuesday, the rate of new COVID-19 hospital admissions rose to 11.7 admissions per 100,000 residents. Los Angeles County will remain on the Centers for Disease Control and Prevention's designated High Community Level until the hospital admission rate falls below 10 admissions per 100,000 people. 
There were 1,280 residents hospitalized with COVID-19 on Wednesday. One week ago there were 1,328 people seeking treatment in area hospitals. 
3. Cases decline, but concern is still high
Los Angeles County saw a slight dip in the number of positive COVID-19 cases reported this week. However, as long as the highly contagious BA.5 subvariant lingers, there is still room for concern. 
The most recent seven-day average of cases was 6,138. That's an 8.8% decrease from one week prior. One month ago the average stood at 4,763. 
Still, the current situation is far better than the winter surge of Omicron cases. Six months ago, the seven-day average of cases was 28,578. 
From July 20-26, there were 5,097 fewer cases than the total from one week prior.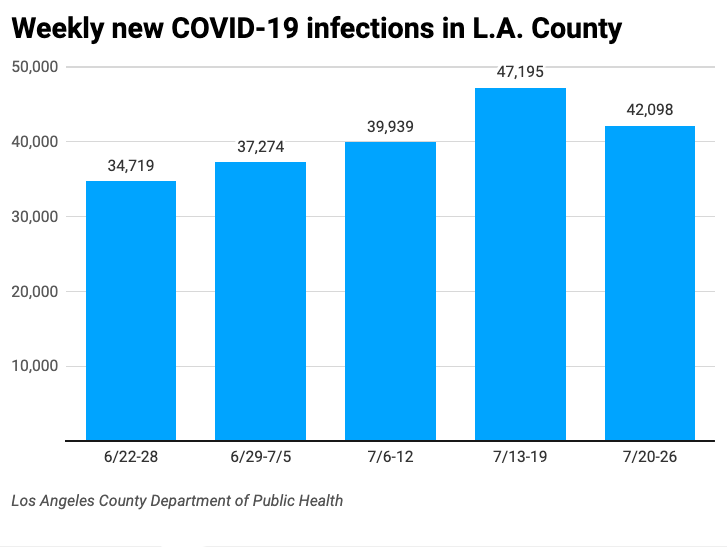 4. Rising death toll
The COVID-19 fatality count hit 20 on both Friday and Saturday. The last time the Department of Public Health reported a number that high was April 9. 
The weekly death count went up after a slight dip last week. There were 20 more fatalities documented from July 20-26 than one week prior. 
The seven-day average for COVID-19 deaths was 15 on Wednesday, compared to an average of 13 one week prior. 
Nearly 4,500 Los Angeles County residents have died from COVID-19 this year. 
5. Gender vaccine disparity 
Los Angeles County residents age six months and up are eligible for the vaccine, yet numbers remain relatively unchanged. Of all residents eligible for the shot, nearly 80.1% have received one dose. That slightly budged from the 79.6% seven weeks ago. 
As has been the case throughout the course of the pandemic, more female residents are vaccinated than their male counterparts. Nearly 86.2% of females five years and older have received at least one dose. That compares to 82.1% of men five and up.
Out of the county's roughly 10 million residents, approximately 336,763 more women are fully vaccinated than men. 
How we did it: We analyzed coronavirus data related to new cases, deaths, hospitalizations and vaccinations provided by the Los Angeles County Department of Public Health.
Interested in our data? Check out the Crosstown coronavirus interactive map or email askus@xtown.la.