5 things to know about COVID-19 this week
New infections and hospitalizations wane; deaths remain high
Each week, Crosstown breaks down COVID-19 trends with the five things to know about COVID-19 in Los Angeles. More information on case counts in individual neighborhoods is available on the Crosstown coronavirus interactive map. 
Talk of an indoor mask mandate is put on hold
This week, Los Angeles County is stuck at the Centers for Disease Control and Prevention's High Community Level. Although the slight dip in case numbers and hospitalizations may be an indication that it could reenter the Medium Community Level soon. 
Plans to reinstate a universal indoor mask mandate are on pause for the time being, according to the Los Angeles Department of Public Health. Though not currently required, health officials strongly advise residents to mask up, as masks are vital to reducing the risk of infection and limiting the virus' spread.  
Masks are still required in healthcare settings and on public transit. Individuals who receive a positive test or were exposed to COVID-19 are also required to wear a mask for ten days. 
[Get COVID-19, crime and other stats about where you live with the Crosstown Neighborhood Newsletter]
Hospital admissions dip 
One hopeful indicator that Los Angeles County may move back to the Medium Community Level is the slight dip in COVID-19 hospital admissions.
The rate of new COVID-19 hospital admissions stood at 9.7 admissions per 100,000 people on Tuesday. If the rate remains below ten admissions per 100,000 residents through Thursday, Los Angeles County will move to the Medium Community Level. 
The most recent seven-day average for hospitalizations was 1,224 on Wednesday. That marks a 2.5% decrease from the average reported one week prior. 
On Wednesday, there were 1,273 residents seeking COVID-19 treatment in Los Angeles County hospitals. One week ago, there were 1,286 COVID-positive patients. 
Cases fall two weeks in a row
For the second consecutive week, COVID-19 cases declined, and the numbers appear to be improving. 
The seven-day average for cases fell to 5,235 on Tuesday, the lowest average reported since July 8. That marks a  14.7% decrease from the seven-day average reported one week before. One month ago, the seven-day average for cases was 5,469. 
Over the last seven days, there were 4,774 fewer COVID-19 cases than documented one week prior. 
Deaths increase slightly
While many COVID-19 metrics are improving, fatalities remain relatively high. 
There were four more deaths recorded from July 27-August 2 than one week before. 
Deaths are often a trailing indicator and the current high number follows a string of high infections that were recorded several weeks ago.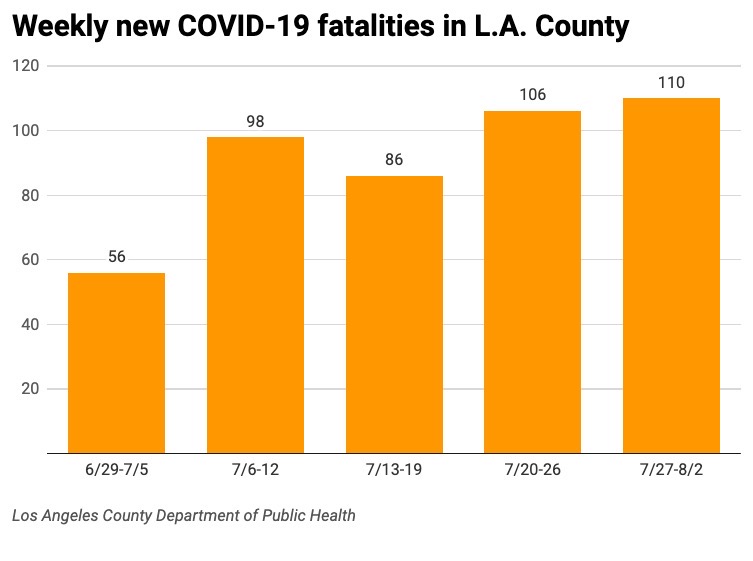 On Wednesday, the seven-day average for fatalities was 17. One week ago, the average was 15.
Back-to-school precautions 
It's August, and summer is beginning to wind down, which means only one thing: back-to-school season. In preparation for the new school year, the Los Angeles Unified School District announced its COVID-19 procedures.
While masks are no longer required on campuses, they are highly recommended in schools and workplaces. The LAUSD will also implement response testing throughout the year using at-home rapid antigen tests. Weekly COVID-19 tests are no longer required on campuses. 
Students and staff members are encouraged to take an at-home antigen rapid test within 48 hours of the first day of school. Daily Pass QR codes are no longer required to enter school sites. 
How we did it: We analyzed coronavirus data related to new cases, deaths, hospitalizations and vaccinations provided by the Los Angeles County Department of Public Health.
Interested in our data? Check out the Crosstown coronavirus interactive map or email askus@xtown.la.